Forgot Your Username
If you have forgotten your username, please provide your email address in the box below. We'll send you an email with your requested username. If you are having trouble, please call us toll-free at 1-800-221-0814.
Email Sent
You'll receive an email in a few minutes. Please check this email to find your requested username.
If you do not receive an email or you are having trouble logging into My Account, please call us at 1-800-221-0814.

BURMA (MYANMAR)
Locked away for decades from the outside world, Burma is now a country whose verdant mountain ranges, diverse jungle ecosystem, and astounding wealth of Buddhist architecture and iconography are open for exploration. Burma's story begins in the ninth century with the Bamar people and the subsequent Pagan Kingdom. Thousands of opulent temples and palaces with pyatthat roofs—a multi-tiered, spired construction style common in Burma—still stand to tell the story of the Pagan Empire.
From the early 19th century to 1948, the British Empire controlled Burma until negotiations with Aung San—father of current Prime Minister Aung San Suu Kyi—negotiated the country's independence. Since then, the country has weathered military coups, dictatorship, and widespread corruption. Today, Burma is ruled by an elected president and Prime Minister.
One issue of contention is the name of the country. In 1989, the military government in power officially changed the name of the country to "Myanmar," yet many nations and opposition groups continue to use the traditional name of Burma. This is because many nations around the world do not recognize the totalitarian military government. Prime Minister Aung San Suu Kyi has stated either name can be used.
Amid the constant flux of rapid economic development, Burma is still a land of spiritual and natural riches. Thick jungles covering almost half the country's territory entomb many of Burma's grand temples and palaces with diverse flora and fauna. For adventurous travelers hungry for a journey off the beaten path, Burma's land, people, and history are waiting with open arms.
Burma Interactive Map
Click on map markers
below to view information about top Burma experiences
Click here to zoom in and out of this map
Most Popular Films
Films featuring Burma from international, independent filmmakers
My City: Rangoon
Let a local introduce you to the glittering sites and vibrant culture of Rangoon, Burma.
This film was produced by the BBC and Jonathan Wells, and was first published on BBC.com Travel
Visualtraveling - Myanmar
Take a visual journey through Burma, which you can see on our pre-trip extension, from the footsteps of a monk to a weaver's loom.
Produced by Patrik Wallner
Chef: Burmese food is like a drug
Meet Rangoon chefs to learn how they're using traditional techniques and modern twists to put Burmese cuisine on the map.
Courtesy of CNN
Featured Reading
Immerse yourself in Burma with this selection of articles, recipes, and more
ARTICLE
Burma is frozen in time, barely touched by modern society. Get a glimpse into this traditional country's way of living.
RECIPE
In the mood for some soup? Discover how to make Burma's mohinga, or rice noodle soup.
ARTICLE
Discover the origins and significance of the Paduang hill-tribe women's coiled neck rings.
BURMA (MYANMAR): Month-by-Month
There are pros and cons to visiting a destination during any time of the year. Find out what you can expect during your ideal travel time, from weather and climate, to holidays, festivals, and more.
Burma in January-February
The early months in Burma are dry, with hot, but not stifling, temperatures. With less crowds than November and December, the relatively comfortable heat, and little chance of rains, these months are a great time to explore this beautiful country, especially if you're looking to enjoy the beaches along the south and west coasts.
Holidays & Events
January 4: Burma's Independence Day marks the date that the country declared independence from Britain. Festivals are held throughout the country, and locals deck themselves out in the national dress.
January 7-12: The Ananda Pagoda Festival
Early January: The Manaw Festival is celebrated by the Kachin, hill people or the "Scots of Burma," to honor the spirit of Karai Kasang.
January 17-31: The Mahamuni Pagoda Festival brings pilgrims from all over the country to the Mahamuni Pagoda, where celebrations include zats (dances, singing, and theater), comedy performances, and vendors selling traditional snacks.
February 12: Union Day celebrates the date in 1947 that Burmese national leader, Bogyoke Aung San, helped to unify the country.
Must See
Bagan's annual Ananda Pagoda festival takes place each January to celebrate Ananda, one of the largest and best preserved temples in Bagan. During this festival, expect to see locals gathering to enjoy local cuisine and vendors selling traditional crafts.
Burma in March-April
By the time March and April roll around, temperatures in Burma have usually become extremely high, even unbearable for some. Mid-afternoon activities are typically avoided around this time of year, except in the inland mountain regions, where it remains cooler. In April, New Year celebrations take place, attracting larger-than-normal crowds for this time of year, despite the heat.
Holidays & Events
March 1-5: Rangoon's Shwedagon Pagoda Festival, also known as Tabaung Festival, brings throngs of residents and visitors to the pagoda, who line the stairs and platform, to reflect and page homage.
April 13-16: Burma's New Year celebration, or Thingyan, takes place.
Must See
Thingyan, Burma's April New Year Celebration, is best distinguished by water throwing—and you will find people dousing one another with water everywhere you go. This celebration also has religious significance, and local Buddhists will give alms and visit the temple for several days of praying.
Burma in May-August
Throughout May, temperatures decline, and by the end of the month, the oppressive heat has typically died down. But, monsoon season is afoot, with the heaviest rains falling in July and August. While the rains are lighter and more sporadic inland, many of the beaches become inaccessible due to heavy rains, and this time of year is the low season for travel.
Holidays & Events
June 18-28: The Chin Lone (cane ball) Festival is held each year at the Mahamuni Pagoda in Mandalay. During this sporting tournament, visitors can see the sport being played while being entertained by local music.
Burma in September-October
With the heavy rains dying down, Burma's landscapes transform into a lush green. There can still be some light rains this time of year, but the worst is behind us. Temperatures are comfortable, rains have dissipated, and crowds are still relatively low on the heels of monsoon season.
Holidays & Events
October 10-27: The Phaung Daw Oo Pagoda Festival, or the Lake Inle Boat Festival, takes place.
October 20-24: The Kyaikhtiyo Pagoda Festival is celebrated with the lighting of 90,000 candles as a tribute to Buddha. Worshipers visit the pagoda with offerings of food, flowers, and incense.
October 23-25: The Dancing Elephant Festival in Kyaukse features performances by men dressed in elephant costumes made from bamboo and paper. These men dance around the town until they reach Shwe Tha Lyaung Pagoda, where they stop to pay homage.
Must See
Also known as the Lake Inle Boat Festival, the Phaung Daw Oo Pagoda Festival from October 10-27 is Inle Lake's most famous celebration. Festivities include parades with revelers carrying images of Buddha from the pagoda, traditional dances, and boat races.
Burma in November-December
November sees the beginning of the high season for travel, and crowds increase into December. Weather conditions are clear and comfortable, foliage is lush, and after the heavy rains, Burma's rivers and waterfalls offer their fullest, most impressive displays of natural beauty.
Holidays & Events
November 16-22: The Hot Air Balloon Festival in Taunggyi takes place.
November 19-22: The Shwezigon Pagoda Festival is celebrated in the north of Bagan. Locals and visitors alike can enjoy traditional food and crafts, as well as magic and puppet shows and theater performances.
December: The Mount Popa Nat Ceremony honors Min Maha Giri (Lord of the Mountain). It is celebrated at the main shrine found at the foot of Mount Papa.
Must See
The Hot Air Balloon Festival in Taunggyi from November 16-22 is a time when locals pay respect at the Sulamani Temple by letting balloons loose. These balloons are large, decorated in colorful patterns, and fitted with a flame to help them rise into the air.
Average Monthly Temperatures
Compare Our Adventures
Click 'Select to Compare' to see a side-by-side comparison of up to adventures below—including
activity level, pricing, traveler excellence rating, trip highlights, and more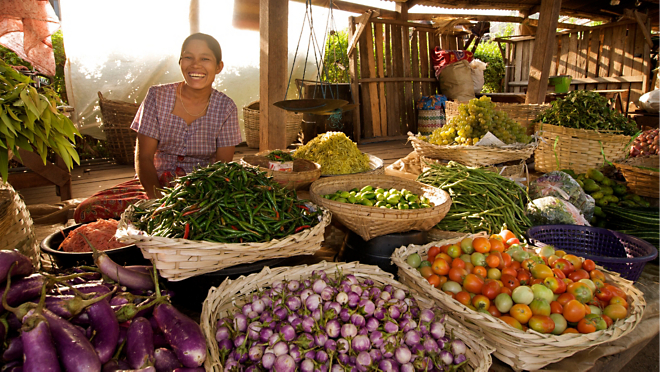 15 DAYS FROM $4,495 • $ 300 / DAY
Small Group Adventure
Burma: Rangoon, Bagan, Mandalay, Kalaw, Inle Lake
30 meals—daily breakfast, 9 lunches, and 8 dinners (including 1 Home-Hosted Dinner)
Explore the stupa-dotted plains of Bagan
Marvel at the gilded Shwedagon Pagoda
Walk across the teak U Bein Bridge, the longest of its kind
Explore Inle Lake and witness the unique local methods of agriculture and rowing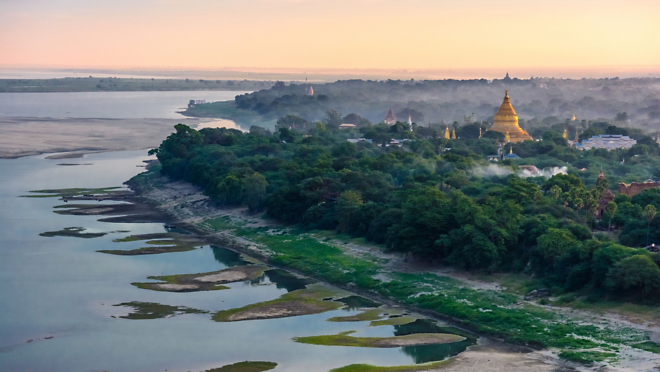 ;
7 NIGHTS FROM FROM $2,095
Explore the stupa-dotted plains of Bagan
Marvel at the gilded Shwedagon Pagoda
Walk across the teak U Bein Bridge, the longest of its kind
Cruise past scenes of everyday life on the Irrawaddy River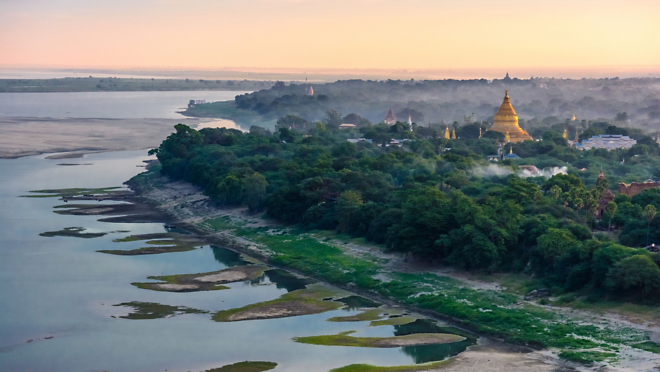 Not Applicable*
Not Applicable*
13 meals—7 breakfasts, 4 lunches, and 2 dinners
Explore the stupa-dotted plains of Bagan
Marvel at the gilded Shwedagon Pagoda
Walk across the teak U Bein Bridge, the longest of its kind
Cruise past scenes of everyday life on the Irrawaddy River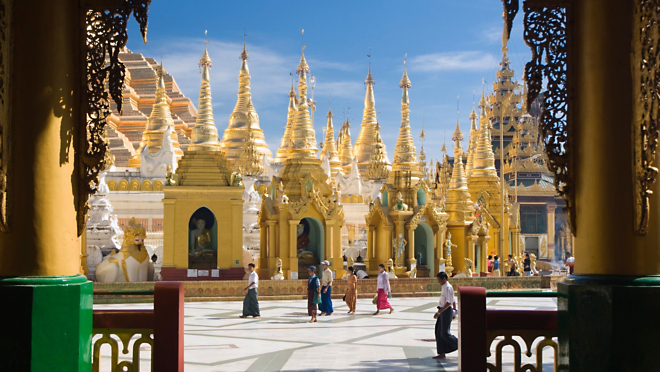 ;
7 NIGHTS FROM FROM $1,895
Explore the stupa-dotted plains of Bagan in a horse-drawn carriage or hot-air balloon
Marvel at the gilded Shwedagon Pagoda
Walk across the U Bein Bridge, the longest teak wood bridge in the world
Enjoy a cruise on the Irrawaddy River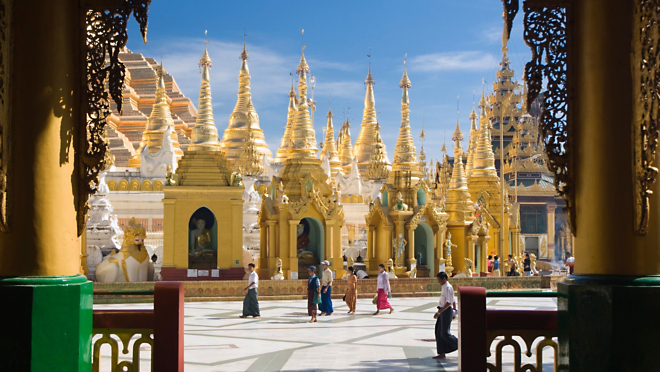 Not Applicable*
Not Applicable*
13 meals—7 breakfasts, 4 lunches, and 2 dinners
Explore the stupa-dotted plains of Bagan in a horse-drawn carriage or hot-air balloon
Marvel at the gilded Shwedagon Pagoda
Walk across the U Bein Bridge, the longest teak wood bridge in the world
Enjoy a cruise on the Irrawaddy River