The Leader in Small Groups on the Road Less Traveled in Over 85 Countries
You're receiving this message because your web browser
is no longer supported
We recommend upgrading your browser—simply click the button below and follow the instructions that will appear. Updating will allow you to accept Terms and Conditions, make online payments, read our itineraries, and view Dates and Prices.
To get the best experience on our website, please consider using:
Safari (for Mac or iPad Devices)
Update Browser

BURMA (MYANMAR)
Compare Our Adventures
Click 'Select to Compare' to see a side-by-side comparison of up to adventures below—including
activity level, pricing, traveler excellence rating, trip highlights, and more
Trip Extension—Burma
Discover the temples of Bagan, markets with exotic fruits, and the Shwenandaw Buddhist monastery in Mandalay.
7 NIGHTS FROM $1,995
Explore the stupa-dotted plains of Bagan
Marvel at the gilded Shwedagon Pagoda
Walk across the teak U Bein Bridge, the longest of its kind
Cruise past scenes of everyday life on the Irrawaddy River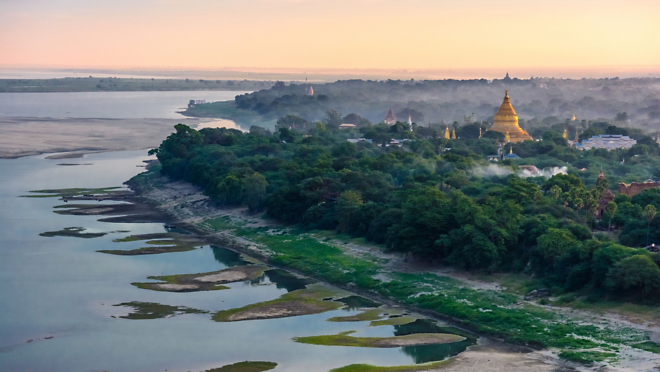 Not Applicable*
Not Applicable*
13 meals—7 breakfasts, 4 lunches, and 2 dinners
Explore the stupa-dotted plains of Bagan
Marvel at the gilded Shwedagon Pagoda
Walk across the teak U Bein Bridge, the longest of its kind
Cruise past scenes of everyday life on the Irrawaddy River
Trip Extension—Burma
Discover Bagan's many pagodas, witness life along the Irrawaddy River, and experience a Burmese local market.
7 NIGHTS FROM $1,895
Explore the stupa-dotted plains of Bagan in a horse-drawn carriage or hot-air balloon
Marvel at the gilded Shwedagon Pagoda
Walk across the U Bein Bridge, the longest teak wood bridge in the world
Enjoy a cruise on the Irrawaddy River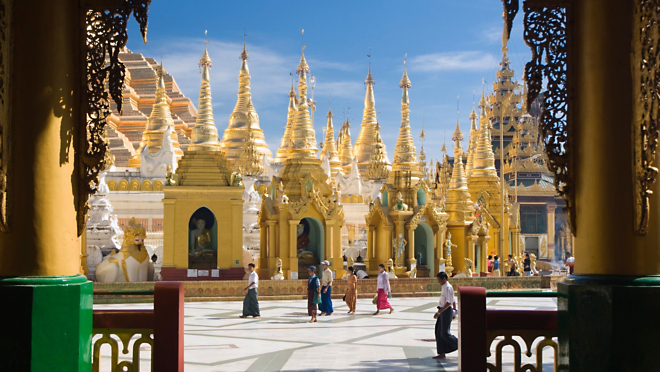 Not Applicable*
Not Applicable*
13 meals—7 breakfasts, 4 lunches, and 2 dinners
Explore the stupa-dotted plains of Bagan in a horse-drawn carriage or hot-air balloon
Marvel at the gilded Shwedagon Pagoda
Walk across the U Bein Bridge, the longest teak wood bridge in the world
Enjoy a cruise on the Irrawaddy River
Compare Adventures
Find the Adventure That's Right for You
Our Activity Level rating system ranks adventures on a scale of 1 to 5 to help you determine if a trip is right for you. See the descriptions below for more information about the physical requirements associated with each rating.
Travelers should be able to climb 25 stairs consecutively, plus walk at least 1-2 miles over some uneven surfaces without difficulty. Walks typically last at least 1-2 hours at a time. Altitude can range from zero to 5,000 feet.
Activity Level 2:
Moderately Easy
Travelers should be able to climb 40 stairs consecutively, plus walk at least 2-3 miles over some uneven surfaces without difficulty. Walks typically last for at least 2-3 hours at a time. Altitude can range from zero to 5,000 feet.
Activity Level 3:
Moderate
Travelers should be able to climb 60 stairs consecutively, plus walk at least 3 miles over some steep slopes and loose or uneven surfaces without difficulty. Walks typically last for 3 or more hours at a time. Altitude can range from 5,000 to 7,000 feet.
Activity Level 4:
Moderately Strenuous
Travelers should be able to climb 80 stairs consecutively, plus walk at least 4 miles over some steep slopes and loose or uneven surfaces without difficulty. Walks typically last for 4 or more hours at a time. Altitude can range from 7,000 to 9,000 feet.
Activity Level 5:
Strenuous
Travelers should be able to climb 100 or more stairs consecutively, plus walk at least 8 miles over some steep slopes and loose or uneven surfaces without difficulty. Walks typically last for 4 or more hours at a time. Altitude can range from 10,000 feet or more.
Hide Acivity Level
PRICE
including international airfare
HIGHLIGHTS & ACTIVITIES IN BURMA (MYANMAR)
*This information is not available for our trip extensions. You must reserve the main trip to participate on this extension.
**This information is not currently available for this trip. Please check back soon.
Recommended Viewing
Watch this video showcasing what makes this country so unforgettable
ReelEarth: The Last Dance on the Inle Lake
Families living along Burma's Inle Lake have passed down their traditional fishing methods, and the balance they require, for generations—but learn why the custom's prevalence is now waning.
Recommended Videos
Watch your fellow travelers' favorite films & videos
Chef: Burmese food is like a drug
Meet Rangoon chefs to learn how they're using traditional techniques and modern twists to put Burmese cuisine on the map.
Visualtraveling - Myanmar
Take a visual journey through Burma, which you can see on our pre-trip extension, from the footsteps of a monk to a weaver's loom.
BURMA (MYANMAR): Month-by-Month
There are pros and cons to visiting a destination during any time of the year. Find out what you can expect during your ideal travel time, from weather and climate, to holidays, festivals, and more.
Burma in January-February
The early months in Burma are dry, with hot, but not stifling, temperatures. With less crowds than November and December, the relatively comfortable heat, and little chance of rains, these months are a great time to explore this beautiful country, especially if you're looking to enjoy the beaches along the south and west coasts.
Holidays & Events
January 4: Burma's Independence Day marks the date that the country declared independence from Britain. Festivals are held throughout the country, and locals deck themselves out in the national dress.
Early-Mid-January: The Ananda Pagoda Festival
Early January: The Manaw Festival is celebrated by the Kachin, hill people or the "Scots of Burma," to honor the spirit of Karai Kasang.
Late January-early February: The Mahamuni Pagoda Festival brings pilgrims from all over the country to the Mahamuni Pagoda, where celebrations include zats (dances, singing, and theater), comedy performances, and vendors selling traditional snacks.
February 12: Union Day celebrates the date in 1947 that Burmese national leader, Bogyoke Aung San, helped to unify the country.
Must See
Bagan's annual Ananda Pagoda festival takes place each January to celebrate Ananda, one of the largest and best preserved temples in Bagan. During this festival, expect to see locals gathering to enjoy local cuisine and vendors selling traditional crafts.
Watch this film to discover more about Burma
Reading faces inspires young painter
Follow a young painter in Rangoon to some of the places in the city where he finds artistic inspiration.
Burma in March-April
By the time March and April roll around, temperatures in Burma have usually become extremely high, even unbearable for some. Mid-afternoon activities are typically avoided around this time of year, except in the inland mountain regions, where it remains cooler. In April, New Year celebrations take place, attracting larger-than-normal crowds for this time of year, despite the heat.
Holidays & Events
Early March: Rangoon's Shwedagon Pagoda Festival, also known as Tabaung Festival, brings throngs of residents and visitors to the pagoda, who line the stairs and platform, to reflect and page homage.
April 13-16: Burma's New Year celebration, or Thingyan, takes place.
Must See
Thingyan, Burma's April New Year Celebration, is best distinguished by water throwing—and you will find people dousing one another with water everywhere you go. This celebration also has religious significance, and local Buddhists will give alms and visit the temple for several days of praying.
Watch this film to discover more about Burma
Chef: Burmese food is like a drug
Meet Rangoon chefs to learn how they're using traditional techniques and modern twists to put Burmese cuisine on the map.
Burma in May-August
Throughout May, temperatures decline, and by the end of the month, the oppressive heat has typically died down. But, monsoon season is afoot, with the heaviest rains falling in July and August. While the rains are lighter and more sporadic inland, many of the beaches become inaccessible due to heavy rains, and this time of year is the low season for travel.
Holidays & Events
June-July: The Chin Lone (cane ball) Festival is held each year at the Mahamuni Pagoda in Mandalay. During this sporting tournament, visitors can see the sport being played while being entertained by local music.
Watch this film to discover more about Burma
Market offers haven for spice lovers
We've been working with independent international filmmakers to provide you with videos that portray the people, culture, and lifestyles of the countries you're interested in visiting. We believe this video offers a unique perspective on Yangon.
Burma in September-October
With the heavy rains dying down, Burma's landscapes transform into a lush green. There can still be some light rains this time of year, but the worst is behind us. Temperatures are comfortable, rains have dissipated, and crowds are still relatively low on the heels of monsoon season.
Holidays & Events
Late September-Mid-October: The Phaung Daw Oo Pagoda Festival, or the Lake Inle Boat Festival, takes place.
Late October: The Kyaikhtiyo Pagoda Festival is celebrated with the lighting of 90,000 candles as a tribute to Buddha. Worshipers visit the pagoda with offerings of food, flowers, and incense.
Late October: The Dancing Elephant Festival in Kyaukse features performances by men dressed in elephant costumes made from bamboo and paper. These men dance around the town until they reach Shwe Tha Lyaung Pagoda, where they stop to pay homage.
Must See
Also known as the Lake Inle Boat Festival, the Phaung Daw Oo Pagoda Festival from October 10-27 is Inle Lake's most famous celebration. Festivities include parades with revelers carrying images of Buddha from the pagoda, traditional dances, and boat races.
Watch this film to discover more about Burma
My City: Rangoon
Let a local introduce you to the glittering sites and vibrant culture of Rangoon, Burma.
Burma in November-December
November sees the beginning of the high season for travel, and crowds increase into December. Weather conditions are clear and comfortable, foliage is lush, and after the heavy rains, Burma's rivers and waterfalls offer their fullest, most impressive displays of natural beauty.
Holidays & Events
November: The Hot Air Balloon Festival in Taunggyi takes place.
Mid-Late November: The Shwezigon Pagoda Festival is celebrated in the north of Bagan. Locals and visitors alike can enjoy traditional food and crafts, as well as magic and puppet shows and theater performances.
December: The Mount Popa Nat Ceremony honors Min Maha Giri (Lord of the Mountain). It is celebrated at the main shrine found at the foot of Mount Papa.
Must See
The Hot Air Balloon Festival in Taunggyi from November 16-22 is a time when locals pay respect at the Sulamani Temple by letting balloons loose. These balloons are large, decorated in colorful patterns, and fitted with a flame to help them rise into the air.
Watch this film to discover more about Burma
Visualtraveling - Myanmar
Take a visual journey through Burma, which you can see on our pre-trip extension, from the footsteps of a monk to a weaver's loom.
Average Monthly Temperatures
Burma Interactive Map
Click on map markers
below to view information about top Burma experiences
Click here to zoom in and out of this map
Rangoon
When the sun shines on Rangoon, the glistening gold leaf of Shwedagon Pagoda radiates shimmering light over the city's seven million people. The intellectual and economic center of Burma—and once the capital, until it was relocated to Naypyidaw in 2006—Rangoon is quickly becoming a more cosmopolitan city.
Rangoon offers a wide cross-section of modern life in Burma. While parts of the city are well-developed and modern, the cobblestoned side-streets and avenues of Rangoon are still lined with quaint colonial-style tenant buildings and small sidewalk markets.
While Rangoon is increasingly a destination for business and commerce, Shwedagon Pagoda is still the most important pilgrimage site for Theravada Buddhists in Burma. Estimated at about 1,500-years-old—and considered Burma's most sacred Buddhist pagoda—27 metric tons of gold leaf were used to create the gilded image many residents walk by each day.
Reading faces inspires young painter
Follow a young painter in Rangoon to some of the places in the city where he finds artistic inspiration.
Explore Rangoon With O.A.T. on:
Bagan
Amid fields of htanaung trees along the Irrawaddy River, thousands of small and large spires form the skyline of Bagan. Home to the largest collection of Buddhist pagodas, stupas, and ruins in the world, the intricate architectural details found in this eleventh-century city are a testament to the exquisite craftsmanship of Burmese artisans.
Bagan was the political, economic, and cultural capital of the ancient Pagan Kingdom where Theravada Buddhism first began its path to dominance in Burma. The golden age of Bagan lasted until 1287 AD when Mongols from the north invaded and destroyed much of the city, though many of the more than 2,200 religious structures survived.
In the 1990s, Bagan was rejected as a UNESCO World Heritage Site because some of the temples were restored by the ruling military government in an unhistorical manner. Regardless, the vast majority of Bagan's architectural riches are the original structures which still radiate the philosophy of Buddhist spirituality.
Pagoda Plains
Soar over Bagan in a hot-air balloon, getting stunning aerial views of the ancient temples that dot these Burmese plains.
Explore Bagan with O.A.T. on:
Mandalay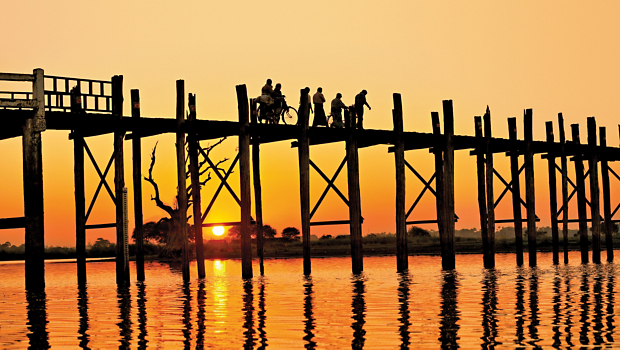 Mandalay was the last stronghold of the Burmese monarchy before annexation by the British Empire in the late 19th century. Constructed in 1857, Mandalay was conceived by King Mindon to fulfill a prophecy on the 2,400th anniversary for the founding of Buddhism. More than 700 small, porcelain-white stupas—small shrines for prayers—stand guard around Kuthodaw Pagoda. Within the pagoda's walls are the Tripitaka tablets, 729 large marble tablets which constitute the official Buddhist "Bible".
In the 1980's, an influx of Chinese migrants—today around 40 percent of the population—from Yunnan province relocated to Mandalay, lending to a distinctive cultural composition unlike anywhere else in Burma. Since then, Mandalay has become a commercial hub bringing Chinese and Indian commerce to the country.
Teak, an incredibly hard wood used for building, features prominently in Mandalay. The Shwenandaw Monastery is the last remaining structure of the original palace built by King Mindon, the rest destroyed and replaced after bombing in World War II. Leading out of the city, U Bein Bridge is almost a mile long and built from the remnants of the former imperial palace in Inwa. Current estimates show U Bein Bridge to be the longest and oldest teak wood bridge in the world.
Explore Mandalay with O.A.T. on:
Mingun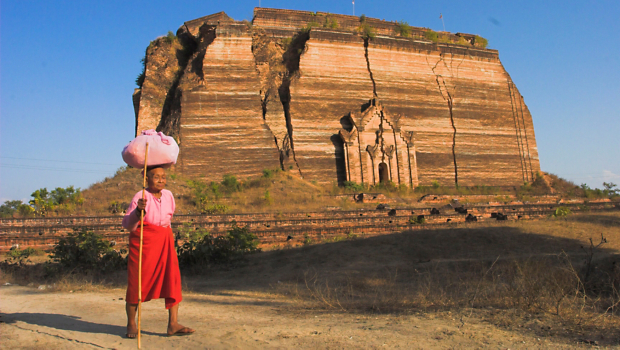 Just seven miles upstream from Mandalay, Mingun is home to the Pahtodawgyi, Burma's grand unfinished temple. In the late 18th century, King Bodawpaya set out to create the largest stupa in the world at Mingun. Legend has it that during construction an astrologer warned the king that completing the stupa would cause his death, so the project was stopped and is left unfinished to this day.
Yet, that didn't stop the king from constructing the Mingun Bell, which until 2000 was the largest bell on Earth at 90 tons, or 180,000 pounds. Standing next to the bell, it's hard to imagine a pre-industrial nation even moving it, which had to be done by building special canals and raising the water level to where the bell hangs today.
Explore Mingun with O.A.T. on:
Featured Reading
Immerse yourself in Burma with this selection of articles, recipes, and more
ARTICLE
Burma is frozen in time, barely touched by modern society. Get a glimpse into this traditional country's way of living.
RECIPE
In the mood for some soup? Discover how to make Burma's mohinga, or rice noodle soup.
ARTICLE
Discover the origins and significance of the Paduang hill-tribe women's coiled neck rings.
Unlocking the Secrets of Burma's Past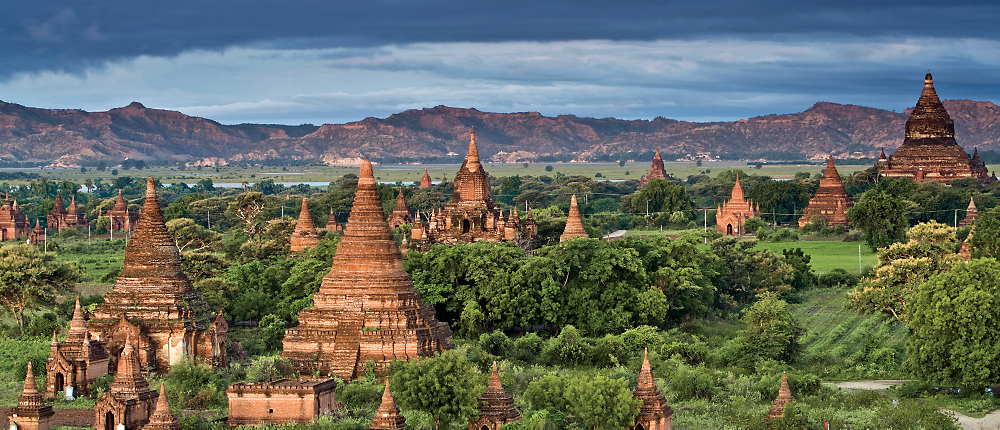 The royal capitals of Mandalay region
by Andrea Calabretta, from Dispatches
Gaze out across an arid plain in Burma, and you might see a lone farmer, a cloth longyi wrapped around his waist, driving his oxen though the brush between pagodas just as he would have done 500 years ago. Or perhaps a young merchant, her cheeks painted with yellow thanaka makeup made from tree bark, her two woven baskets balanced on a wooden yoke across her shoulders. These are vistas well suited to the pages of a history book—but they're not uncommon in Burma in 2013. Nor are sights of local men and women using time-honored agricultural techniques, cooking over open fires, and worshiping in temples built during the first kingdom. In many villages, no electricity or plumbing exists, let alone cell phones, and the closest paved road is at least 20 miles away. Even in the cities, where signs of modernity and globalization are more in evidence, you can still see locals riding in horse-drawn carts.
Burma has been called Southeast Asia's last frontier. The distinction is apt: It is a country shrouded in mystery, whose outside visitors are few compared to neighboring countries like Thailand and Laos. In part because of its long-standing isolation, it is a place that still feels intimately connected with its past.
Recent developments have made this mysterious land more accessible to travelers than ever before. And the country's history, with its colorful miscellany of settlers, invaders, and rulers over the centuries, is a compelling draw. A visit to Mandalay Region—which includes both the first and last of the nation's royal capitals—offers some of the most evocative sites.
Bagan, "City of Four Million Pagodas"
Today it is known for its incredible concentration of Buddhist temple architecture, but Bagan began humbly, as one of many small, competing city-states. Its people were the Bamar, from whence comes "Burma," an ethnic group that migrated from Southern China. But at the end of the tenth century, the Bamar settlement flourished and grew into the Pagan Empire (today pronounced "Bagan"). As the empire expanded, it absorbed city-states belonging to the Pyu, the Mon, and others. Bamar culture, language, and religion became dominant, though influences from other cultures remained, sometimes quite powerfully.
King Anawrahta was the leader responsible for consolidating power at Bagan and forming what would become modernday Burma. Following his conversion to Theravada Buddhism in 1056, Anawrahta became a powerful advocate for the religion, which was in decline due to the influence of the Hindu Khmer Empire. His faith inspired him to become the first of the great temple-building rulers of Bagan. Anawrahta's masterpiece—the Shwezigon Paya, a spectacular gilded stupa believed to contain collarbone and tooth relics of Gautama Buddha—is considered the prototype for Burmese stupas and the country's most beautiful golden pagoda.
Bagan would eventually contain more than 10,000 religious monuments constructed over the 250-year reign of the Pagan Empire. Donald Stadtner, author of Sacred Sites of Burma: Myth and Folklore in an Evolving Spiritual Realm, approximates that these included 1,000 stupas, 10,000 small temples, and 3,000 monasteries—considerably fewer than the "four million" that found their way into the city's hyperbolic moniker, but an impressive number nonetheless.
More than 2,200 religious monuments remain today from the glorious height of the Pagan Empire. Some of them are tiny, one-room structures, while others are sprawling 200-foot complexes. Some feature interiors covered in painted frescoes, others massive stone Buddhas. Architectural styles vary according to the whims and cultural allegiances of the various kings and nobles who commissioned them. The vaulting techniques used for constructing arches and the pentagonal floor plans are especially interesting because they seem to have originated here, and in the case of the perfect vaulting, were subsequently forgotten.
Today, when you visit Bagan, the sheer quantity of temples and stupas concentrated on this 26-squaremile plain set in a bend of the Irrawaddy River quickly becomes apparent. Because the land is so dry, there are few large trees to obscure the view—just bushes and brush. It is especially rewarding to gaze out from the top of a temple or from a hot-air balloon on this spectacular panorama. Many visitors include the temples of Bagan among the greatest man-made wonders of the world, along with Machu Picchu, Angkor Wat, and the Taj Mahal.
A reporter for the New York Times in 2012 wrote that "Fires, floods, treasure seekers and ficus trees have by turns withered this ancient capital, but in many ways it still looks as it might have eight centuries ago." But what was life like here at the dawn of Burmese history? We've already mentioned the ethnic diversity of the kingdom, but Bagan became even more diverse as it grew into a center for Theravada Buddhist scholarship as well as for subjects like alchemy, medicine, and law, attracting students from India and the Khmer Empire. In the twelfth century, Burmese script, with its circular and semi-circular letters, became the written standard. Still, literacy was limited to the aristocrats and monks, while the majority of people at the time were commoners in bonded service to the crown, the clergy, or individual patrons.
Along with temples, sophisticated water works were built under Anawrahta, allowing for a thriving agricultural economy within a dry zone. Rice became the mainstay of the Burmese diet and a form of currency in which taxes could be paid. Though Theravada Buddhism was dominant, it co-existed with other strains of Buddhism, Hinduism, and indigenous animism.
A local belief in good and evil spirits known as nats was especially popular and eventually became syncretized with Buddhism. Some Buddhist monuments, including Shwezigon Paya, contain shrines to the nats, and historians suspect this was done to attract local people to the king's religion. Nearby Mount Popa, an extinct volcano nearly 5,000 feet high, is a historic center of nat devotion so important that it is considered the Mount Olympus of Burma. Atop a pedestal to the west of the summit stands Taung Kalat, a shrine devoted to 37 great nats. Many suppose that this place was a traditional locale of animal sacrifice rituals and a sacred site long before the introduction of Buddhism that came with the Pagan Empire.
However, after 250 years of rule, Burma's first empire came crashing down. Ten years of Mongol invasions were responsible for its collapse in 1287, drawing to a close Burma's golden age.
About 115 miles and 570 years of history separate Bagan from another royal capital, the city of Mandalay, on the east bank of the Irrawaddy River . . .
On the Road to Mandalay
The name "Mandalay" conjures romantic visions of old Burma, but this city was actually the last of the royal capitals prior to British colonization in 1885. It takes its name from Mandalay Hill, where Gautama Buddha prophesied that a city would be founded at its foot. Today it is the second-largest city in Burma, after Rangoon (also Yangon), and the economic hub of upper Burma. Approximately half of all Burmese monks live in Mandalay, along with a stunning diversity of ethnic groups.
Perhaps our romantic associations with the city come from the Rudyard Kipling poem "Mandalay" (1892) about a British soldier's nostalgia for his time in Burma. As a 24-year-old visitor, Kipling was so enchanted that he wrote: "I love the Burman with the blind favouritism born of first impression. When I die I will be a Burman." The poem later inspired a song, "On the Road to Mandalay," that was popularized by Frank Sinatra, among others.
King Mindon Min was responsible for naming Mandalay the capital in 1857. He planned the city as a grid surrounded by four rivers, with a royal palace compound at its center. Shwenandaw Kyaung, a monastery built entirely from teak wood, was once part of that palace. Thanks to Mindon's son King Thibaw, who moved the monastery to its current location near Mandalay Hill, it was spared the bombing during World War II that destroyed the rest of the wooden palace. This fragile memento of old Mandalay boasts four levels of tiered roofs, and its intricate carvings depict scenes from Buddhist mythology.
Mindon also commissioned the building of Kuthodaw Paya, which contains a remarkable achievement: the world's largest book, a series of 729 marble tablets bearing the entire early canon of Theravada Buddhism inscribed in gold.
Some of Mandalay's most interesting monuments pre-date its status as the nation's capital. Among these is the city's holiest pilgrimage site, Mahamuni Paya, built in 1784 by King Bodawpaya. Its six-and-a-half ton, twelve-foot-high bronze Buddha is purported to be one of just five images cast during Gautama Buddha's lifetime. His face is said to represent the closest physical likeness to the actual Buddha, who consecrated the image with his breath. Today, monks perform a special ritual washing of the Buddha's face and brushing of his teeth each morning.
Not far beyond Mahamuni Paya and the boundaries of Mandalay City stand the enigmatic ruins of two more ancient capitals . . .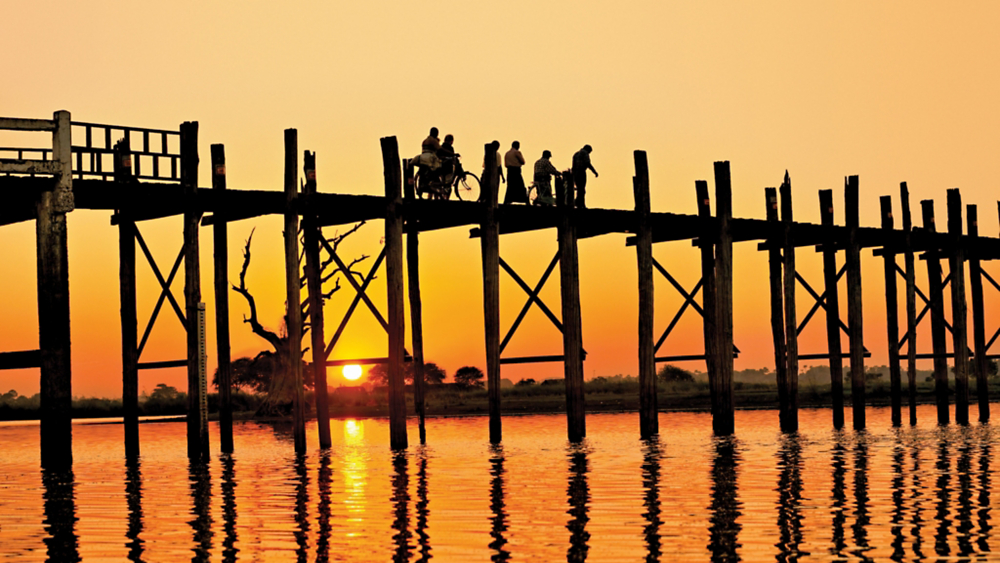 Haunting Inwa and Amarapura
Traces of its former grandeur remain at Inwa, the city that was the royal capital for close to 400 years on five separate occasions between the 14th and 19th centuries. The backwaters of this former capital hold stunning glimpses of the past, including stupas rising from the water lilies of the area's nine lakes. The old city walls are still visible, as is Nanmyin Tower, a watchtower known as the "leaning tower of Ava," which is all that remains of the royal palace built in 1821. The rest was destroyed by an earthquake in 1839 that leveled the capital city. It was never rebuilt. Instead, in 1842, King Tharrawaddy built a new palace at nearby Amarapura.
Amarapura was twice the capital of Burma during the 18th and 19th centuries. When King Mindon
Min decided to move the capital to Mandalay in 1857, he dismantled many of the palace buildings at Amarapura and transported them to the new location. During the move, several teakwood posts were left behind, and a local official named U Bein used them to construct the longest teakwood footbridge in the world, which stretches three quarters of a mile over a shallow lake. Connecting Thaungthaman village to Amarapura, U Bein Bridge is still very much in use 150 years later. The bridge affords spectacular views of land and sky and a changing array of colors from dawn to dusk.
As we've already noted, the short-lived capital at Mandalay would be the last royal capital of the last independent Burmese kingdom. The British sent King Thibaw and his queen into exile in 1885, and by 1886, all of Burma came under British rule.
But the nine centuries of imperial Burmese history that preceded colonization contain a wealth of historical interest, with various ethnic groups trading power and the capital shifting between a total of 17 different cities. Today, from the temples of Bagan to the teakwood relics of old Mandalay and the crumbling ruins of Inwa and Amarapura, Mandalay Region holds a trove of ancient secrets yet to be uncovered.
Unlocking the Secrets of Burma's Past
Comfort Food, Burma Style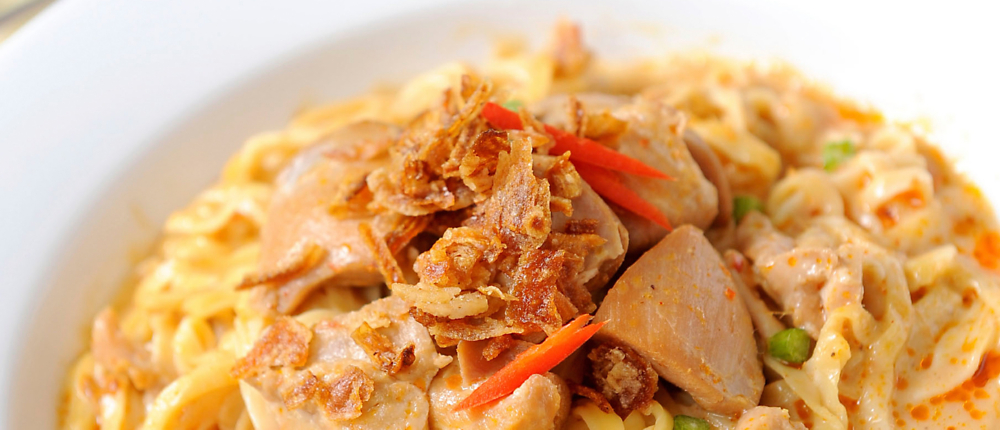 Mohinga (Rice noodle soup)
from Harriet's Corner
There are plenty of variations of this tangy and rich hot and sour soup, but most include ginger, lime, chilis and rice vermicelli noodles with a slew of crunchy, flavorful garnishes. Mohinga is a popular street food you'll probably try at least once if you join us in Burma.

Ingredients:
1 Tbsp vegetable or canola oil
1 onion, finely diced
1 tsp ginger, crushed
1 tsp turmeric
2 Tbsp shrimp paste
2 red chilies, chopped
1/4 cup banana stem, sliced thinly (can substitute water chestnuts)
2 stalks of lemongrass, sliced thinly
3 cups fish stock
1/4 cup chickpea flour
1/4 cup rice, toasted and ground (can also double amount of chickpea flour instead)
1 lb. dried thin rice vermicelli noodles
1/2 lb. firm white fish, such as haddock, pollock or sea bass, sliced

Garnishes:
lime wedges
fried onions
extra chopped chilies
fresh cilantro leaves

Preparation:
Heat the oil in a saucepan and fry the onion, ginger, turmeric, shrimp paste, chilies, banana stem and lemongrass until the onion has softened.
Add the stock and whisk in the chickpea flour and toasted rice. Simmer for approximately 15 minutes until the soup has thickened. Add the rice noodles and continue simmering until the noodles are cooked. Add the fish and cook another five minutes.
Serve immediately with a wedge of lime and garnished with fried onions, chopped chilies and cilantro leaves.
Serves: 4
Comfort Food, Burma Style
The Women of Burma's Paduang Hill-Tribe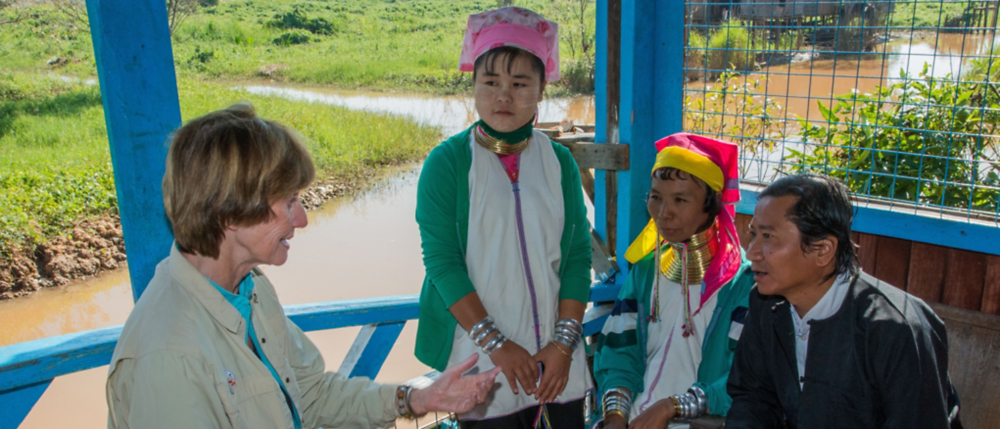 How standards of beauty have shaped their identity throughout time
by Meredith Rommelfanger
For as is often the case with Burma in general, these women themselves are at the center of controversy.
From the covers of National Geographic to specials on the Discovery Channel, the women of eastern Burma's Paduang hill-tribe are no strangers to media coverage. Images of these so-called "long-neck" or "giraffe" women are instantly recognizable, with their coiled neck rings creating the illusion that their necks have been lengthened—which, contrary to popular belief, is not actually the case. The rings apply pressure on the clavicle and upper ribs, which deform the bones in such a way as to appear part of the neck. Young girls first receive their coils during religious rituals at just five or six years of age. Each subsequent year, the coils are replaced with longer ones until they create 20 pronounced rings.
Origins
Anthropologists have pondered several theories to explain the origins of the practice, including protection from both tiger bites and slave traders—the latter choosing not to capture the women because they find them unattractive. According to the women who wear them, however, the main purpose of the rings is to maintain the Paduang cultural identity—and to conform to well established standards of beauty and status. For the same reason, Paduang women also adorn their arms from the wrist to the elbow, and their legs from the ankles to the knees. Although not quite as publicized, these rings are an equal source of pride for Paduang women. Another cherished custom includes dressing in white until marriage—at which point, from her wedding day onwards, a woman begins wearing brightly colored clothing to make a clear statement that she has been spoken for.
Recent religious influences
In recent years, Paduang beliefs have been influenced by Christianity—thanks to the efforts of Roman Catholic missions—as well as Buddhism. But the majority of members maintain animist beliefs. Their major festival, Kay Htein Bo, takes place annually over three days at the end of March or beginning of April. To commemorate the belief that the creator god gave form to the world, a celebratory post called the Kay Htoe Boe pole is planted in the ground. People dance around it to give thanks for blessings during the year, worship the eternal god, ask for forgiveness, and pray for rain. It is also common a practice to do a "reading" or "consulting" of chicken bones to predict what the year ahead will bring.
The Paduang today
For many Paduang women, the prediction of happier times ahead would be welcome, indeed. In the late 1980s, the political turmoil and military regime in Burma led residents of many hill tribes, including the Paduang, to abandon their homeland and seek refuge across the border in Thailand.
The Women of Burma's Paduang Hill-Tribe