Forgot Your Username
If you have forgotten your username, please provide your email address in the box below. We'll send you an email with your requested username. If you are having trouble, please call us toll-free at 1-800-221-0814.
Email Sent
You'll receive an email in a few minutes. Please check this email to find your requested username.
If you do not receive an email or you are having trouble logging into My Account, please call us at 1-800-221-0814.
BOTSWANA
With four distinct ecosystems, Botswana is a nurturing home to some of earth's most majestic creatures. And the country's ecological diversity is perhaps only paralleled by its unmatched economic resilience. Since becoming a self-governing democracy in 1966, Botswana has had one of the fastest-growing economies in history, transforming from one of the poorest countries in the world, to Africa's wealthiest in terms of GDP per capita.
Out in the wilderness of Botswana, a harem of zebra makes its way across the seemingly endless plain … giraffes graze on leaves from towering acacia trees … an elegant lioness instinctively shields its cubs from approaching predators … And when you visit Botswana, you'll find yourself in the heart of it all, witnessing nature undisturbed.
Botswana Interactive Map
Click on map markers
below to view information about top Botswana experiences
Click here to zoom in and out of this map
Most Popular Films
Films featuring Botswana from international, independent filmmakers
Wildlife of Southern Africa
Let the wildlife and scenery of Southern Africa captivate you in this 2-minute film showcasing the natural rhythm of life out in the open plains.
Produced by Rudi Zisterer
Botswana's Pride
See how Botswana's fastest woman, champion runner Amantle Montsho, is inspiring her nation.
Produced by Dave Mayers & Mary Pilon
©2012 The New York Times
365 Docobites - Lekgotla
Learn how being respectful helps two tribes to share a village in Botswana, and to co-exist with the wildlife around them.
Produced by Epiphany Morgan
Featured Reading
Immerse yourself in Botswana with this selection of articles, recipes, and more
ARTICLE
Kalahari lions can go months without drinking water—discover more fascinating facts about these felines here.
ARTICLE
Learn how to snap wildlife photos like a pro with a few expert tips from Photo Editor Greg Palmer.
Botswana: Month-by-Month
There are pros and cons to visiting a destination during any time of the year. Find out what you can expect during your ideal travel time, from weather and climate, to holidays, festivals, and more.
Botswana in January & February
Thunderstorms are common and temperatures are high, but this is also a hot time to catch the greatest variety among Botswana's 550 species of birds. Colorful residents like the lilac-breasted roller are joined by seasonal migrants who are only here during the wet season, with many birds in full breeding plumage.
Regular rainfall keeps the grasslands green, which helps to nourish young grazing animals like zebras, antelopes, and wildebeest. These grazers need all the strength and speed they can muster to evade the predators that stalk them, including lions and leopards. Elephants sometimes defend their herds by forming phalanxes to drive away predators.
Holidays & Events
January 1st: Food, music, and festivities fill the streets each year for New Year's Day celebrations.
February 2nd: World Wetlands Day is celebrated, honoring environmental conservation efforts.
Botswana in March & April
As the rains taper off, hyenas raise their pups and hippos immerse themselves in local rivers. Warthogs, the only wild pig adapted to living on the savanna, continue to take advantage of the well-watered grasslands.
Nighttime temperatures grow cooler and male antelopes begin to engage in head-butting contests as the mating season begins. Male impalas establish mating territories and defend the females within them from potential rivals.
Holidays & Events
Maitisong Festival: In late March or Early April, a week-long annual celebration takes place in Botswana's capital in support of performing arts.
Maun Festival: A two-day celebration of Botswana's rich tribal culture that takes place every April.
Botswana in May-August
As the dry season begins around May, the weather continues to get cooler and the rain clears up. Roaming prides of lions become easier to spot. African wild dogs (also called painted dogs) stalk prey including the kudu (a large antelope), and anglers may find 20-pound catfish biting in the Kafue River.
Large animals including giraffes and water buffalo gather around the remaining water sources as the dry season advances, keeping a watchful eye for lurking crocodiles. Lions mate at this time, and throughout much of the dry season. Lucky observers sometimes glimpse rhinos, but these animals are rare and not always seen.
By July, Botswana is in the heart of its dry season. Though, the Okavango Delta follows its own seasonal rhythm, with channels fed by distant sources filling with water between June and October. The movements of local wildlife are affected by the rising waters, which also facilitate exploring by mokoro dugout canoe.
In August, the weather warms up, with dry conditions continuing to offer excellent wildlife-viewing opportunities. Among predators, lions and hyenas are most frequently seen, while sightings of leopards, cheetahs, or wild dogs are less common.
Holidays & Events
President's Day – each year on the third Monday in July, Botswana's President's Day is celebrated. Many citizens return to the villages where they were born to attend celebrations.
Kuru Dance Festival – taking place in the Kalahari Desert, this three-day festival features traditional bushmen music, the perfect soundscape to accompany the largest gathering of San dancers in the world.
Must See
A mokoro is a traditional African canoe dug out from the trunks of indigenous trees like the mongongo tree. While not always possible due to safety concerns associated with the changing water levels, exploring the Okavango Delta by mokoro is an excellent way to take in the scenery and wildlife. As you let the waterways whisk you into the wilderness, and the spectacles of nature surround you, enjoy a unique vantage point you simply can't get on land excursions.
Botswana in September & October
This time of year the days are hot and sunny, the plains are bone-dry, and the trees are leafless—which is good for game viewing. The flooded Okavango Delta offers a contrasting scene, with water-loving sitatunga, red lechwe, and puku antelopes enjoying its marshy expanses.
Mid-day temperatures can exceed 100°F, especially in October, so wildlife activity shifts to early and late in the day. The larger mammals are active during the cooler hours, along with notable birds including the ostrich and the secretary bird. This time of year also brings the largest concentration of elephants to the banks of the Chobe River.
Holidays & Events
Botswana Day – October 1st marks a day of celebration in honor of the country's socioeconomic achievements.
Domboshaba Festival of Culture & History – usually in late September or early October, this is an annual celebration held near the Domboshaba ruins, unique remnants of the Banyayi-Bakalanga empire
Botswana in November & December
As the transition from dry to rainy season nears its end, the grazing animals of the plains give birth to their young. By the end of November, food and water become more plentiful.
More than 450 species of migratory birds begin to arrive as the rain-watered landscape is blooming and green. Although large animals are more widely dispersed at this time of year, Botswana experts note that to fully experience the country's natural riches, one should see it both during the dry season when big game is most concentrated and in the rainy season when the landscape is lush, green, and alive with birds.
Holidays & Events
Christmas – on what may be the country's most celebrated holiday, as most Batswana are Christian, local choirs host caroling concerts, restaurants and pubs offer Christmas-themed meals, and families come together to celebrate.
Average Monthly Temperatures
Compare Our Adventures
Click 'Select to Compare' to see a side-by-side comparison of up to adventures below—including
activity level, pricing, traveler excellence rating, trip highlights, and more
17 DAYS FROM $5,195 • $ 306 / DAY
Small Group Adventure
Zimbabwe: Hwange • Zambia: Kafue • Botswana: Chobe, Okavango Delta • Zimbabwe: Victoria Falls
42 meals—daily breakfast, 13 lunches, and 14 dinners
Enjoy up to 10 game-viewing excursions
Spend 3 nights in Chobe National Park and 3 nights in the Okavango Delta region
Visit Mabele Village, where the local women will demonstrate traditional basket weaving
Channel the region's outdoor-loving attitude while you relish a traditional braai, or barbecue
34 DAYS FROM $11,090 • $ 327 / DAY
Small Group Adventure
Zimbabwe: Hwange • Zambia: Kafue • Botswana: Chobe, Okavango Delta • Zimbabwe: Victoria Falls • Kenya: Nairobi, Lake Nakuru, Amboseli • Tanzania: Tarangire, Ngorongoro Highlands & Crater, Serengeti National Park
90 meals—daily breakfast, 29 lunches, and 29 dinners
Enjoy up to 10 game-viewing excursions
Spend 3 nights in Chobe National Park and 3 nights in the Okavango Delta region
Channel the region's outdoor-loving attitude while you relish a traditional braai, or barbecue
18 DAYS FROM $5,295 • $ 295 / DAY
Small Group Adventure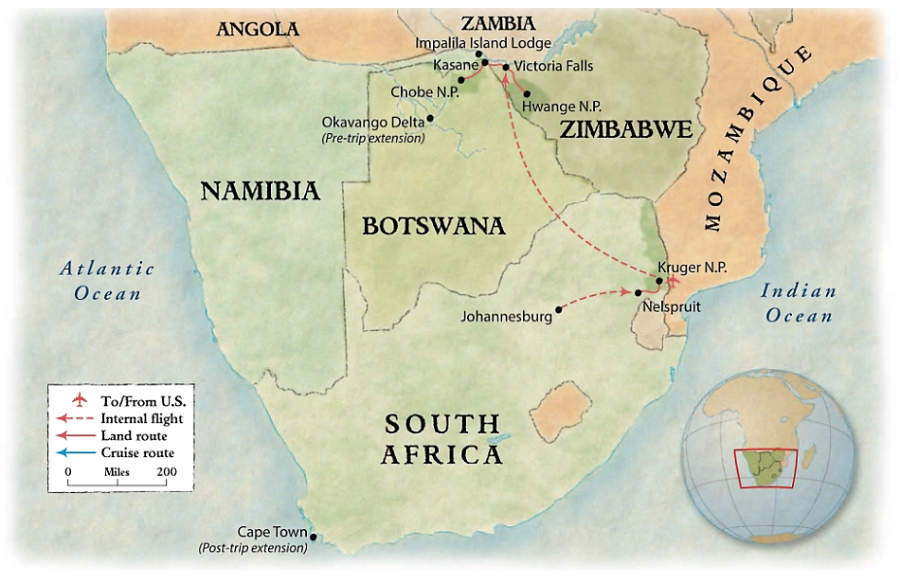 South Africa: Kruger • Zimbabwe: Hwange, Victoria Falls • Namibia: Impalila Island • Botswana: Chobe
46 meals—daily breakfast, 15 lunches, and 15 dinners
Enjoy up to 5 game-viewing excursions
Spend 3 nights in Chobe National Park