Forgot Your Username
If you have forgotten your username, please provide your email address in the box below. We'll send you an email with your requested username. If you are having trouble, please call us toll-free at 1-800-221-0814.
Email Sent
You'll receive an email in a few minutes. Please check this email to find your requested username.
If you do not receive an email or you are having trouble logging into My Account, please call us at 1-800-221-0814.

AUSTRIA
From the Alpine vistas made famous by the opening of the Sound of Music to the elegant concert halls where Mozart first orchestrated his waltzes, Austria has long served as a muse for Western culture. It's not surprising that the playground of the legendary Habsburgs contains so many treasures—from the Lipizzaner stallions at the Spanish Riding School to the fine arts of the Kunsthistorisches Museum and the incomparable State Opera House. Whether it's the glittering beauty of Melk Abbey or the verdant vineyards of the Wachau Wine Valley, Austria is steeped in splendor. Its Baroque treasures have been carefully preserved to keep the past gloriously alive, even while its capital has become a modern dining destination and a hub of contemporary arts. But much of the action still takes place outside of the cities: 50% of the country is forested, a haven for whitewater rafters, hikers, and cyclists who don't mind braving the mighty, unforgettable Alps.
However history hasn't always been kind to Austria. The nation was part of the Holy Roman Empire before its independence, and the country's fate as Austria-Hungary became deeply entwined with World War I after the assassination of Archduke Ferdinand and the "July Crisis" set off global conflict. At the dawn of World War II, the Nazis seized control, outlawed Austrian nationalism, and created the first concentration camp outside of Germany. But Austria endured and has been a sovereign gem again since 1955.
Austria Interactive Map
Click on map markers
below to view information about top Austria experiences
Click here to zoom in and out of this map
Most Popular Films
Films featuring Austria from international, independent filmmakers
Wandering in Vienna
Take a virtual stroll through today's Vienna—and discover its seamless blend of modern style and Old-World allure.
Produced by Emeric Visuals
Verruckt: The Snail Farmer of Vienna
Learn why a successful Viennese businessman chose to become a snail farmer in this 5 minute film.
Produced by Kevin Longa
Tasting Vienna's Culinary Delights
Satisfy your sweet tooth and cultural curiosity on this food tour of Vienna.
Courtesy of CNN
Featured Reading
Immerse yourself in Austria with this selection of articles, recipes, and more
ARTICLE
Vienna's turn-of-the-century artists find freedom
Austria: Month-by-Month
There are pros and cons to visiting a destination during any time of the year. Find out what you can expect during your ideal travel time, from weather and climate, to holidays, festivals, and more.
Austria in December-February
Usually beginning in December, heavy snowfall colors the Alpine region a Christmassy white. During the night, temperatures may hover around zero degrees—perfect weather for hot chocolates and mulled wines (which you may pick up at the Christmas markets that begin lining the enchanting streets this time of year). January and February are typically the coldest months of the year in Austria, and with the Alps shrouded in fresh powder from recent snow, the country transforms into a skier's paradise.
Holidays & Events
December 25: Christmas Day
January 1: New Year's Day
January 18: Dating back to 1924, the yearly Philharmoniker Ball is a highlight of Austria's carnival season (or ball season).
February 8: On the Thursday before Ash Wednesday, the Vienna Opera House hosts the annual Viennese Opernball, a primarily upper class ball that is another main event of carnival season.
Must See
During the holiday season, delightful Christmas markets begin sprouting up throughout the streets of Austria. Offering anything from handmade garments and crafts to festive holiday treats, including pastries and mulled wines, these markets add just the right amount of holiday spirit and flare to an Austrian adventure. Gigantic Christmas trees are often on display in town squares, and as in the U.S., the glimmer of decorative ornaments shines through many of the windows you'll pass by. Rounding out the festivities as the new year rolls around, NeuJahrsKonzert is a celebratory concert put on by the Vienna Philharmonic each New Year's Day.
Austria in March-May
March sees Austria's temperatures beginning to warm up, with an average high of 48 degrees. April and May are even hotter, with average highs of 57 and 68 respectively. The warm, sunny spring days are typically punctuated by bouts of cold rains, making it critical to dress in layers this time of year. May is perhaps the best time of year for outdoor activities, with the warmer weather drawing visitors to national parks, and to the mountains for scenic hikes.
Holidays & Events
March & April: The annual OsterKlang Wien Easter music festival takes place.
April 1 & 2: Easter Sunday & Monday.
May: Beginning in May and lasting five to six weeks, the Viennese Wiener Festwochen draws nearly 200,000 visitors each year to the square in front of Vienna's City Hall. At this cultural festival, attendees are entertained by theater performances, orchestral productions, and more.
Mid-May: The Vienna International Festival brings together artists from across the globe to share their talents. Expect to see drama performances, musical theater, and a variety of dance styles.
May 18-21: Salzburg's Whitsun Festival concert series celebrates and showcases the best of Baroque music.
Austria in June-August
Summer ushers in pleasant weather, longer daylight hours, and more sunshine. Throughout Austria, the daytime temperatures average in the 60s and 70s, with highs sometimes reaching into the 90s. The further south you go in Austria, the more likely you are to experience warmer weather that evokes the climate of the Mediterranean. You can expect the warmest temperatures in July, but be sure to pack accordingly as temperatures can drop into the 50s at night. Also be prepared for more precipitation in June and July when thunderstorms are common throughout the country.
Take advantage of more daylight during the summer that can last for up to 15 hours. Delight in the combination of the long daylight hours and the warm weather during a stroll through Austria's picturesque gardens and parks. But, be prepared for more crowds during the summer as large groups of tourists flock to Austria to soak up the summer weather.
Holidays & Events
June 21: The Midsummer solstice is celebrated on the longest day of the year. Festivities include ship processions that make their way down the Danube and colorful firework shows.
Late July: The annual Salzburg Festival is a celebration of opera, theater, and other musical genres. This popular event draws large crowds in July and August.
Must See
The Vienna Film Festival is a popular event that brings together Austrian culture and gastronomy. A large screen is set up at Rathausplatz square in Vienna where recordings of orchestra performances, operas, concerts, ballets, and more are shown through September. Important sporting events that fall around the same time of the festival are also broadcasted. For example, fans crowded into the square when the women's national team's semifinal game was broadcasted at the film festival. International cuisine is also a highlight of the festival as chefs from around the world come to Austria to showcase their culinary talents.
Austria in September-November
The hills are alive with the colors of autumn, as the changing leaves paint Austria's slopes a majestic patchwork of yellow, orange, and red. Hiking is a perfect pastime during the fall months, and with fewer tourists, you'll have more opportunity to enjoy the scenery. As we head into November, light flurries of snow hint at what's to come in December.
Holidays & Events
September 29-October 1: During Vienna's Wine Hiking Days, vineyards open up for public wine samplings.
Early October: Almabtrieb processions
Mid-October: A series of affordable concerts known as Salzburger Kulturtage takes place.
October 26: On Austrian National Day, the country's flag is proudly displayed, memorial ceremonies take place, many museums offer free admission, and around 100,000 people embark on fitness marches (organized hikes) each year.
November 11: On St. Martin's Day, children engage in trick-or-treating-like activities, similar to Halloween celebrations in the United States.
Must See
In early October, during what are referred to as Almabtrieb processions, farmers relocate their cows from the mountains to better grazing in the valleys. As part of the celebration, the cows are dressed in ornately decorated hats and other finery.
Average Monthly Temperatures
Compare Our Adventures
Click 'Select to Compare' to see a side-by-side comparison of up to adventures below—including
activity level, pricing, traveler excellence rating, trip highlights, and more
15 DAYS FROM $3,495 • $ 233 / DAY
Small Group Adventure
Czech Republic: Prague, Cesky Krumlov, Slavonice • Slovakia: Bratislava • Hungary: Budapest
30 meals—daily breakfast, 9 lunches, and 8 dinners (including 1 Home-Hosted Dinner)
Trace Austrian history during a visit to the Carnuntum Archaeological Park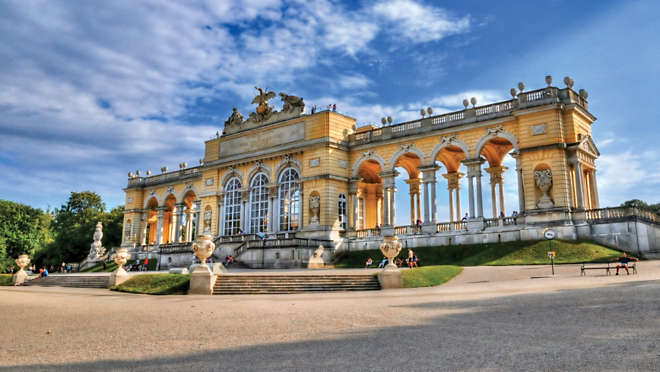 ;
5 NIGHTS FROM FROM $1,395
Explore the magnificent galleries and gardens of Belvedere Palace
Tour Schoenbrunn Palace—the Habsurg's summer estate and a UNESCO World Heritage Site
Stroll through Vienna's beloved boulevard, the Ringstrasse
Walk in the footsteps of Austria's legendary composers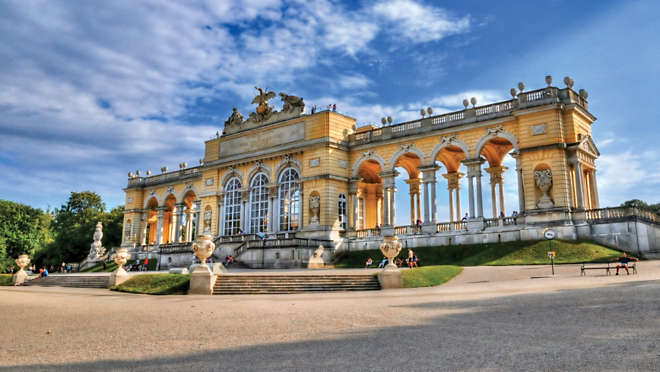 Not Applicable*
Not Applicable*
10 meals—5 breakfasts, 2 lunches, and 3 dinners
Explore the magnificent galleries and gardens of Belvedere Palace
Tour Schoenbrunn Palace—the Habsurg's summer estate and a UNESCO World Heritage Site
Stroll through Vienna's beloved boulevard, the Ringstrasse
Walk in the footsteps of Austria's legendary composers