Forgot Your Username
If you have forgotten your username, please provide your email address in the box below. We'll send you an email with your requested username. If you are having trouble, please call us toll-free at 1-800-221-0814.
Email Sent
You'll receive an email in a few minutes. Please check this email to find your requested username.
If you do not receive an email or you are having trouble logging into My Account, please call us at 1-800-221-0814.

ANTARCTICA
The year is 1819. While attempting to round Chile's Cape Horn, the English cargo ship Williams is caught in a fierce wind that sends it hurtling southward into uncharted waters. At the helm, Captain William Smith is beginning to course correct when, suddenly, shouts of "land!" ring out. In the distance, a snow-covered island breaks the horizon line—the first landmass within Antarctic territory ever sighted by mankind. The discovery of this island (eventually named in honor of King George III) inspires hundreds of voyages to the White Continent—from ambitious seal hunters seeking a rich harvest, to fearless explorers like Ernest Shackleton and Robert F. Scott yearning to learn more about this far-flung wilderness.
Today, Antarctica's appeal is just as strong, attracting intrepid travelers who are eager to set foot on their seventh continent. But this pursuit requires patience and determination. With an average annual precipitation of just six-and-a-half inches, and temperatures dipping as low as -128 degrees Fahrenheit, Antarctica is a frozen and inhospitable desert. For most of the year, the continent is off-limits to all but penguins, seals, and a smattering of scientific researchers. But from November to March, when the icy ocean has thawed and the summer sun shines for 24 hours each day, visitors may approach its remote shores. For those who make it, an incredible reward awaits: the satisfaction of having explored one of the world's last great frontiers.
Antarctica Interactive Map
Click on map markers
below to view information about top Antarctica experiences
Click here to zoom in and out of this map
Most Popular Films
Films featuring Antarctica from international, independent filmmakers
Awesome Antarctica!
The South African team finally reaches the Seventh Continent—Antarctica—and marvel at its stark beauty.
Produced by Vanessa Stephen and Kirsten Horne
Friendliest Seals Ever?
Discover trusting elephant seal pups lounging by the water and a massive King penguin rookery.
Produced by Vanessa Stephen and Kirsten Horne
Penguins with Punk Looks
Join two South African filmmakers as they brave the extreme Antarctic climate to observe quirky rockhopper penguins.
Produced by Vanessa Stephen and Kirsten Horne
Soaked Penguins and Mating Seals
A South African film team encounters molting penguins, families of fur seals, and breathtakingly blue icebergs.
Produced by Vanessa Stephen and Kirsten Horne
100 Wonders: Blood Falls
Marvel at Antarctica's unusual natural wonder, Blood Falls—a blood red waterfall.
Produced by Dylan Thuras
Featured Reading
Immerse yourself in Antarctica with this selection of articles, recipes, and more
ARTICLE
When it comes to distinguishing penguins, it's never as simple as black and white. See why for yourself.
ARTICLE
The continent has turned into a playground for athletes strong and determined enough to challenge its pristine wilds.
ARTICLE
Antarctica's path to preservation required a unique international agreement that was decades in the making.
Antarctica: Month-by-Month
There are pros and cons to visiting a destination during any time of the year. Find out what you can expect during your ideal travel time, from weather and climate, to holidays, festivals, and more.
Antarctica in December-January
In December and January, Antarctica is at its warmest and daylight hours are at their longest, making this the best time of the year to visit the ice continent. Antarctica is considered warm in December and January—which is warm by Antarctica's standards with average temperature highs in the 30s. December and January also have the longest daylight hours with nearly 20 hours of light each day—perfect for maximizing your daytime discoveries and wildlife viewing opportunities. Witness newborn penguin chicks waddle alongside adult penguins and seal pups bounce across the frozen landscape. You may even see adult, male bull elephant seals fighting to prove their strength as the dominant seal of their colony.
Antarctica in February-March
February is an ideal time to visit Antarctica when there are fewer vessels visiting the continent, plenty of wildlife-viewing opportunities, and the weather remains warm (by Antarctica standards) with the average high reaching up to around 37 degrees.
As a result of the warmer weather during the previous months, the ice leading up through the Antarctic Circle begins to melt, making this the best time for ships to cross the circle. As you navigate the circle's icy waters, it's possible that you'll spot whales, and while seal pups and penguin chicks are likely to be almost fully grown, there are still ample opportunities to see penguin rookeries and seal colonies.
Must See
The snow in February and March develops a soft shade of pink and is known as red snow or "watermelon snow," but don't be fooled by the name. This snow may look pretty enough to eat, but there's a natural phenomenon that occurs that explains the snow's watermelon coloring. Red snow appears when the weather starts to warm up and the ice starts to melt. Algae, that was frozen under the snow during the colder months, reacts to the warm weather and sunlight by changing from a shade of green to red.
Antarctica in April-September
It's not possible to travel to Antarctica during this 6-month period due to the dangerously cold temperatures, harsh winds, and strong storms. It's also impossible for ships to travel through the regions due to the thick ice that coats the water. Although travelers aren't permitted to venture to the ice continent during this time, professionals do live in bases on Antarctica from April to September and endure less daylight hours and harsh weather. Due to Antarctica's location on the globe, there are days in June that don't see sunlight at all—sometimes the darkness lasts for up to a couple of weeks.
The people who stay here during the winter are joined by emperor penguins who are the only warm-blooded animals that don't migrate during this time of the year because this is their breeding season. The female penguins meet their partners and lay their eggs at the beginning of the winter. They then leave the eggs for the male penguins to watch over during the peak of winter. The male penguins keep the eggs, and themselves, warm by huddling together with other penguins until the end of winter when the female penguins return in time for their eggs to hatch.
Antarctica in October-November
Antarctica at the beginning of October is in pristine condition as a fresh blanket of snow covers the continent and smooth layers of ice coat the water. This icy landscape remains frozen through October due to the bitter cold temperatures that the continent is still experiencing—temperatures in the middle of the continent can dip to as low as -60 degrees. Because the ice off Antarctica's coasts and along its waterways is set and strong, it's still difficult for ships to break through and travel to the region. Ships typically start making their way to Antarctica at the end of October when a slight warm-up occurs and the ice is easier for the ships to break through.
The end of October and beginning of November are great times to visit Antarctica when the snow is still fairly fresh and wildlife starts to make its way back to the ice continent. There are plenty of wildlife viewing opportunities at the end of October and throughout November as it's breeding season for Adélie penguins, Chinstrap penguins, and elephant seals.
Average Monthly Temperatures
Compare Our Adventures
Click 'Select to Compare' to see a side-by-side comparison of up to adventures below—including
activity level, pricing, traveler excellence rating, trip highlights, and more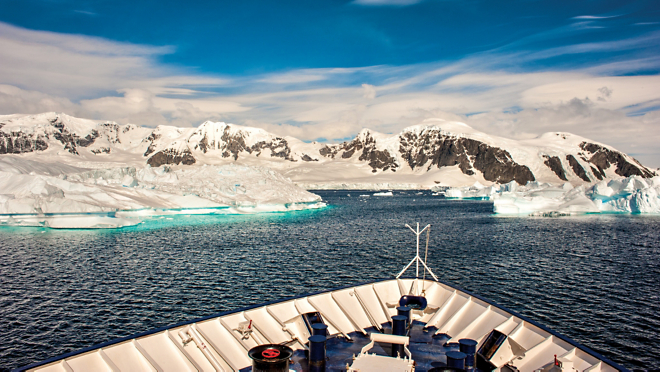 Please call for pricing
Small Ship Adventure
First Departure 1/22/18
Days in Antarctica
7
Argentina: Buenos Aires, Ushuaia, Tierra del Fuego • Antarctic Expedition Cruise: Drake Passage, Antarctic Peninsula, South Shetland Islands, Antarctic Circle
40 meals—daily breakfasts, 12 lunches, and 13 dinners (plus all onboard house beer & wine, as well as soft drinks)
Spend 11 nights aboard a private small ship, including a cruise across the Drake Passage
Visit the South Shetland Islands and mainland Antarctica
Get an up-close look at icebergs, glaciers, and wildlife during daily Zodiac excursions
Cross the Arctic Circle to discover what lies on the other side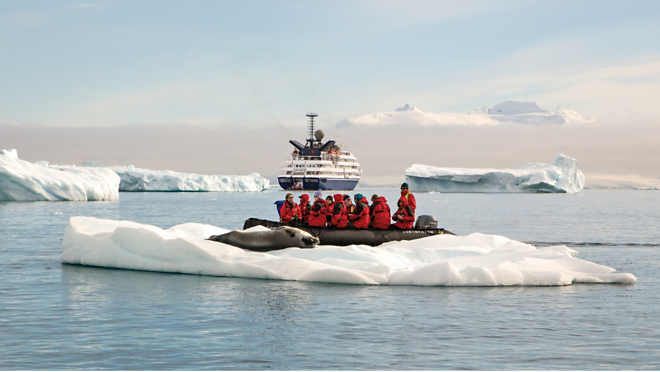 14 DAYS FROM $11,595 • $ 829 / DAY
Small Ship Adventure
Argentina: Buenos Aires, Ushuaia • Antarctic Expedition Cruise: Drake Passage, Antarctic Peninsula Region, South Shetland Islands
31 meals—daily breakfasts, 9 lunches, and 10 dinners (plus all onboard house beer & wine, as well as soft drinks)
Spend 9 nights aboard a private small ship, including a cruise across the Drake Passage
Visit the South Shetland Islands and mainland Antarctica
Get an up-close look at icebergs, glaciers and wildlife during daily Zodiac excursions