Question of the Month: October Women's Edition
Do you believe women approach travel differently than men? If so, how and why?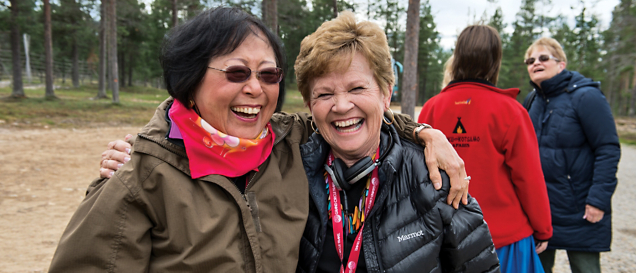 We asked ourselves this question when putting together the first women's edition of the Inside Scoop so we decided to ask our readers—do you believe women approach travel differently than men? If so, how and why?

Traveling with the heart

I do believe women approach travel with a different perspective from that of men.

Women approach travel with the heart—with a desire to understand the people, the strengths and weaknesses of their culture, their joys and their struggles, their inspirations and their dreams.

G.C.T and O.A.T uniquely fulfills this desire with home-hosted meals, visits to farms and places of work, visits to places of worship, and countryside stops at little known coffee shops, to name just a few.

Thanks to: Cheryl C., 8-time traveler from Jackson, MS

Hunter vs. gatherer

Yes, I believe that women approach travel differently than men, and I think of it as hunter vs. gatherer.

I feel as a woman myself when traveling, I'm not just there to observe and view, but to immerse myself, experience, exchange and GATHER my experiences and memories within the culture and the environment I'm traveling in.

I feel most men are more hesitant to get involved as much when they travel. They appreciate learning and seeing but are less concerned with the experiencing as opposed to witnessing.

Thanks to: Anne L., Member of O.A.T. Women's Advisory Panel

What women look for

Yes! Women look for the children and families, fashion, and events. Men (in my experience) look more to cost and concerns that all will go well.

Thanks to: Donna H., 4-time traveler from Lakeland, FL

Finding our place

Women tend to be more social beings than men. That's reflected in how we travel. I believe women are more apt to seek out meeting new people, both locals as well as other travelers. Of course, the sights and scenery are important, too, but they don't forge a lasting imprint on the soul the way that human interactions do. We're always trying to understand our place in the world—really, our place among the people of this world. Our lives might be very different, but there's common ground that is found only when you look someone in the eye and spend time in their presence.

Thanks to: Ann S., Member of O.A.T. Women's Advisory Panel

Fearless solo travelers

I think more women are comfortable traveling alone these days, and adventurous travel is so popular! I love that O.A.T. does not charge the single supplement that most companies do. I think that also contributes to more women doing solo travel. One suggestion—if you have a single space left on a trip, let the solo traveler share in the discount for last minute!

Thanks to: Carol B., 1-time traveler from Bradenton, FL

Safety in numbers

I do believe that women approach travel differently than men. I think there's a certain heightened degree of safety measures that women need to take vs. men in general, and this often translates to how we travel. We are constantly in conflict with wanting to see everything and take in all experiences while maintaining a sense of protection and security when we're in an unfamiliar place. I think there's a stronger sense of comfort and strength for me when I'm not traveling alone. If I'm in a group, I'm going to be a lot more comfortable pushing myself past my comfort zone than if I'm by myself. I don't think that men can relate to this in the same way.

Thanks to: Jess A., Member of O.A.T. Women's Advisory Panel

Moving connections

What you wrote about travel and the feeling of connection is exactly how I feel. And, I too, get so moved at these connections that at times I have tears in my eyes.

When I was younger and had my own travel agency, I didn't connect like I do now that I'm older. I can't wait to go on one of your trips when I retire in the next year or two.

Thanks to: Dorris F. from Ft. Lauderdale, FL who we hope to welcome on her first trip soon

For the fun of it

I think we approach trips totally different from men starting from the moment we start planning it. We like to travel with our companions, but we also love to go with our girlfriends! We may go back to a place that we have already been just because our best friend wants to go. We like to give all the tips about a trip to all our girlfriends, especially those we value a lot, and we share all those hidden secrets that only we know like where to shop better and cheaper.

When we travel we like to have fun. We have no shame in dancing with locals, trying the local language, a cooking lesson, or even getting a little emotional when someone or something touches our hearts. We love to make new friends with locals or among the group of travelers.

We are also more demanding when it is about safety and comfort, especially if are traveling solo. We love to give feedback or recommendations. We recognize and admire strong women when we see them and we immediately connect with them no matter the cultural differences.

Thanks to: Magdalena Z., Member of O.AT. Women's Advisory Panel

You don't need to wait for a new Question of the Month to tell us a story. Email us any time at [email protected]. To read more stories from your fellow travelers, check out our archive of Traveler Insights from previous editions of The Inside Scoop.

See the answers to previous Questions of the Month here.