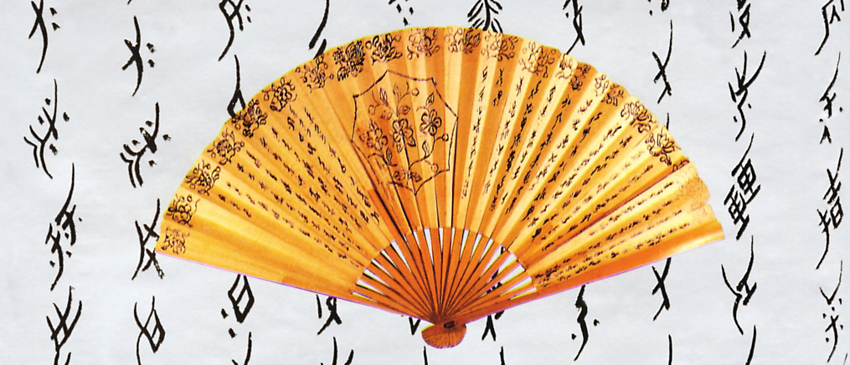 Question: Where did women create a language so unique that no men could read it?
Answer: China
It was the 1960s, the dawn of the Cultural Revolution in China—paranoia abounded and secretiveness was everything. An old woman at a train station fainted and when the police went through her belongings, they found a piece of paper covered in a code they couldn't decipher. She claimed it was a letter, but they didn't believe her and arrested her for spying. Nothing she said could convince them otherwise. It wasn't until the 1980s that anyone realized what the woman had been carrying: nüshu, the secret language of women.
After the end of the Cultural Revolution, scholars began finding and studying texts written in the long-rumored script created by peasant woman in the Hunan province in the 19th century. Peasant women were not allowed a lot of freedoms. Once married, they had to move in with and do the bidding of their in-laws; they mostly stayed indoors, working on chores or doing crafts like needlework—especially once married. Their friendships with other women were crucial to them, and they kept those bonds alive with nüshu.
Nüshu symbols were passed down mother-to-daughter. Men were never taught it, so that it truly became the province of women, especially laotong ("sworn sisters"), the name given to lifelong female friends whose letters to each other in nüshu often emotionally sustained them. And the practice wasn't contained merely to letters. The characters can be found embroidered on bedding and stitched onto handkerchiefs. Three days after a wedding, the bride would receive a "Third Day Missive," a bound booklet full of messages from the women in her family and her best friends. In a patriarchal society, it was a rare thing that the husband could not share in.
The first man to crack the code was scholar Zhou Shuoyi in 1980. Zhou spent the next 20 years working on a dictionary of nüshu that appeared in 2003. The timing was important because few nüshu writers remained by then; advances in equality for women in China, including more access to education and more social freedoms, had eliminated the need for a secret script. But the publication of the dictionary ensured that it would not be lost; its meaningful contribution to women's lives was too important to forget.
10 More Fascinating Facts About nüshu
Standard Chinese uses hanzi (characters) that each have meanings and are paired into words, but nüshu was a mixture of half phonetic sounds and half hanzi.


Nüshu is composed of dots, vertical lines, and arcs, and is read from top to bottom and right to left.


The oldest nüshu artifact is a coin from the 1860s, onto which someone has carved "all the women in the world are members of the same family" in nüshu.


Sisters and friends would practice it for fun before they got married, while they still had more personal freedom and time together.


Nüshu often referred to tianguang, a heavenly light that would guide the women through difficult periods, and nüshu users claimed that none of their ranks ever committed suicide, thanks to this belief.


The last personal user of nüshu (as opposed to scholars who only study it) died in 2004 at the age of 98—one year after the dictionary was published.


In 2013, composer Tan Dun wrote a 13-movement symphony called "Nüshu: The Secret Songs of Women" to help preserve the script and share it with the world, and it has been performed in Asia, Europe, and the U.S.


In 2015, China formally launched a program to protect nüshu, digitizing and standardizing the script, while designating the region of its birth as an ecolinguistic pilot area.


Since then, manuals have been prepared explaining the background and how the text works, and it is being included in school courses to educate young people about the importance of nüshu.


Nüshu got a modern update in 2017, when it was finally added to Unicode, the computer industry standard for encoding text—something that didn't even exist when the original creators dreamed up nüshu.
Discover the fascinating cultures and subcultures of China when you join us in exploring Imperial China, Tibet & the Yangtze River.