We Spoke of the Origin of Man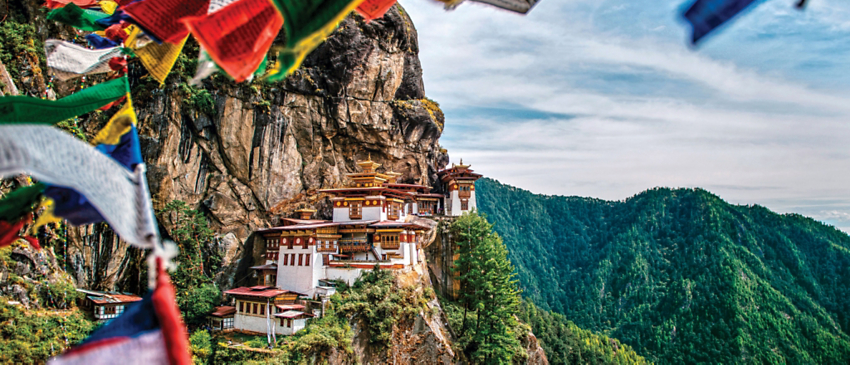 By Jean G., 3-time traveler from Brooklyn, NY
What a fabulous trip we had with O.A.T. to Bhutan! And what a marvelous, knowledgeable Trip Experience Leader O.A.T. selected for our journey. I wanted to honor that guide, Chenchu Nidup, with a poem.
We Spoke of the Origin of Man
(For Chenchu Nidup)

We spoke of the origin of man
as we gazed at the Tiger's Nest monastery.
Breathless from the climb,
we felt our bodies as though
we were animals,
not thinking humans,
preoccupied with the
beginning
of time.

Yet think we did,
amidst the cloud forest in Bhutan,
chattering like monkeys
descending from trees
as the monastery above,
solid as the mountain that held it,
stood silent, as it had
for eight hundred years.

How many had soldiered
up this path
through the forest?
Mothers with children in hand,
heading for worship.
Tourists laboring
in the thin air,
exclaiming loudly
with every view.
Encouraging guides
patiently answering every question.
Donkeys carrying their burdens
to the tea shop in
the clouds,
the prayer flags
of the faithful
waving their oms
in the warm breeze.

How few are silent,
as the monks teach.
No wonder they retreat.
It is difficult to be
human in a world
of mystery.
Difficult not to try
and explain
how a few decided
to climb a sheer cliff
to pray, and meditate.
Difficult not to question
what it is that we
humans seek,
as we gasp for breath
in this perfect place.
Become inspired by Tiger's Nest Monastery–and the wisdom of your Trip Experience Leader—during our Bhutan: The Hidden Kingdom pre-trip extension on O.A.T.'s Heart of India adventure.