We received this story in response to our January Question of the Month: What's the most exciting experience with wildlife or nature you've had in your travels? You can read more answers here.
By Patricia L., 11-time traveler and 5-time Vacation Ambassador from Fresno, CA
I had two memorable encounters with animals during O.A.T. trips, and they were both unforgettable and, well, mind-blowing.
The first occurred on our very first trip with O.A.T., back around 2006, I believe, when we went to the Galápagos Islands. On one of the days, our ship came into a small inlet or cove, and we were told that there were sea lions that were frequently there. With the encouragement and blessing of our guide, three of us, my husband, George, a friend, and I ventured into the water. The water temperature was brisk and enjoyable. Our friend quickly swam over to some rocks to get himself out of the water, saying that he was uncomfortable being so close to the sea lions.
George and I continued swimming, diving under the surface, and we soon saw a school of sea lions—juveniles, we had been told, coming to play with us—and play they did! I saw one swooping towards me, like a torpedo, and then veer off at the last second before he came in contact with me! The same happened with my husband. We played with the sea lions for several minutes, thoroughly enjoying their game with them.
It was such an amazing experience to have this interaction with a so-called "wild" animal, connecting in play and on their turf, not ours, being invited to join them in their home and welcomed in their fun.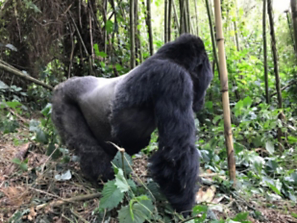 The second memorable experience occurred in 2017 during our post-trip to Rwanda to see the mountain gorillas. After a strenuous hike up the mountain for at least an hour, our guide silenced us, as we approached a small clearing. There, lying on his back and taking a nap, was the leader of the gorilla family. There were several other gorillas in the clearing, representing different ages and gender. One youngster kept trying to climb a tree—unsuccessfully, because its brother, who apparently was babysitting, kept reaching for one leg as the little fellow kept going higher and pulled him back down. This "catch-and-release" activity kept us all entertained for several minutes.
The big excitement happened after the leader woke up and decided to head for an area on the other side of our trail. His mind was made up, and he started going to his destination, with no concern about the humans in his way. He walked by me, brushing my leg with his body, and I could feel the bristles of his hair through my pant leg. A woman standing a few feet ahead of me was watching the other gorillas and didn't see "my" gorilla coming, and he plowed on, causing her to lose her balance! He just kept going, from Point A to Point B and nothing was going to get in his way!
I don't think any of the eight people in our group felt any danger. After all, gorillas are vegetarians, aren't they?