One Small Personal Victory in Patagonia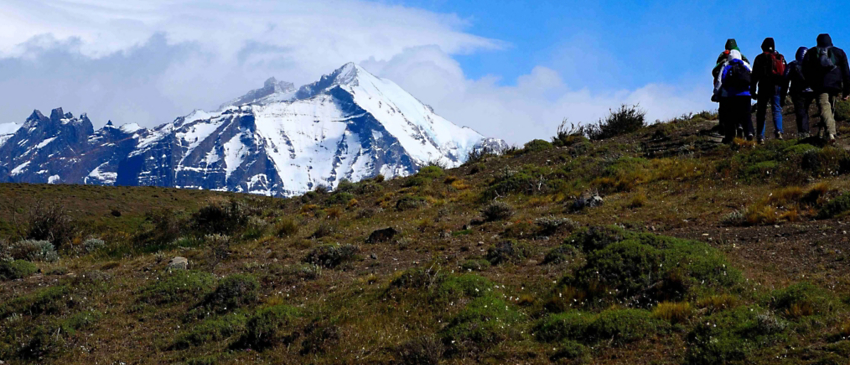 By Howard A., 25-time traveler & 9-time Vacation Ambassador from Ashland, MA
I couldn't wait to hike in Torres del Paine National Park in Chile. I am not an avid hiker but the thought of enjoying this amazingly beautiful and remote Patagonian wilderness had been a dream of mine since childhood. I wanted to be "in shape" so that I would be able to fully enjoy the beauty of one of Planet Earth's most pristine regions, and began walking daily three months prior to departure. With each passing day I became stronger and eventually could walk for miles uphill and down at a reasonable pace almost effortlessly. I decided to drop a few pounds as this could only help. Unfortunately, all that walking simply increased my appetite, and as a result I ate more. It was a "wash," so to speak, and my weight refused to yield. So be it. I was still ready. I read about Patagonia, took out beautiful picture books from the library, and watched many documentary films. I was so excited. I couldn't wait. I was marking off the days on my calendar.
Then disaster struck. I began to lose energy and developed what appeared to be a nasty cold. Hey—no big deal. Just a cold, right? Being the stubborn type, instead of seeing a doctor immediately I employed the usual home remedies. I was six weeks from departure and felt that I still I had plenty of time. I continued to deteriorate until I was devoid of energy and was having respiratory difficulty. I called the doc. I was diagnosed with an advanced upper respiratory infection and was scolded by both him and my wife for having waited too long in seeking medical attention.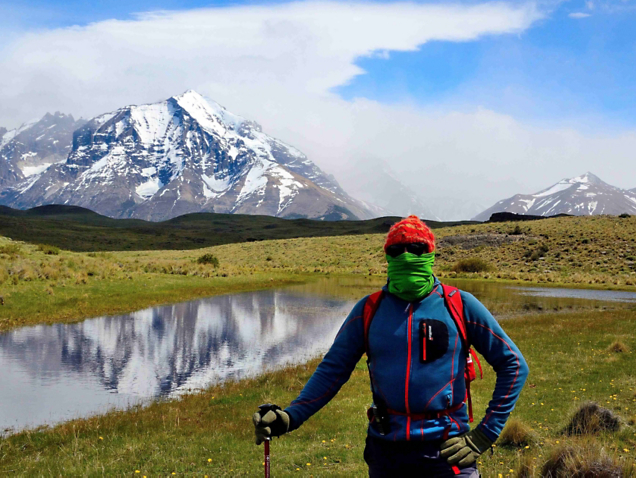 Now, with a month to go prior to departure I was put on a 10-day course of antibiotics. Although this did help it still took me another few weeks to begin feeling right. Ten days prior to departure I resumed my walking program. Unfortunately, I had lost all my hard-earned conditioning and found that walking even a fourth of my daily regimen was now a struggle that left me exhausted. Still I walked every day right up until departure, and although I was making slow improvements, I now had serious doubts about my abilities. I was still not 100%. I rationalized. I am 71, but a youthful 71. I would be doing a hike, not a forced march. No one would force me to hike if I did not feel up to it. I could always stay at the lodge (which I would most likely not do, of course). So off I went. In the earlier part of the tour I made a conscious effort to eat in the healthiest possible manner and walk each day. I was slowly gaining ground, but it was painfully clear that a "hike" of any sort might present a challenge.
A few words about Torres del Paine National Park in Patagonia here, friends. This is a stunningly beautiful region, but the weather is completely unpredictable and can change without warning. In a single day it can rain, snow, hail, or be clear, warm and sunny or any combination of these. It can go from dead calm to gale force winds within minutes with no warning.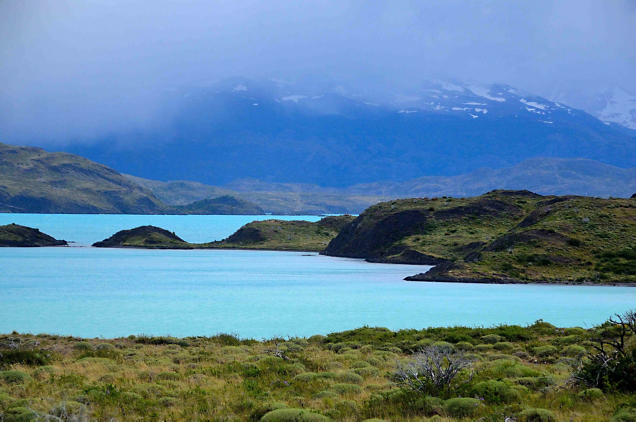 On the morning of our first hike the sun shone brightly, albeit with ominous overcast patches. We would hike the Laguna Azul (Blue Lagoon) trail, a 3.1-mile point-to-point trip with a few hills. I felt reasonably well and drank an extra cup of coffee at breakfast to strengthen mind and spirit. Our group of 16 gathered at the trailhead where we were briefed. Alejandra, the local National Park guide, would be at the front of the group and Gonzalo, our Trip Experience Leader, would be at the rear. We were to stay together as this is the land of the puma, and there is no shortage of them. A stand-alone hiker is an easy target for a predatory cat that can exceed 220 pounds and run 50 miles per hour. "Stay together and don't stray from the group or trail." It was repeated to us several times. Moments before our departure the weather suddenly turned cold and threatening and the wind picked up to 50 miles per hour. My wife and I were dressed in five layers of clothing, all technically designed for the "anything goes" scenario.
In my backpack inside a plastic bag I carried my trusty Nikon. This is a fabulous camera, which has seen a great deal of the world, but I had concerns, as over the past few weeks it had been exposed to the high humidity of the Brazilian rainforest, drenching rains in Argentina, and many air-conditioned hotel rooms. Now it would be exposed to the cold and who knows what else. Electronics do not like extremes, and I have suffered through camera failures in the past. The scenery is absolutely spectacular here and I had to capture it, so I said a prayer to all Gods of all faiths.
Off we went and before long the group began to split. The faster and fitter hikers including my wife went to the front and others like myself were soon at the back. I felt my body was running at about 70% of where I should have been. I began to struggle. I again rationalized. My goal was to simply "complete" this hike, not set any records. I was laser focused on this. I intended to prevail. Then it began to rain heavily, and the wind increased. I was now wondering why I had done this. The first serious challenge was a hill of perhaps 150 yards that any healthy person could easily albeit slowly climb. I began my ascent and the four-pound Nikon in my pack suddenly felt like a bowling ball. I was moving very slowly and was now the last hiker. I received continued encouragement from Gonzalo who indicated that we were still close enough to the trailhead for me to turn back. No way, Amigo! I had not travelled 6,500 miles to stop now. I kept thinking how easy this hike would be if I had not been recently ill.
As we hiked I saw the skeletons of many guanacos testifying to the prowess of the pumas that are clearly here in healthy numbers. I removed all thoughts of failure from my mind. I dug in emotionally and began my ascent and was suddenly hit by a 60 mile per hour gust of wind. It flattened me and almost pushed me back down the hill. Gonzalo, a superior wilderness guide, told me to get on my knees and gain ground uphill between the gusts. He knew I was determined to complete the hike so the topic of turning back was not mentioned again. As I reached the top of the hill I could see that the rest of the hikers had opened up a quarter of a mile of distance and were moving as a group at a nice pace. I am sure the view was beautiful here, but I was struggling, and so focused on putting one foot in front of the other that I don't even remember.
The next leg was a downhill. Gonzalo indicated to take this slowly and conserve energy. I did as instructed and soon was on flat terrain that seemed easy. My body had warmed up and I was hitting my stride. Adrenaline was now infusing my bloodstream and the second cup of coffee had kicked in. Being off the hill, the wind was now manageable, and I used this opportunity to take some photos and hydrate. I couldn't help but be struck at how magnificent this pristine wilderness is.
I moved easily over the next two miles at a slow but comfortable pace. The sky had cleared, and the wind had ceased. The sun was now shining. I felt better but could see the final challenge ahead. My heart sunk. It was a 200-yard uphill climb. I had my doubts but again steeled myself. I moved slowly and received constant encouragement from Gonzalo. It was just him and me now, bringing up the rear. I was glad he was with me. I rested every 20 yards. Although I was weakening I could see the top of the hill. When Gonzalo indicated that this hill would be the final one I could sense victory. The Rocky theme now played in a constant loop in my head. "Getting strong now—Coming on, now. Gonna fly now—Flying high now." I continued to focus on simply putting one foot in front of another. It was now a mental battle and I sensed victory.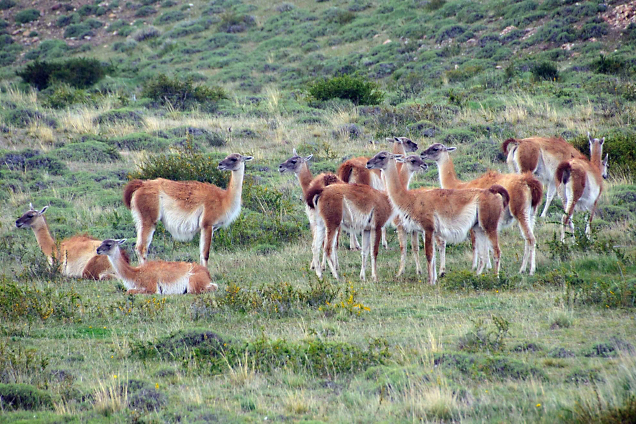 As I crested the hill the landscape opened to one of the most beautiful panoramas I could have ever imagined. No book or film could ever do justice to this. Snow-capped mountains, azure blue lakes, fertile valleys, raging waterfalls, Artic foxes, and large herds of guanacos filled my field of vision. It was beyond spectacular. I was mesmerized. The wind had ceased, and the sky was a deep blue and sunny. The air was warm and clean. All my senses were heightened. I felt totally alive and vibrant. I was soaring. My efforts had been more than rewarded.
The group awaited us half mile ahead. I now knew I would make it. I kept truckin' and picked up my pace, much to the surprise of Gonzalo who probably had been wondering if he would have to carry me to the end. Hot chocolate, coffee, and food awaited us as we arrived. I had achieved a small personal victory but to me it was monumental. Had I not been sick prior to departure this would have been so easy but the completion of this hike with my body running below capacity made it all the sweeter. This small victory seemed so personally fulfilling.
I did my best to photographically capture the breath-taking beauty that this remote region offers. A special thanks to Gonzalo as without his direction and coaching I would have not completed this hike. Gonzalo, you are a true friend. I strongly encourage anyone who dreams of visiting Patagonia to do so. It is unquestionably one of Planet Earth's epic and unsurpassed displays of nature and beauty.
Howard Axelrod is an Ashland, MA resident, travel photographer, and writer. He has photographed in 84 countries on six continents, and has traveled to 42 of the U.S. states. He is primarily interested in native and tribal cultures, religion, architecture, and wildlife, which he feels are all disappearing at an alarming rate. His goal is to document through photographs and articles as much of this as possible, while it still exists.
Test your strength against the challenges of Patagonia—and reap the rewards—when you join O.A.T. for Exploring South America: Rio, Buenos Aires, Patagonia & Chilean Fjord Cruise.