Unexpected Discoveries on the Aegean
By Barbara Vidunas, 7-time traveler from Fuquay Varina, NC
Our last trip was sailing on the Aegean Sea last year on one of the small ship cruises. We were on the MV Arethusa. Prior to this trip, we sailed on the Athena (2017 Bled to Athens). Several crew members, the Captain and the head Chef were on the Athena. They remembered Lou and I two years later. We really felt like family. That was our first memory.
The second memory from the 2019 sailing was how safety oriented the Captain and our trip leaders were. He had to make a quick change of sailing plans because of conditions on the Aegean Sea. One port of call had to be dropped, but we picked up a chance to visit the island of Rhodes instead. What a beautiful place. You should consider adding Rhodes to your itinerary. Patmos became our first port of call instead of later in the journey. Our trip leaders made sure our early arrival did not cause us to miss a beat. In fact, the day we arrived was a Sunday, so that made the cave where St. John the Evangelist wrote the Book of Revelation that much more special.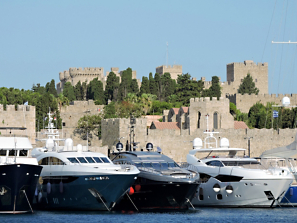 Rhodes was a great walled city that was fun to explore. Lots of twisting alleyways of little shops and restaurants. Our tour directors made sure we got an opportunity for a historic walk through the city and a tour of the palace. They worked hard to pull everything off without a hitch.
We have felt this with all seven of our travels with O.A.T., but this past journey reinforced the top quality you provide for us with the men and women who work for you abroad.
Experience the warmth and hospitality of the captain and crew when you travel on The Aegean Islands, Athens & Istanbul.