What's the Saying… Turning Lemons Into Lemonade?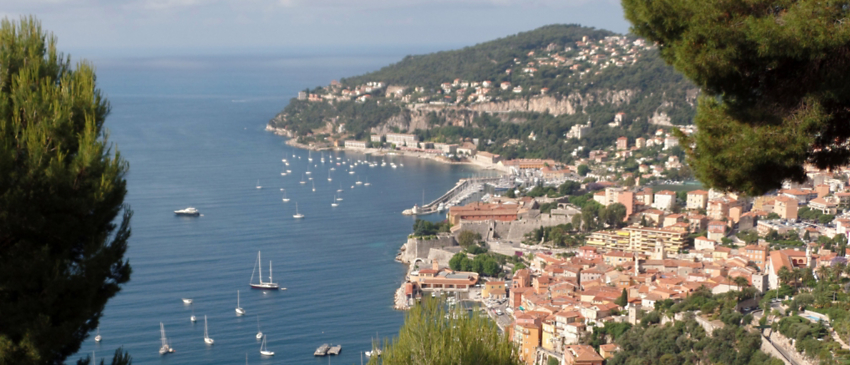 By Bonnie Mack, 6-time traveler from Clearwater, FL
After dreaming about traveling to Italy with O.A.T. for the last few years, I was lucky enough to get the last single cabin, when I finally booked it. I longed to return to Florence, because decades had passed since my last visit. I just wanted to sit at a cafe, and stare at the wonderful outdoor sculpture gallery in the Piazza della Signoria. I'd wander over the Ponte Vecchio, stopping occasionally to price a piece of jewelry in one of the many gold shops. I'd study the Baptistery's bronze doors of The Duomo. Most of all, I'd retrace the footsteps I'd taken with my friends on my first visit in 1970.
However, a few weeks ago, I came to the realization that, with the trip only two months away, and COVID-19 continuing to evolve, it was probably a good idea to change my plans to another trip for 2021. Half of me accepted the decision, while the other half was still thinking about what clothes to bring. At least I was forewarned … I was already packed for a trip to Sicily on 9-12-01. It was 13 years, before I finally made the trip with Grand Circle.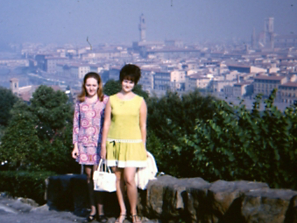 When everything in Florida closed down a few weeks ago, and I found myself a prisoner in my own home. I searched around for something to do. I think we all have an endless list of things that need to be done—or things we want to do—but we have to be in the mood to do them. Well mood or no mood, I decided that now was the time to take out some of those old 45 RPMs from the '60s, and copy them to an SD card, so I could listen to them on my PC or MP3 player in the car.
Once I got everything set up, and played the first of many songs, my mind started to wander back to places where I had danced to them. It wasn't long, before I had all the moves going again—well, at least in my head, because I was sitting down as they were playing. It's certain that anything below my waist wouldn't be moving much—but I did sway back and forth—and my head, shoulders, and arms were movin' and shakin' like the old days. The smile on my face looked like I'd swallowed a hanger. It was a good day. During a phone call the following morning, I told my sister how I'd spent the previous day. "You must have been desperate!" she exclaimed, "Listening to those old songs." I reminded her that "those old songs" were her favorites in the '60s! They brought back so many wonderful memories!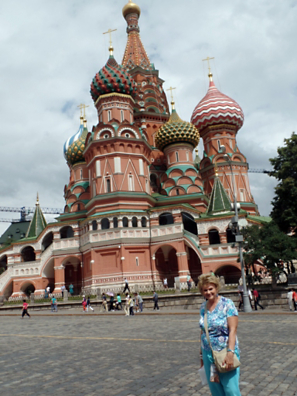 So much for playtime … the china cabinet glared at me. It was time again for its annual bath, which I'd put off all winter. Little by little, I began removing treasures from all over the world. I remembered the little store in Russia, where I purchased the souvenir Faberge egg. I treasured the egret, embroidered in silk on both sides, and was in a round wooden frame on a carved stand. I acquired it in China on my first visit in 1987. There were cloisonne vases from the Orient; Swarovski crystal statues from Prague; and a miniature picture of the Moguls, hand-painted on bone from India. Among so many other things was the Murano glass wine set that I brought home from Venice in 1970—it wasn't expensive at that time, but I treasured it. That afternoon, I recalled precious memories of some of the fabulous places I visited.
The china cabinet—and its contents—sparkled, when I finished. What's next? I began to think about some of the people I'd met—especially my favorite Trip Leaders. The following day, I sent emails to several of them. I wasn't certain they'd remember me, so I attached a photo of myself. I just wanted them to know that, during these terrible times, there was someone on the other side of the world who was thinking of them. I thanked them for sharing the history and beauty of their country with me, and let them know that I'd never forget them or my many incredible experiences. I'd hoped that my emails would bring a smile to their faces in these uncertain times. A smile came to my face when, to my surprise, they promptly responded. Each of them was very surprised and happy to hear from me. Mission accomplished!
While I'm saddened to think that missing my overseas trip this year will break my record of 54 consecutive years of traveling abroad (on 71 trips), I'm grateful to have such a long, uninterrupted run. I've visited countries when they were still in the third world and tourism hadn't discovered them yet. And I've been fortunate enough to see that they entered the modern world decades later. We'll all experience a "new world," when the virus has been controlled. Hopefully, it will be a better world in some ways. As the British rock star P.J. Proby sang in the 1960s, "Good Days Are Comin' My Way!" I hope they're comin' yours, as well.