Tunisia… Always an Exotic Adventure!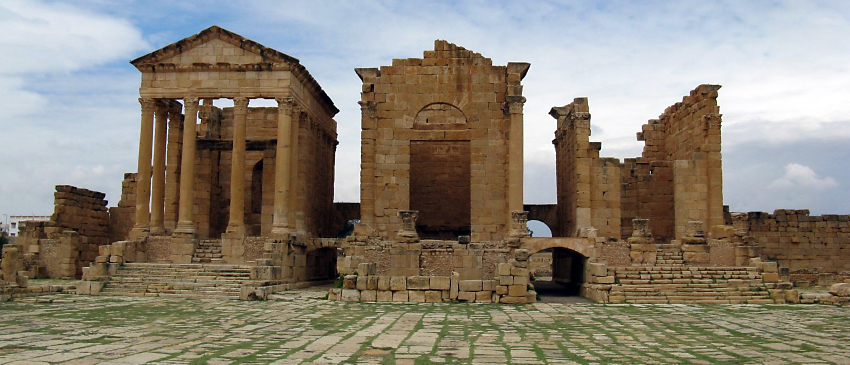 By Bonnie M., 6-time traveler from Clearwater, FL
By 1979, I'd been traveling for twelve years, and had already visited most of Western Europe, South America, Africa (north, south, east and west), Asia, the Middle East, and the Balkan countries. New, exciting places were becoming a little difficult to find. But there was something about the name "Tunisia" that intrigued me. I'd enjoyed touring Morocco, so Tunisia seemed like the perk I needed. The problem was, I couldn't find any tour operators offering that destination.
My friend Christopher was drawn to the same exotic locales as I, so it seemed like a great idea to plan a trip together. We worked with his travel agent to reserve hotel rooms and a car, and eagerly awaited our adventure. What we didn't expect was that every day was going to bring us an adventure!
We weren't far out of Tunis, when our car broke down. Chris felt someone should stay behind to keep an eye on our belongings—that someone was he—while he sent me back to the city on a public bus. The fortunate thing was that we were on a major highway, and the bus stop was nearby. A mechanic from the rental agency was driving me back to the location where our car broke down. However, he didn't understand any English, and I wasn't one-hundred percent certain that there was only one major highway out of the city. Fortunately, we made it back to the broken down car, but Chris was nowhere to be found. Panic was creeping in, when I saw him crossing the dusty field from an old house—where the resident invited him to lunch!
By the time we made our way to Le Kef, a little town overlooking the Algerian border, it was pretty late, and the streets were empty. Chris noticed a small hotel, and strongly suggested that someone should stay with the car, while the "other someone" (guess who) should find us some rooms. Not many American tourists visited Tunisia at that time. Most tourists hailed from France, and the Tunisians could easily converse with them. But good fortune was on my side again, and the proprietor understood English. When I told Chris I'd found two rooms, he threw his arms around me, giving me a big hug. "Good girl … I knew you could handle it."
Before leaving home, I had a crash course (not literally speaking) in driving a stick shift. A friend was kind enough to volunteer the use of her car, and we headed off every day at lunchtime to a hotel parking lot near our office. One day, I peered above the steering wheel to find a security guard standing in my way. He startled me, and I slammed on the brakes.
"Miss, I'm the hotel's security guard, and I've been watching you driving around in the parking lot over and over again. May I ask what you're doing? You keep passing up all the available parking spaces." I reluctantly explained, and I think he was so puzzled that he just turned and walked away.
Apparently, my introduction to driving a stick shift was too brief to do much good. Because when I tried to back out of a parking spot across from an ancient Roman coliseum, I turned around to find some camels had appeared from nowhere, and were lingering behind the car, causing me to slam on the breaks and lean on the horn. Camels darted higher, and the angry owners shook their fists at me.
As the days went on, the intensity of our adventures increased. I was so proud to think about how I managed to handle all situations (even the one that could have landed us in jail). But we were so busy navigating ourselves through whatever the day brought, that sometimes we didn't have the opportunity to enjoy the wonderful sites Tunisia had to offer.
I was so happy in 2009, when Overseas Adventure Travel offered Tunisia as a destination. My new travel companion and I enjoyed the fabulous Roman mosaics at the Bardo museum, a former 18th century palace. I recalled some of the Roman ruins, as we toured Dougga. This time, we arrived in Kaiorouan (the fourth holiest city in Islam) in time to visit the Grand Mosque.
Sbeitla, another Roman town, offered well preserved mosaics, and lavish Roman bathtubs. One of my favorite places is Tozeur, an oasis town, where homes and buildings have a distinct brick architecture.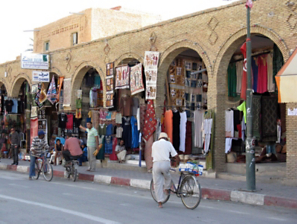 We spent the night at a brand new camp in the Sahara where we moved our beds outside, and began our exploration of the desert skies—black as velvet, with brilliant stars sprinkled overhead like diamonds. I kept my glasses on all night, because whenever I'd open my eyes, I wanted to see those beautiful skies, which seemed so close that I could reach out and touch them.
In the Berber town of Matmata, we visited the troglodyte houses, which are man-made caves dug out of large pits in the ground. Chris and I stayed in one of the caves purported to be the one Luke Skywalker used in Star Wars. I don't know about Luke's accommodations, but mine had a double Dutch door, which I "locked" by putting a boulder in front of it. Beside my cot, which sat on a hardened dirt floor, was a tree stump with twelve candles for light. The public washrooms were sufficient and, as there were only six Spanish journalists besides the two of us, I had the women's facilities all to myself. It was quite a bargain for $6 per person—including "dinner." Upon my return, references to Star Wars were plastered everywhere. Ksar Hedada, the local market where grain was also stored, was used in the first episode of the movie.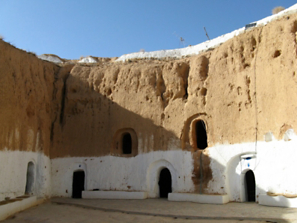 One of the most picturesque towns is Sidi Bou Said, with its white-washed buildings, sprinkled with blue iron grill work, like lace, over their windows. And just for a little color, throw in some fuchsia bougainvilleas draped over the stark white walls.
Tunisia is chock full of wonderful history, with ancient cities like Carthage. I'm so glad I revisited this beautiful country, with its welcoming people. I'm even happier that O.A.T. has reintroduced this tour for others to enjoy.
Discover Tunisia's unforgettable sights, ancient ruins, and star-filled sky when you travel on O.A.T.'s New! Tunisia: From the Mediterranean to the Sahara adventure.