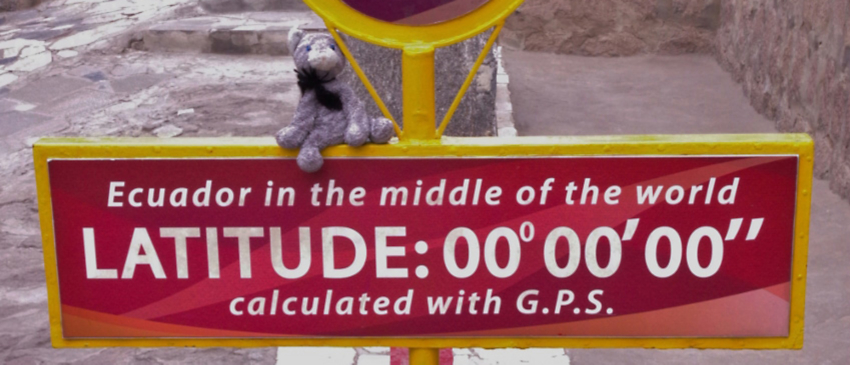 By Vicki S., 18-time traveler from Westlake, OR.
You asked if we share our travels with our grandchildren as a teaching tool. We do. But we also take our travels to a larger audience.
First, our grandchildren. We learned that our grandchildren are fascinated with the bowl of "mystery money" that sits on a bedroom dresser. It is the bits and bobs of small change that we return from abroad with. They love to play in it. So we brought out a map of the world and challenged them to figure out what country the money came from and then find it on the map. Just the first step of figuring out where the money is from is sometimes challenging, especially when all of the printing is in a non-Latin script. They did remarkably well, even at 5 and 8 years old.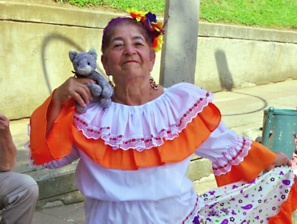 For the larger audience, I was recruited by a childhood friend who is a second-grade teacher at an International Baccalaureate Charter School in Porterville, California, which is a small farming community in the Central Valley of California. Most of the kids in this community rarely have a chance to travel outside the state, much less the country, although many of them are children of immigrants. So, my friend, Barb, started her Travel Buddy program. At the beginning of the school year, she asks the kids to bring in a small stuffed animal that they wouldn't be too upset about if it didn't return. She places a tag on each animal with her Twitter account, email address and the school address with a note to try to return the animal by May 15. Then the animals are sent out into the world with anyone willing to take them on a trip.
The animals send back "reports" of their travels that can be as simple as a photo with a location or a multi-page report of the activities in the location. The kids track the animals on a map in the classroom and choose topics from the reports that they want to learn more about.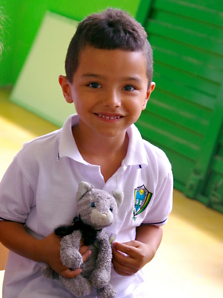 We have been participating for two years now and it is as much fun for us as it is for the kids. Once we have introduced our Travel Buddy to our group at the orientation meeting, it gives us a license to be silly. Our trip leaders have been unhesitatingly supportive; getting the animals into positions that I wouldn't even think to ask. And it is a great ice breaker with locals, both young and old.
The class has frequently used pictures and information from music, dance and art of other countries as their jumping off point for classroom studies. For example, a photo of the bas relief murals in Guatape, Colombia that depict what goes on inside the buildings they are painted on, led the kids to ask if they could paint a mural for outside their classroom to depict what happens inside. The pictures of the travel buddies with animals and the weirder, the better, are the most memorable. Lambchop with a tarantula on his head in Cambodia was a big hit! Because the kids offer up their own stuffed animal, which they then see half way around the world, it gives them a connection that a simple photo doesn't.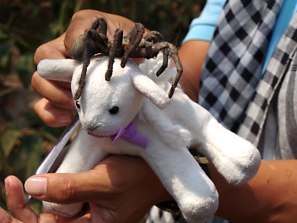 We had the opportunity to stop into the class last April to return one of the Travel Buddies ("Lambchop.") The kids were super excited to welcome Lambchop home and meet "Herb," a stuffed bear who belongs to us and became an honorary travel buddy. They had great questions for the animals and great memories of all of the places the animals had been.
We have also recruited several other O.A.T. travelers to the program and each has enjoyed the experience so much that they have taken Travel Buddies on subsequent trips. "Chester" started with us then moved on to super-traveler Jane L. and has been going abroad for over a year now as far as the 'Stans and Mongolia. Lambchop has been passed around, traveling with us and with Patti L. to Central America and Southeast Asia. Herb has been around the world and is getting ready to conquer the final continent, Antarctica, in January 2020.
Even if you don't sign up with a classroom, traveling with a Travel Buddy is great way to enchant your grandchildren with your travels.