Too Small to be Forgotten!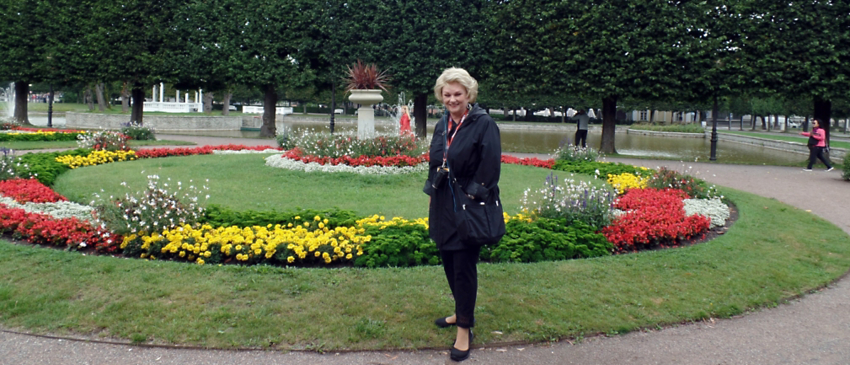 By Bonnie Mack, 6-time traveler from Clearwater, FL
In 2011, I fell in love with the old towns of Warsaw and Krakow, though they were really fairly new, since they had been rebuilt after the war. With the assistance of archival photos, they looked as lovely as they were before their devastation. The architecture was beautiful, and the squares of each city were alive with horse-drawn carriages and outdoor cafes, whose simple décor were hanging baskets of colorful flowers. Children played in the fountain in Krakow's square, and tourists bought colorful paintings from the many artists in Warsaw's square. I was so enchanted that I wanted to visit more of such quaint towns.
Many of Europe's capitals had grown to such a size that they were impossible to enjoy on a short visit. Crowds of tourists, buses, and cars slowed down movement around the cities. Where would I find the quaint, charming, amusing old towns? Then I began seeing the names of three cities advertised by the tour operators. I'd traveled the world for 53 years, and knew my way around it pretty well; but I must admit, I had to drag out my large map to find these tiny cities. How the countries could have escaped a visit from me for so long surprised even me. But the more I read about them, and the more I heard from people who had visited them, I knew my time had come—I was going to the "Baltic States"! I was finally going to visit Tallinn in Estonia, Riga in Latvia, and Vilnius in Lithuania. It's a good thing I didn't wait any longer—it was August 2019, and it was my 71st international trip. My last trip before COVID-19.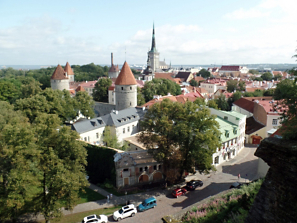 Tallinn had a lot of old wooden buildings, which seemed logical, since the country itself seemed to be one large forest. Given what was left of the architecture on the oldest wooden buildings, they must have been awesome in their heyday. I always enjoy bus tours through the countries, so I can see their landscapes. But the highway we drove much of the way to Riga seemed to cut through the forests, only breaking briefly to see a few cows laying in a green pasture. Tallinn also had many modern buildings, and the old town was on a hill, with the new town below.
Situated on the Gulf of Finland, Tallinn is overwhelmed by tourists from the many cruise ships, which all seem to dock at the same time. The good thing is that they all leave about the same time, so you have all the lovely shops in the old town almost to yourself. The impressive Alexander Nevsky Cathedral is a wonderful landmark, and offers a welcome to visitors, who are inspired by its beauty, as they enter the old town. As a result of a fire in the 16th century, the architecture in the lower town and upper town is different—but that's what makes the city so interesting.
It's easy to forget that the Soviets ruled these three tiny countries for 50 years. Estonia's "Singing Revolution" eventually contributed to the country's freedom from the USSR. I found it interesting, but very sad, to learn from our guide that the Estonian people were taught to hide their emotions—to not smile or show sadness and to not give hugs or kiss in public. They didn't want the Russians to know what they were feeling. Our guide went on to point out that their country has only 1.3 million people and that there's virtually no population growth. Young people leave with their college diplomas in hand for western European countries, where they can find better jobs. Eventually, they settle down, start families, and don't return.
I was looking forward to returning to Riga, because all I remembered from my brief visit, after touring Scandinavia and Russia in 1977 was a wooden sculpture on a wall (perhaps in the airport). Since the Soviets controlled the country, there wasn't a focus on anything other than Lenin's image and the hammer and sickle.
I was smitten with Riga the minute I left my hotel. All along the way to the old town were huge buildings with lovely, varied architecture, and many painted in pastel colors. As in Tallinn, there were flowers everywhere, in huge planters and in the park along the riverside. Once again, the old town was filled with wonderful architecture, colorful buildings, beautiful trees, and brightly colored flowers. Even in the light rain it was so charming I couldn't stop filming my surroundings. When the sun came out, I photographed everything all over again.
Riga's old guild halls looked like fairy castles, and each had its own unique story. Occasionally, an old Soviet style building would rear its head among the buildings in the new town. Very modern offices and buildings were perched at water's edge on the other side of the river, with a perfect view of the old town. Now and then, one would see a formerly lovely building which the Soviets turned into apartments for the "comrades." Sadly, they were in such disarray that no one wanted to buy them, so they sit as a reminder of the days under the Soviets.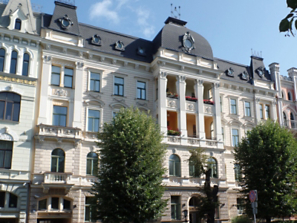 Another favorite area of Riga was the art nouveau district on Alberta St., with fabulous apartments and homes. Fortunately, the Soviets didn't have enough money to just turn them into blocks of stone. Each building's architecture was so breathtaking that it was like eating a wonderful dessert—but without any calories! I can think of nowhere else where one would find Romanesque, Gothic, Renaissance, Baroque, and Neoclassical facades all within a few blocks. Thankfully, all this beauty was saved and restored.
Lithuania is the largest of the Baltic states, with a population of 2.9 million. Huge, modern office buildings greeted us, as we entered Vilnius. The old town area was substantially larger than the other two cities, and a walk through the old Jewish quarter wiped away all thoughts of what its inhabitants had to endure during the war.
But perhaps the most memorable place I visited was the KGB Museum, formerly its headquarters. The building's entrance was innocuous, save for the sign outside, "Museum of Occupations and Freedom Fights." It was the walls surrounding the building that told of the atrocities that took place inside. Blocks of granite bore the names, and sometimes image, of the unfortunate people who lost their lives there. Behind the hallway's doors were cubicles smaller than a telephone booth (remember those), where prisoners were held in solitary confinement, with a narrow bench to sit on.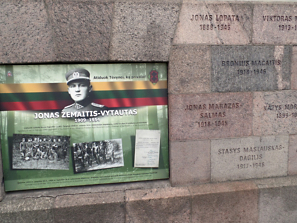 Behind a small door in a wall were piles of serum gas for use on prisoners. Cell doors were padded with leather, so screams of prisoners couldn't be heard. Cells had a wooden board that could be pulled down from the wall to serve as a bed. One steel door beheld several locks. No, they weren't to keep a prisoner inside, the door was locked to protect files with Soviet secrets. Our guide's grandmother had been incarcerated in the prison. Her crime? Well, where the Soviets were concerned, one didn't have to commit a crime to end up in prison—or even to be executed. Innocent people were taken from the streets to show the public that no one was safe.
Perhaps the most frightening thing of all was when the guide announced that the Lithuanian government is aware that there are 750 former KGB agents still residing in the country. They fail to do anything about them. Lithuanians are dearly afraid that the Soviets will return one day, sooner rather than later. Certainly, the Estonians and Latvians harbor the same feeling.
While all three countries are very small, their history and beauty are too much for any visitor to forget. What a wonderful choice I made in visiting them. As we've learned this past year, good things don't last forever, so don't take them for granted.
Explore the timeless elegance of Tallinn, Riga, and Vilnius during The Baltic Capitals & St. Petersburg.