By Bonnie M., 5-time traveler from Clearwater, FL
We received this Traveler Insight in response to our December Question of the Month: Where was the first place you traveled internationally—and how did it change you? You can read even more responses to this question here.
There wasn't just "a first place"—there were first places! Back in 1967, I was only 19, and had never been on a plane. When my friend and I read in the church bulletin that they were offering a two-week trip to Europe from Chicago for around $700, we thought we'd take the jump, and give it a chance.
This was during the period of the "British Invasion" when all the bands from Liverpool were very popular in America. London brought the thrill of shopping on Carnaby Street, searching for anything with fashion designer Mary Quant's name on it. We were excited to visit Windsor Castle, ride on the red double-decked buses, and browse through Harrods. Our first introduction to discotheques was at the Cromwellian discotheque, in an old brownstone building. We couldn't believe that Tom Jones was playing at The Talk of the Town nightclub, and we were actually able to get reservations at the last-minute.
Amsterdam was unique, with its canals and many bicycles, not to mention bakeries with the most artistic pastries, such as cupcakes that looked like little frogs. We'd heard about the Red Light District, but didn't have a clue about it, so we asked an adult in our group. Trying to be diplomatic, we were told that "ladies of the evening" (which we had some knowledge about) would sit in the windows of shops in the area. Oh, that was easy enough to understand—we imagined them like nicely-dressed mannequins in stores like Marshall Fields—WRONG. The ladies were anything but nicely-dressed (barely dressed was more like it), and the area was filled with lots of sailors, along with hordes of curious tourists.
The memories of Berlin have stayed with me forever. West Berlin was bright, gay, and lively. We strolled down the main street—Kurfurstendam (or Ku'dam, as it was known), and beautiful clothes were on display in the windows of department stores. Still at the height of the Cold War, we couldn't imagine what to expect from our visit to East Berlin.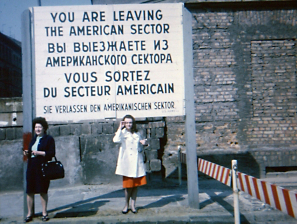 I recall looking at the bombed apartment buildings, and seeing Russian soldiers sitting on window ledges with their rifles in hand. What surprised me most was that twenty-two years after the war ended, East Berlin's rubble made it seem like they were still at war. I was nervous when crossing Checkpoint Charlie, especially with the Russian soldiers watching me, as I posed for a photo. They ran mirrors under our bus, to be sure we weren't smuggling anyone in or out.
Our local guide took us for a walk through a department store—it certainly wasn't like anything we'd seen in West Berlin. Everything was drab, there were few people around, and our hearts were heavy for the people caught on the east side of the wall. Inside the store, there were few choices for goods, and what was there wasn't displayed to be attractive.
After our experience in East Berlin, we almost felt guilty going to a discotheque that evening. Everyone there was celebrating life and having a good time. But back in East Berlin, people were concerned about when they'd get their next loaf of bread.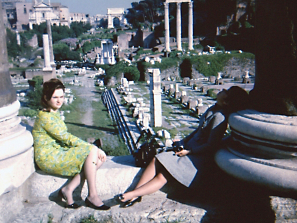 Rome brought more excitement. The only good thing about studying Latin in high school was that I loved ancient history, and reading names like Caesar conjured up thoughts of the past. I guess I was still "conjuring" when the teacher asked me to translate something one day, and I took poetic license.
It wasn't hard to fall in love with Rome and its fantastic fountains, museums, and ruins. We enjoyed dinners at the most famous restaurants; and met handsome, young Italian men who took us dancing and strolled the famous, and very busy Via Veneto with us. Occasionally, we'd stop at a café and people-watch, hoping to see Sophia Loren or Marcello Mastroianni exiting a limousine. It was difficult to leave Rome behind, so we stayed out until 5:00 am, giving us only an hour to sleep, before having to catch the plane to …
Paris—glorious Paris. We enjoyed cruising the Seine in the evening, watching the artists in Montmarte, visiting Sacre Coeur, and catching the show at the famous Moulin Rouge. Nice, Monte Carlo, and Monaco were waiting for us, and we dreaded returning home.
After two years of traveling abroad, my friend wasn't able to accompany me. I felt that if I missed a year, it would be easier to miss two years or, heaven forbid, more than two years. I did the next best thing and enlisted my younger sister as a traveling companion. Things quickly got back on track, and my friend accompanied me through other European countries. Soon, my goal was to have traveled around the world by the time I was 30. Overall, my main goal was to go abroad every year, and I did so. I'm now celebrating my 52nd consecutive year of traveling around the world—to more than 90 countries on 7 continents, and 67 trips.
How has traveling changed me? Traveling is me—it's in my heart and soul. People think I just love to vacation, but little do they know that many destinations aren't really "vacations." I'm continually planning beyond my next destination. I often think back about the people I've met around the world—the old man in Shanghai who cheerfully greeted me with, "Hello, young lady, how are you today?" Then there was the young Russian man who worked at the reception desk on my Volga cruise three years ago and continues to write me about his life. There was a South African man I met on a boat in South America, who became a dear friend for 30 years.
Whenever I hear about an earthquake in Mexico City, I think of the taxi driver I hired as my guide for three days. The earthquake in Kathmandu brought to mind my three previous visits, and how I came to love the city and its people. After the tsunami in Indonesia several years ago, I remembered the beautiful hotels we visited, and it was hard to imagine them as a pile of rubble.
Traveling also helped me in my job where I met people from around the world. On one such occasion, I was at an information desk during a convention, and an African man approached me. We began talking and I learned he was from Kenya. "I've been to Kenya many times," I told him, "and it's my favorite place in the whole world!" We continued chatting, and when he left he said, "Thank you for making me feel at home." My eyes swelled with tears, and I responded, "Kenya is like my second home."
After a year planning our trip to Sicily, our 9/12/01 departure never took place. Fights were grounded, and everything was canceled when the planes struck the Twin Towers. It was like a double-whammy. A terrible terrorist attack and the realization that our vacation was over before it began. My friend suggested another destination—maybe Las Vegas. She didn't get it—the canceled trip was like standing at the top rung of a ladder, and having someone pull the ladder out from under you. I'd planned and lived our trip to Sicily, and now that we couldn't go, I had to move on to another destination.
When I was a little girl, my mother told me about a friend who had decorated all the rooms of her home from her favorite places. Anyone who visits my home will come to truly know me, for each area represents my favorite places. I'm at peace in my Indian bedroom; I'm at home in my African den; and my treasures from Asia dominate my guest bedroom, living, and dining rooms. I am the world, and the world has become me.