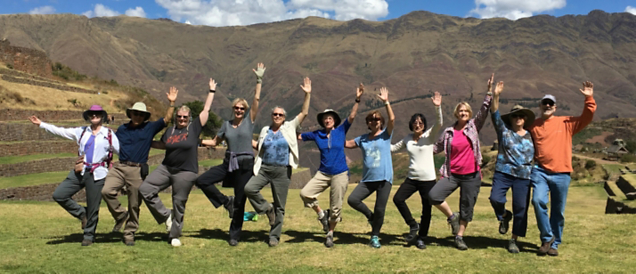 Mary V. and her group of yogis showed off their tree poses at Machu Picchu.
By Mary V., 4-time traveler and Group Leader from Jupiter, FL
I hosted two trips this summer to Peru, one in June and one in July with 16 people in both who are all students of mine. For me what's beautiful in the group is a mixture of ability levels. I teach all levels of yoga, but I specialize in people with injuries and chronic conditions (arthritis, fibromyalgia). There are two aspects of hosting groups of yoga students that I find especially beautiful:
They already have a relationship with me and trust me as their teacher. They trust I've picked a good company, and they feel safe. I didn't expect that so many people who had never been out of the country would be willing to do these trips. They know I respect and trust your company.


Peru is an adventurous trip. There's a lot of walking and a lot of stairs. I have a health app on my phone and in one day I climbed 141 floors. I had people sign up from my yoga classes that have Parkinson's, injuries from major accidents, spinal injuries, and arthritis, and they all did this trip—and they did it all because yoga got them to a point where they feel confident enough and physically able to travel. They are with a bunch of other yogis so everyone is patient and helpful and kind and compassionate. When someone needs help up the stairs, someone is there to support you. If you have an injury and get into a random group of people you are going to feel like you are holding people back. But we are all on the same pace and the same page.
The Trip Leaders are just phenomenal. They set real expectations. I told the woman with Parkinson's that we are going to get you to Machu Picchu, but you won't be able to climb everything. Everyone can go at their own pace. One half did a lot of hiking and went off on their own, the other half was able to enjoy the beautiful day and do yoga in the most sacred space in the world.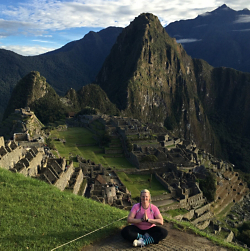 It has empowered people to travel. I always want to travel with people who are nice. Six of us didn't get our luggage for five days when we went to Tanzania and we all kept our cool. You don't want someone who is going to flip out and ruin the trip for everyone. It was a way to bring together like-minded people who love yoga and want to travel the world. That's the perk of going with people I know and trust instead of strangers.
My students know that they are getting a high level of service from O.A.T., but since we are all in the same community, we get together a lot before we depart. The groups don't necessarily know each other ahead of time so we do get-togethers and potlucks before we leave. We're going to the Galápagos next year and there are some people who can't swim, so we're going together to go snorkeling. It helps with roommate assignments, too. I can feel out who gets along well. I have a Facebook group and I post O.A.T. materials to the group as reminders. And then I send out tips and guidebooks to the group. After the trip we are able to share our photos in there. It's helpful and fun! People can ask questions and it helps me as an organizer to answer questions once instead of ten times. The group is super cohesive by the first day, which the Trip Leaders recognize. I have a Trip Leader from Peru going to India with us next year. He did yoga with us every day and got along with us so well.
I plug in yoga so it makes sense with the tour. I work with the Trip Leader ahead of time to figure out our itinerary and where I can work yoga into it. The Trip Leaders have found some epic locations to practice. We have gotten kicked out of a couple spots because of local authorities not wanting us to be in certain areas, but we go with the flow and move on.
I want to add that the practice of yoga is what has been the empowering tool for people who wouldn't usually travel to get out there and see the world. With confidence in themselves, they are capable even if they physically can't do everything.
Even if you don't practice yoga, you're bound to appreciate the spirituality of Machu Picchu when you join us for Machu Picchu & the Galápagos.