The Island of Silence Welcomes You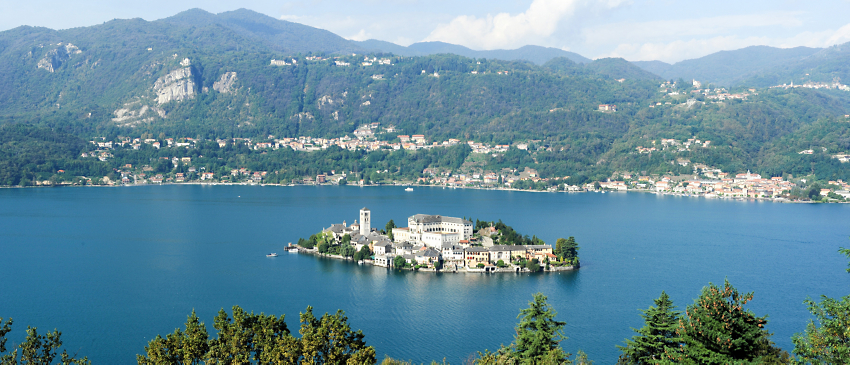 By Henry R., 45-time traveler from Sierra Vista, AZ
There's an island in the middle of Lake Orta in northern Italy which you can walk around "in silence" or "in meditation." It is the picturesque island of San Giulio.
There is a path or narrow street that circles the island that has signs on the walls of houses to help you. If you walk around it clockwise, it is the "Way of Silence" with the signs having sayings about silence; if you go counter clockwise, it is the "Way of Meditation," with the back of those signs indicating things upon which to meditate.
There are ten signs with writing on both sides in four languages. Here is what they say:
The Way of Silence:
Listen to the silence.
Listen to the water, the wind, your steps.
In silence, you accept and understand.
In silence, you receive all.
Silence is the language of love.
Silence is peace of oneself.
Silence is music and harmony.
Silence is truth and prayer.
In silence, you meet the master.
In silence, you breathe God.
The Way of Meditation: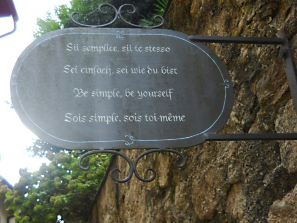 Every journey begins near to you.
Walls are in the mind.
The moment is present, here and now.
Leave yourself and what is yours.
Accept yourself, grow and ripen.
Be simple, be yourself.
The wise man errs and smiles.
If you can be yourself, you are everything.
When you are aware, the journey is over.
Either way (if you were concentrating and not distracted by the beauty), you probably missed going into the ancient Romanesque Basilica or the Bishop's Palace. But you did not disturb the convent of 80 cloistered nuns in the Benedictine Abbey. There is a restaurant with a terrace and gift shop on the island to visit before you go back to the rest of the world.
Take in the silence during the Langhe Countryside & Lake Orta post-trip extension of our Italy's Western Coast & Islands: A Voyage from Rome to Valletta Small Ship Adventure.