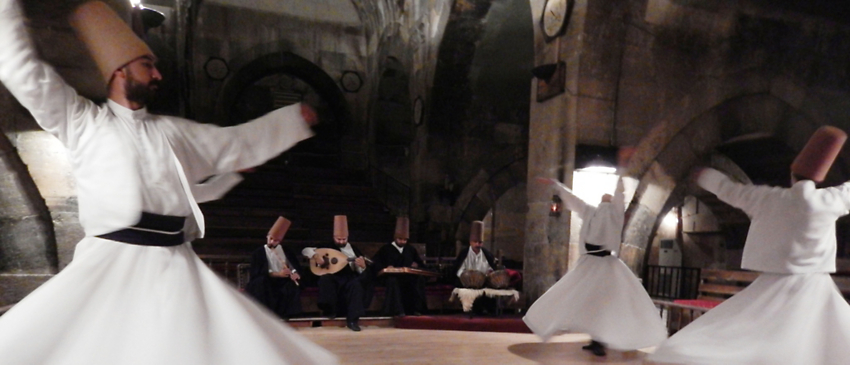 By Jann Segal, 10-time traveler & 2-time Vacation Ambassador from Redondo Beach, CA
The O.A.T. tour to Turkey in 2015 made an overnight stop in Konya. This is one of the most religiously conservative areas in Turkey, where all the women wear a hajib, and the conservative government has reciprocated this support by building infrastructure that is rarely used, like bike paths and new roads. In the midst of all this newness is Rumi's tomb, the final resting place for 13th-century Persian poet Jalâl ad-Dîn Muhammad Rûmî, who inspired Sufism, practiced by the whirling dervishes.

A visit to Rumi's tomb is exotic to say the least. Between the call to prayer, the piped-in music that can be heard simultaneously indoors and out, as well as the beauty of the Islamic architecture and watching observant Sunni Muslims who come to pray, it is an experience to witness like no other. Our guide told us in advance that the people who go into the tomb/mosque to pray can get quite emotional with their prayers, and are often driven to tears and fits of crying over the loss of a loved one, or an illness they cannot cope with for themselves or a family member.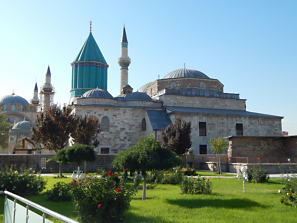 So with shoes off and paper booties on my feet, I entered the mosque to see the tomb. I stood behind those in prayer and just took in the entire experience. Then one woman, deeply troubled and showing her tears, obviously in some sort of pain, walked next to me to leave. Our eyes met, and she was so distraught after her prayers, I naturally offered a small bit of compassion and touched her arm and rubbed it softly. She kept looking at me and reciprocated the gesture. She understood that I was offering a condolence for her pain, whatever it might be. She kept looking at me in spite of her tears, still rubbing my arm softly as she walked away.
A Jew and a Muslim, an American and a Turk, the differences between us at that moment did not matter. We were human beings communicating in the same language, in a way that transcended all possible cultural and religious boundaries. The visit to the mosque may have been part of the O.A.T. tour, but this particular moment was mine to remember forever.
Forge connections with locals and immerse yourself in Turkish culture with O.A.T. during our new Turkey's Magical Hideaways adventure.