The Heart and Soul of India Revealed
This article was originally published in Lakeside on Lanier, www.lakesidenews.com. Do you write stories for your local paper following your adventures? We'd love to feature them here. Email a link to [email protected].
By Pamela K., 8-time traveler from Flowery Branch, GA
As a fifth-grader in Palatka, Fla., we had a television-learning program associated with the University of Florida. In the early 1960s, it was a pretty big deal, and our class anticipated the 30-minute sessions that introduced to us real people living around the world.
Mrs. L.E. Bingham lived in Delhi, India, with her husband who was on a teaching assignment, and once a month she would come into our classroom via black-and-white TV to tell us what it was like in this legendary country. At the end of each program, a slide on the TV provided her address, encouraging us students to write to her. So I did.
She wrote back, telling me about all the mysteries of this foreign land, from the culture and food to the Taj Mahal, built as an elaborate white-marble tomb of the wife of an emperor from the 1600s. As a 10-year-old, I never imagined I'd go to India, but earlier this year I spent three weeks there with 12 other travelers through Overseas Adventure Travel, which books trips all over the world.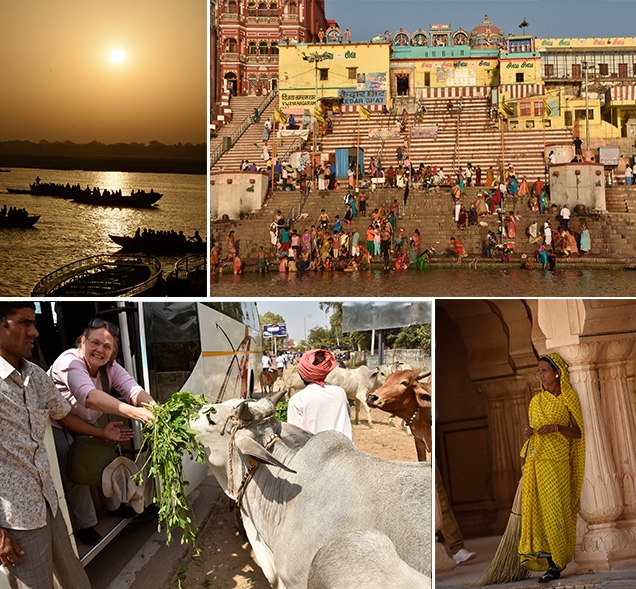 The Heart of India 3-week itinerary included the Golden Triangle of Delhi, Agra and Jaipur, two days of game drives in the Ranthambore National Park to see leopards and Bengal tigers in the wild, a journey to Varanasi and the Ganges River, and of course a trip to the Taj Mahal.
Flights non-stop to Paris, then non-stop to New Delhi added up to about 17 hours on a plane. Delhi and New Delhi are distinct cities; New Delhi was colonized by the British—who had obvious influence on the country for 200 years, from the mid-1700s to 1947—and has British-style homes that line wide landscaped avenues and parks. The original city of Delhi is a mishmash of crowded streets, open-air shops with apartments above, masses of people and animals—mostly cows, which are sacred and protected—along the sides of the streets.
The noise is non-stop, from car, taxi, motorcycle and truck horns, to vendors calling out to sell their wares, pedi-cab and bicycle bells, people shouting and general confusion. It's louder in Old Delhi, but the confusion and noise are ever present in both Old and New.
Throughout India, traffic signals are only suggestions; we saw for ourselves the helter-skelter traffic: pedi-cabs, also called tuk-tuks, challenging large delivery trucks for part of a lane and pedestrians trying to weave their way past the cows, cars, pot-holed streets and speeding motorcycles.
Religion in India is primarily Hindu, but Muslims, Sikhs, Christians and Jewish people generally peacefully co-exist. One day we visited a Sikh Temple, Gurudwara Bangla Sahib, in Delhi that embodies the monotheistic religion and its principles of service. Volunteers and members of the temple come together in the community kitchen to prepare basic meals for as many as 30,000 people each day. Members of our group helped prepare the roti bread and served the people who came for a meal that included lentils.
On our own, we visited the Birla House, where Mahatma Gandhi spent his last 144 days. He was assassinated there on January 30, 1948, on his way to prayers and the path he took from the house to the prayer garden is marked with bare footprints made of concrete. The adjacent museum tells of his life of non-violence.
After three days in Delhi, we flew to Jaipur, known as the "Pink City." The sandstone buildings were all painted terra-cotta pink in honor of a state visit in 1876 by Queen Victoria and the Prince of Wales and the colors remain. After touring the city and the City Palace, we took a pre-dawn hot-air balloon ride across the countryside near Jaipur.
Floating over the fields, brickyards, and houses in the misty morning, we viewed the rural life from above. Landing near a village, dozens of smiling youngsters, and their parents, greeted us with curious smiles. Surprisingly, some of the villagers had cellphones and took as many photos of us as we did of them.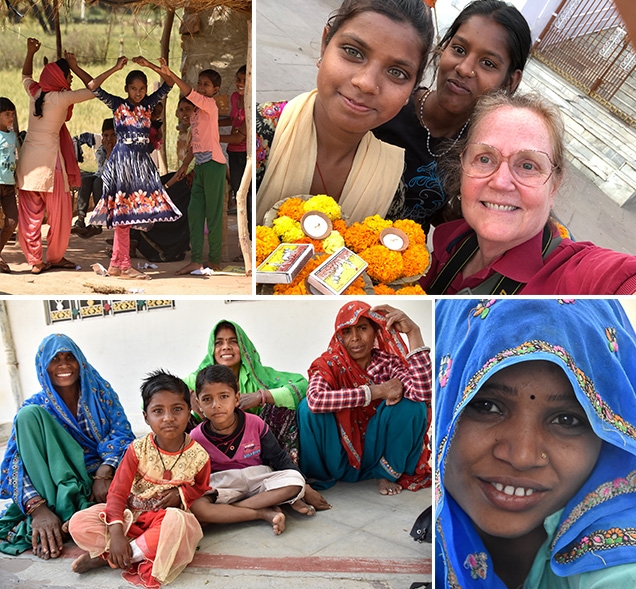 The five-hour overland journey to Ranthambore took us along bumpy roads, past herds of sheep and goats, and pockets of rows of cinderblock open-air buildings that constituted the villages. Women shopped the dust-covered local produce, men sat in old barber chairs getting haircuts, and cows wandered the streets and shops. Traffic frequently stopped for cows to cross the roads. Nomads herded their camels and goats as they made their way to more fertile grazing grounds.
The Ranthambore Tiger Sanctuary, a former hunting preserve, comprises more than 100 square miles of forests and lakes. It's one of India's 11 Project Tiger locations, dedicated to the country's national tiger conservation program. Tigers in India were on the verge of extinction from poachers and hunters until a ban on hunting was enacted in 1970. Started in 1973, Project Tiger has helped increase the tiger population from 1,827 to more than 3,000 today.
During game drives at dusk and again at dawn, we viewed and photographed indigenous wildlife, including birds, monkeys, deer, gazelle and two separate leopards. With less than 30 tigers living in the Ranthambore Reserve, spotting tigers was difficult. We finally glimpsed a tiger from nearly a half-mile away across a space between two grassy hills at the end of our second trip in the morning.
O.A.T. and Grand Circle Foundation support many schools and programs around the world. In India, we visited a local village of 182 people where donations from travelers have helped fund clean water, provide farm equipment, and pay for school improvements. Women of the village allowed us to help prepare our lunch from fresh-grown produce; it also gave us a chance for one-on-one time to find out about their daily lives.
Our trip continued with an overnight stay in tent-roofed cottages before our overland trip to Agra, home of the Taj Mahal. It's considered one of the Seven Modern Wonders of the World. The bright-white marble building is decorated with hundreds of thousands of semi-precious stones recessed into the exterior and interior walls. Surrounded by reflecting pools and lushly landscaped gardens, it is indeed breathtaking. Even early in the morning, the grounds were crowded with visitors from every country imaginable.
It was everything I imagined it to be; to be there was almost surreal. Photos in books can't recreate the scale and the intricacy of this 400-year-old monument. Each year nearly 6.5 million people visit this architectural and spiritual masterpiece.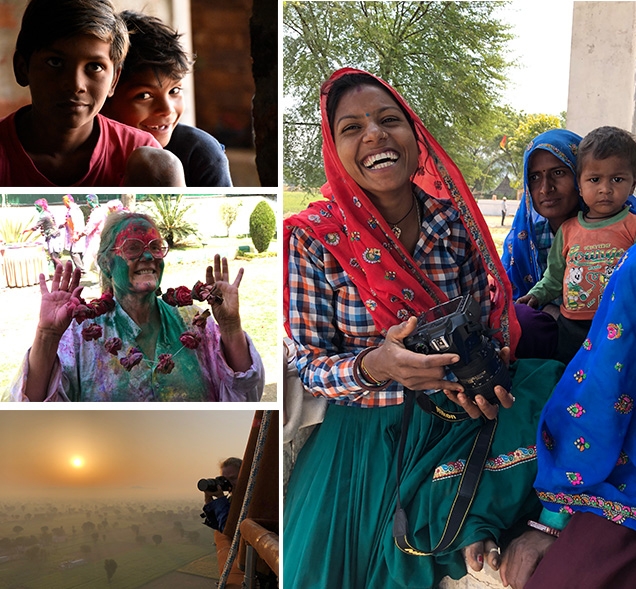 Our trip ended with two days in Varanasi, one of India's seven sacred cities. It is said that Buddha gained enlightenment and preached his first sermon near Varanasi. Each day thousands of pilgrims come to the Ganges River, called Mother Ganga by the natives, which flows through the city. They descend the ghats, stone steps that provide access to the water, to bathe, wash clothes, worship, seek wisdom from the priests who line the shores, and worship at the nightly sacred light ceremonies.
Many natives also come to Varanasi to die in the city and be cremated on the river's shores. We explored Mother Ganges twice: once in the morning and then by boat at sunset into the evening.
The atmosphere was radically different as the sun went down, with thousands of pilgrims gathering along the shores to participate in at least a half-dozen different ceremonies. The sounds of the priests and the chants of the religious filled the air in these nightly rituals.
Three weeks in India was not nearly enough time. Our journey gave just a snippet of this massive country and its people, but it was a rare glimpse into a culture that's been shaped by many civilizations and religions over the centuries. You cannot gain an understanding of this amazing country in a few short weeks, nor by reading books. Being there and meeting the people is just the beginning of the eye-opening education that has become my motivation for travel.
Marvel at India's timeless culture and gain your own personal connection with the country when you join O.A.T.'s Heart of India adventure.