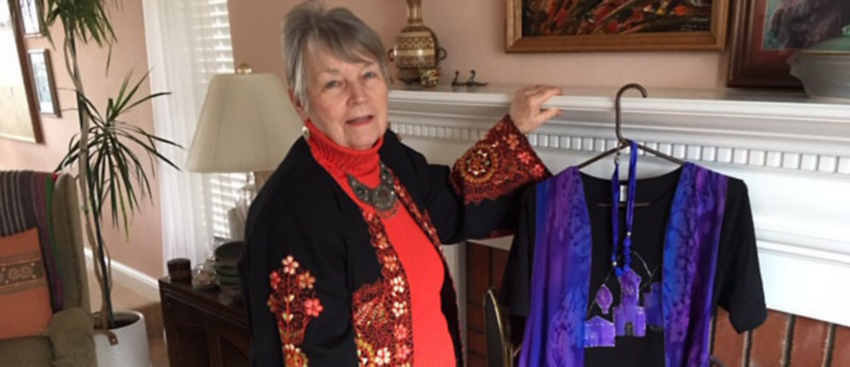 We received this story in response to our March Question of the Month: What have you brought home from a trip—in your suitcase, heart, or mind—that keeps the destination with you? You can read more answers here.
By Evelyn L., 16-time traveler from Fremont, CA
If the art on my walls could talk, it would tell of fishing on the Mekong Delta in Vietnam, harvesting rice on Bali terraces, and drying potatoes in Peruvian Mountains—activities in places I have visited. In my guestroom, men hunt tigers in seventeenth-century India and a jockey celebrates winning the Palio horserace in Siena, Italy. Yellow and purple flowers painted in chalk from Russia, red roses embroidered on silk from China, and pink gladiolas in watercolors from England are pictures on my walls that take me back to those far off lands. Artistry from six continents adorns every room in my home. The souvenirs help me relive the travel adventures that gave me insights into the customs, crafts, art, language, architecture, animals, geography, religion, and food of over eighty countries.
A pitcher painted with hundreds of tiny yellow, red, and green geometric designs sits in the entryway and chronicles the history of the early Hittite inhabitants in Turkey. Japanese nobility perform a wedding ritual on the fourteen-foot blue and mauve obi (kimono belt) that hangs from my second-floor banister. A Peruvian elder, carved from a single tree stump, leans on his cane surveying the piano in my living room. A horsetail flyswatter with a beaded handle, made by Maasai women, sits next to an Egyptian doll in a curio cabinet. Each artifact is as unique as the country of its origin.
Blue topaz earrings from Salvador de Bahia, Brazil, designed for my birthday, lay in bedroom jewelry cases. Near them are necklaces carved from of yak, camel, and whale bones purchased from aggressive little salesgirls in Tibet, India, and New Zealand. Blue and purple flowered enamel earrings from Russia dangle next to a pair of copper ones from Bosnia. Warring countries' jewelry are at peace in my jewel cases.
My bedroom closet houses items from places where I've journeyed. A long silk vest in varying shades of lavender ripples like a stream when I walk by. I purchased it on my way to see a 2,000-year-old rowboat at a museum near the Jordan River in Israel. In Jordan I bought a magnificent black wool jacket when my tour bus stopped for a bathroom break near a Women's Clothing Cooperative. What I bargained for and bought in ten minutes, several Jordanian women had spent weeks embroidering. They created circles of intricate orange and yellow flowers with green leaves on the jacket's sleeves, front and back. The Israeli vest and the ornate jacket don't clash with one another as do the people in their countries.
Knowing a country's language connects one to its people. Two years in the Peace Corps in Peru and frequent visits to Mexico—and I was fluent in Spanish. Six visits to Italy, lasting from two weeks to three months, and I could function in Italian. Studying French and German stateside gave me sufficient fluency to ask for directions when lost. Speaking the language of a country promotes interactions with its ordinary people.
Ambling among man-made walls—be they those of the Incas in Cusco, Peru, or of the Romans in York, England, one notes man's fine stonemasonry and need for barriers. The sixteen-angled stone in an Incan wall at Santo Domingo church in Cusco is precisely cut and fits so tightly against the other multi-ton stones without mortar, that a needle will not fit between them. The walls are earthquake-proof, unlike the Spanish churches atop them. Most of the Great Wall of China is crumbling, but the patience of its builders, who persisted for hundreds of years to construct 8,851 miles of protection from outsiders, leaves one in awe of this immense human endeavor. The underground cities of Kaymakli, Turkey, and the 150 miles of concealed tunnels in Cu Chi, Vietnam, were ways to defend against invaders in both ancient and modern times.
Structures built to honor deities or a lost loved one present architectural styles that dazzle—the tree-entwined temples of Angkor Wat in Cambodia, the multi-tier Potala Palace in Lhasa, Tibet, the intricately carved Hindu Temples of Khajuraho, India, and the symmetrical, white marble Taj Mahal in Agra, India. Contrast the two ends of the opulence scale: the breathtaking Opera House in Sydney, Australia, that unfolds like sails soaring in the wind and the simple mud and dung huts built by Maasai tribe women in Kenya. Both reflect the land and populations where they are built.
Countries' unique animal life is as fascinating as its inanimate objects. Large albatrosses land, smaller blue-footed booby birds court, and giant sea turtles mate in the Galápagos Islands. A mother Bengal tiger romps with her two grown daughters in the Ranthambore Tiger Preserve, India. Thousands of wildebeests and zebras saunter by on their way to new grazing lands. They fill the Serengeti Plains in Africa as far as the eye can see. Wild animals in their own habitats are more intriguing than in a zoo, we are guests and the animals, residents. We trespassers are alert, our senses stimulated. A one-inch poisonous dart frog and a six-inch venomous snake, observed on a night walk in the Amazon jungle, present danger not experienced when viewing reptiles in an aquarium.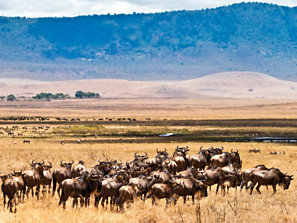 Each continent's bird, animal, and human population and land formation developed in distinct ways. Museums explain the theory of the Pangaea, one large super-continent that existed 250 million years ago and drifted apart into the continents of today. Australia has the oldest and smallest mountains, worn down over centuries by the elements. Chile's mountains are newer and higher, so their instability results in frequent landslides. Amazing land formations abound—the solitary red rock, Uluru, six miles in circumference, in outback Australia, the green, vertical islands in Ha Long Bay, Vietnam, and the otherworldly tufa rock formations in Cappadocia, Turkey. Geological formations become more real when stepping foot on them versus looking at a map. Tons of water per second plummet down 250 feet across the 1.6-mile width of Iguassu Falls, Brazil. Two hundred and seventy-five of nature's most powerful spouts shower those standing below. Contrast the thunder of the waterfalls with the quiet rice terraces of Bali.
Man's reverence for a higher power and his artistic abilities combine in his religions. In Bali, attractively arranged dishes of food and flowers are placed in front of shrines each morning. Intricate geometric tile patterns adorn Turkish mosques, and lace-like woodcarvings decorate the Alhambra in Granada, Spain, fulfilling the Islamic requirement of no human or animal representations. India has hundreds of gods, several with multiple limbs. In Tibet, thousands of yak oil candles burn, dedicated to Buddha, and worshipers prostrate themselves on the ground in front of temples continuously for months. Thailand abounds in Buddhas—some enormous and reclining, others gold and meditating, and a number that were saved from invaders by covering them with mud.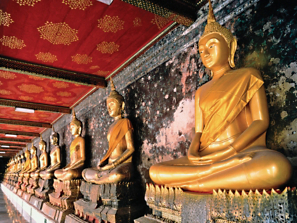 Art and religion feed the soul, but the world's foods feed the body. The best meals were served in the humblest of homes—seven vegetable courses cooked by a group of retired elders in Shanghai, China … animal-shaped dumplings made in a painter's home in a Hutong in Beijing … tiny vegetables wrapped in seaweed in Japan … or sweet rice balls shaped in a fisherman's home-on-stilts in Cambodia. The grubs in the Amazon tasted like bacon and the fried crickets and rats in Cambodia were fresh. People eat what they have learned is good.
Time spent time in another country develops empathy for its citizens. I feel others' suffering when I hear of civil strife or a natural disaster in their countries. Exploration of the world calls for an active mind and body. Adventures cannot be had by sitting at home. The paintings, monuments, crafts, animals, and people of other countries become part of the traveler. Exposure to world variety develops an appreciation of countries' different customs. I have gazed upon beautiful sights, learned new languages, and hiked challenging trails. Travel brings pleasure from understanding people different from oneself.