Taking in Turkey, One Image at a Time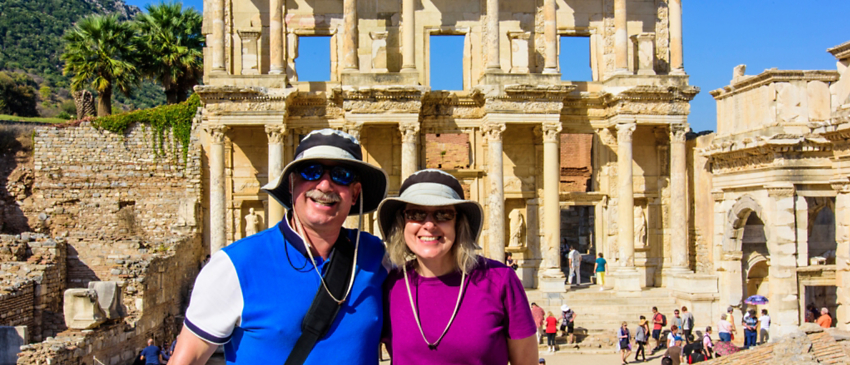 By Kyle A., 13-time traveler from San Carlos, CA
Greetings, fellow O.A.T. travelers! In recent editions of The Inside Scoop I introduced myself as a passionate travel photographer and I shared photo narratives from South America, Ireland, Tanzania, Cuba, India, Vietnam and Cambodia, Burma, and Iceland. Now I'm excited to have the opportunity to share another personal travel story, this one focusing on Turkey, once again illustrated with some of my favorite photos from the trip and accompanied by suggestions to help you make the best images possible while traveling.
I am a professional travel photographer with a special interest in helping travelers improve their photography while learning to travel with greater cultural awareness and advocacy. I publish a blog dedicated to improving and inspiring travel photography, "To Travel Hopefully," at www.to-travel-hopefully.com. You can take a look at my portfolio of images and learn more about me at www.kadlerphotography.com.
I also lead small group workshops and tours for photographers at any level from beginner through semi-professional. One of my upcoming photography tours—and the first to be operated in collaboration with O.A.T.—is Mongolia and the Gobi Desert, departing on September 13, 2019. If you would like to learn more about this photography-themed adventure, click here or email me at [email protected]. To book space on this adventure, please call O.A.T. at 1-800-353-6262 and press 3 for more details, then refer to Group Booking Code G9-28085.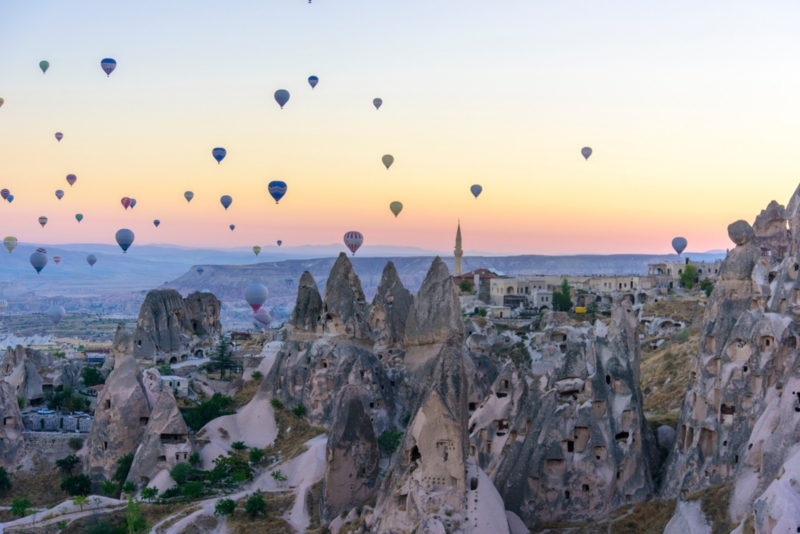 Iconic Turkish scene: We awoke at 5:30 AM to the sight out our cave-hotel's window of hundreds of hot air balloons launching above Cappadocia's fairy chimneys. I jumped out of bed, barely remembering to throw some clothes on, and ran out on the balcony to set up a tripod and capture this amazing scene. I exposed for the rock formations and allowed the balloons to be partially silhouetted.
My wife and I were excited to learn recently that O.A.T. is resuming travel to Turkey. In the fall of 2015, we were among the last travelers to have the opportunity to take O.A.T.'s Turkey's Magical Hideaways adventure before this itinerary was temporarily suspended. This lovely 2.5-week journey took us from the main city of Istanbul to the otherworldly landscapes of Cappadocia, then on to the glorious Turquoise Coast and the spectacular ruins at Ephesus. In today's article I share our experiences and some of my favorite images from this spectacular but troubled nation.
First, a few words about security. Even when we traveled in September and October of 2015, there were concerns about the safety of travel in Turkey. We did not visit the far southeastern regions of Turkey due to the ongoing violence between various factions from ISIS, Kurdish separatist groups, and the Turkish government. For a time, the situation continued to deteriorate as a result of an escalating crisis in and around the border with Syria, terrorist actions throughout the country, and the broad government crackdown in the wake of the attempted coup last year. Tourism in Turkey was being devastated by the concerns of safety on the ground. And yet we felt safer in Turkey than we do in many other parts of the world. The cultural, historic, and natural appeals of this destination are undeniable, and the Turkish people are unusually warm and welcoming. It is a travel photographer's paradise. Happily, the situation in Turkey has been stabilizing and now O.A.T. travelers once again have the opportunity to explore its treasures.
Our adventure began in Istanbul, an ancient city situated at the border between Europe and Asia. Its place as a crossroads of history from Roman times through the Byzantine Era, the Ottoman Empire, and the modern Turkish republic is apparent as you stroll its winding streets and ply its crowded waterways. There are opportunities to make great images everywhere in the city.
Istanbul's Hagia Sophia, the foremost Byzantine church, is nearly 1500 years old. When shooting grand architectural sites from up-close, it's a challenge to try to avoid distortion due to perspective and the necessity of using a wide-angle lens. Here I kept the horizon level with the ground to avoid excessive distortion.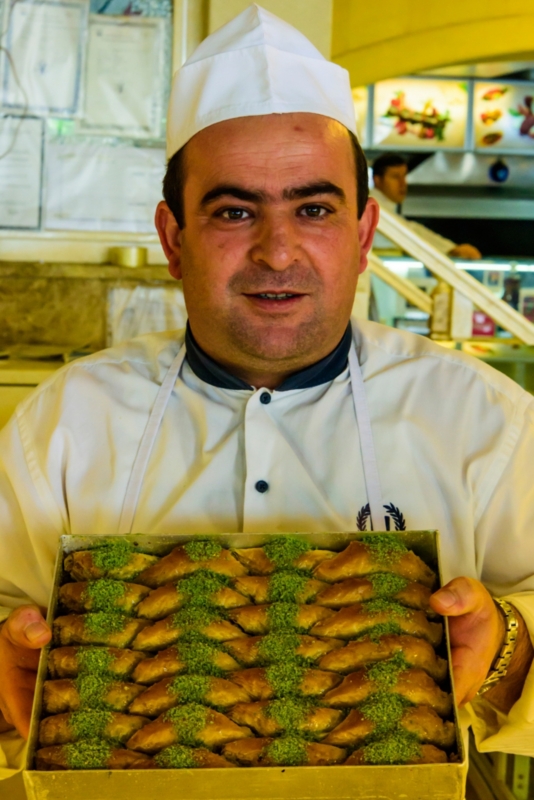 The best baklava in Istanbul? Perhaps. I certainly didn't taste any better baklava in the city, and believe me, I tried a lot of baklava. To make this portrait, I asked our Trip Experience Leader to introduce me to the baker, who was happy to pose with his wares. This was shot with natural light and just a touch of fill flash.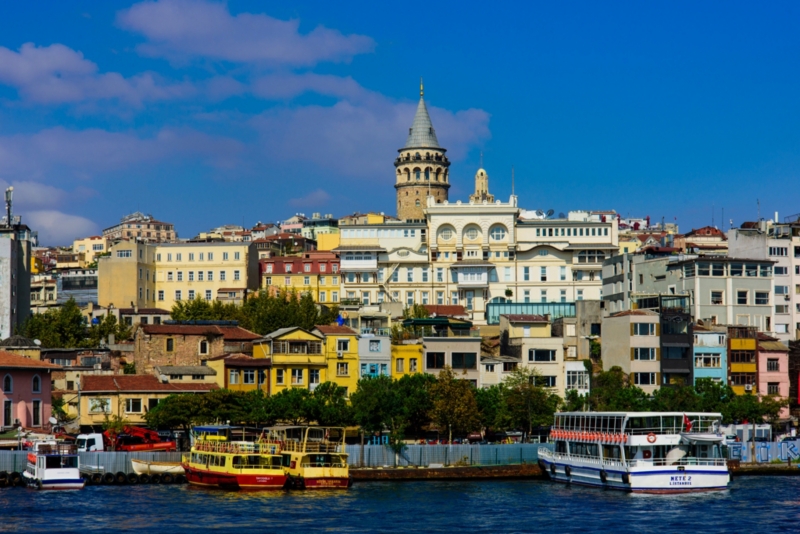 View of the Galata Tower from across the Bosphorous.
After Istanbul, we traveled to the central region of Cappadocia, famous for its "fairy chimneys," natural spires formed by the erosion of soft tufa rock. This region is a veritable dream for travel photographers!
Upon arriving in Cappadocia, we were thrilled to learn our hotel room was inside an ancient cave dwelling. (Not to worry, it had been recently remodeled.) When shooting interiors, it's usually best to use a fast wide-angle lens and to compose the image carefully so as to gain the viewing perspective you want.
The Goreme Open Air Museum comprises dozens of ancient Byzantine churches carved out of the tufa rock. Remember to capture some images that include yourself and your travel companions. To make this image, I set up the camera on a lightweight travel tripod, composed it by having my wife stand in front of the "fairy chimney" church, then joined her in the frame and triggered the camera using a remote release.
The soft tufa stone formations look almost like sand dunes in the late afternoon glow. I shot in RAW mode (as always!) and underexposed slightly to allow for a higher-contrast image during post-processing. Careful cropping also helps a striking landscape really pop.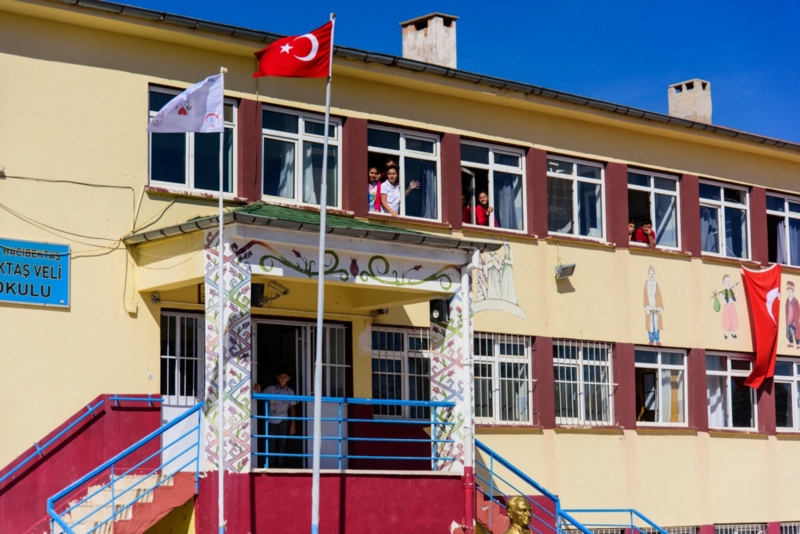 We visited a school in the region, always a favorite activity during our O.A.T. travels. While I made quite a few images in the classrooms with the kids and teachers, I like the unusual perspective in this image. It was shot from outside the school building as the kids came to the windows to wave goodbye.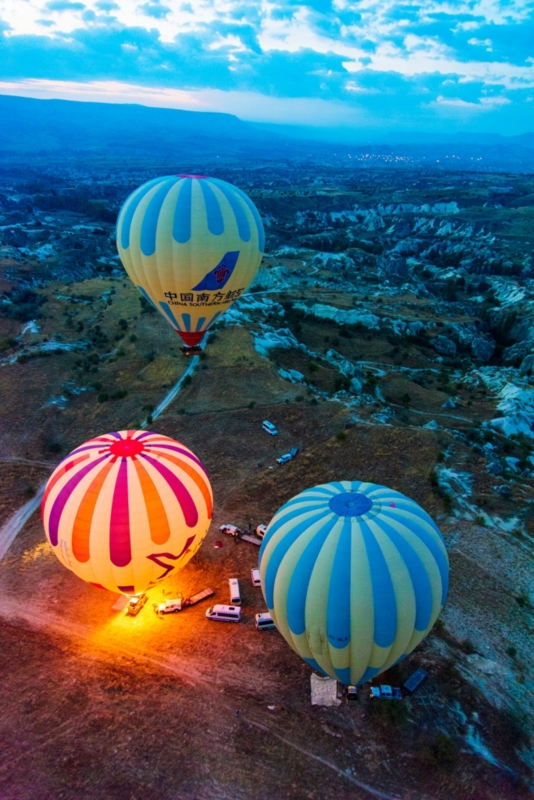 We took a very memorable hot air balloon ride at dawn over Cappadocia's otherworldly landscape. I made this image looking down from our gondola at three balloons in various stages of preparing to launch. The amphitheaters of soft tufa rock can be seen in the middle-ground and the rising sun in the far background.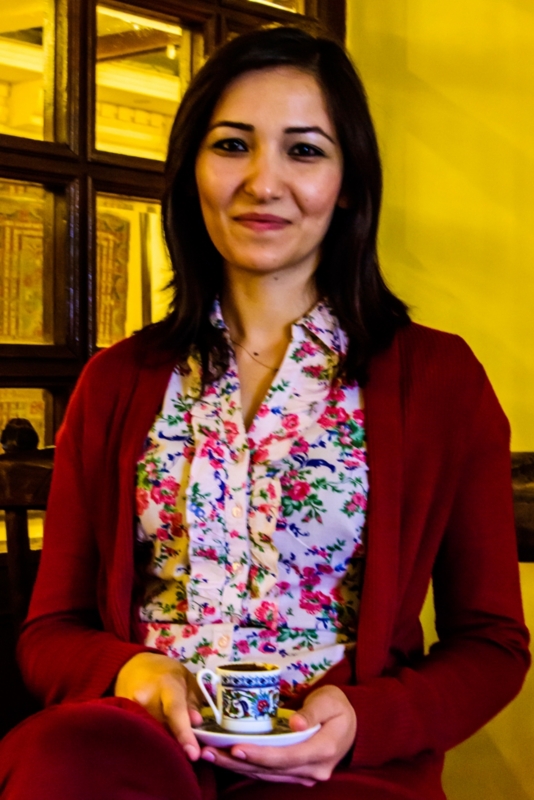 At a carpet-weaving cooperative, this woman enjoys a cup of Turkish coffee during her break. I was drawn by her colorful clothes and enigmatic smile. I asked our Trip Experience Leader to introduce us and inquire if it was okay for me to make a portrait. Shooting quickly with natural light only, no time to set up a tripod, and a too-slow lens mounted on the camera, I had to boost the ISO setting quite high. Fortunately, I was able to reduce much of the noise in the image during post-processing.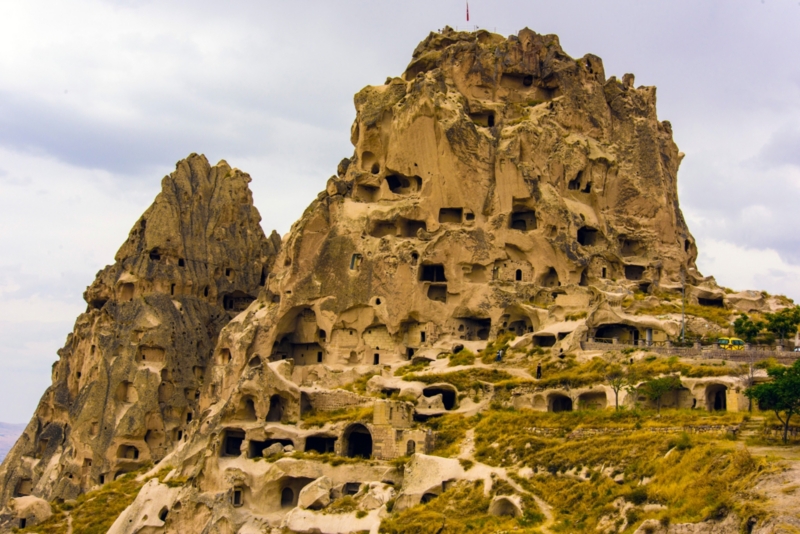 Hiking up to the top of Uchisar Castle, the highest elevation in Cappadocia.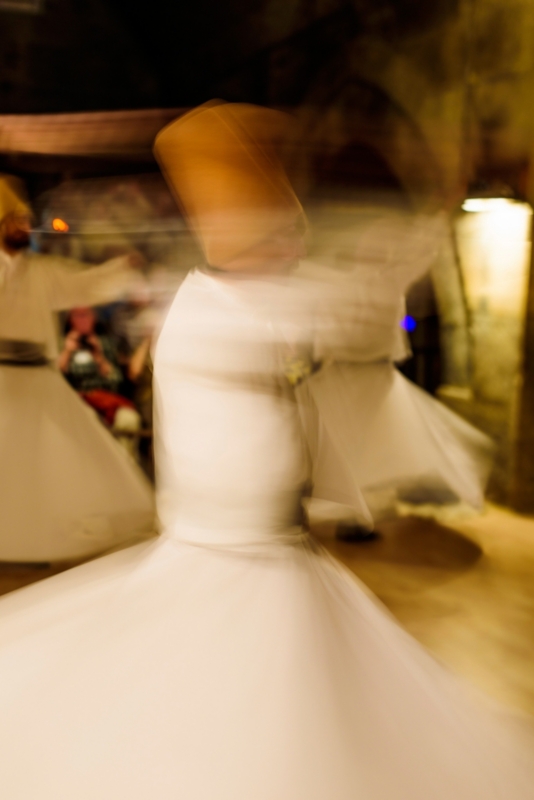 We had the chance to watch a whirling dervish ceremony. The Samazens, followers of Mevlana Rumi, are a mystical Sufi order who practice the ritual we witnessed. To capture the sense of motion, I used a slower shutter speed to blur the participants.
The Mevlana Museum houses the monastery and tomb of Mevlana Celaleddin Rumi, the mystic who founded the "Whirling Dervish" sect. This image captures the incredible workmanship on the interior of the monastery, especially around Rumi's tomb. Flashes and tripods are not allowed inside the tomb, so I had to use a fast lens and high ISO setting to handhold the camera.
We departed Cappadocia and drove to Antalya, the gateway to the southern Mediterranean region known as the Turquoise Coast. Antalya boasts an ancient Roman harbor and a fascinating archaeological museum.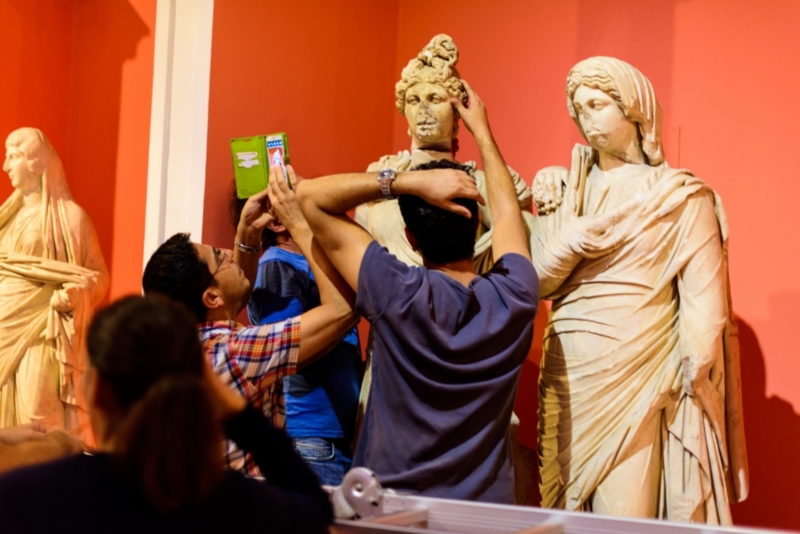 We happened upon an interesting scene when several archaeologists and their students attempted to match a recently excavated statuary head to a body already in the museum. Always be on the lookout for serendipitous scenes, which often make the most memorable images from a trip.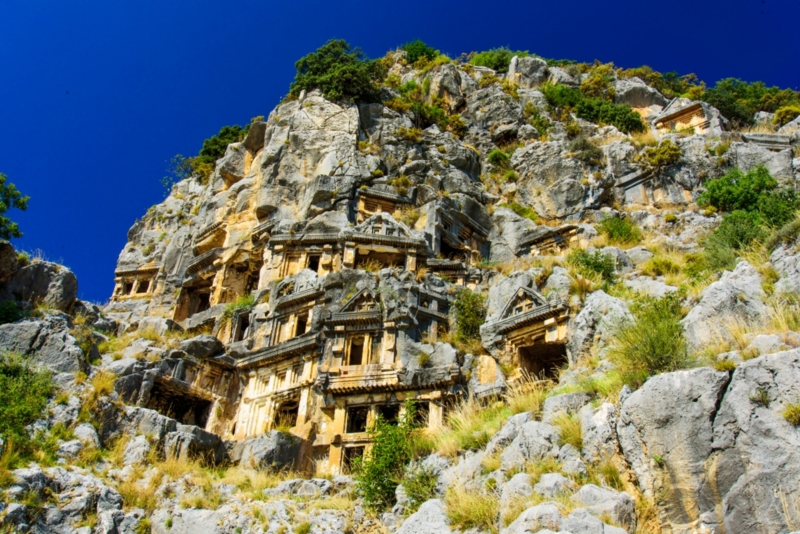 These Lycian house-tombs were carved into the cliffs centuries before the Romans arrived at Myra.
We boarded our gulet, a traditional Turkish wooden sailing yacht, for a four-day cruise along the Turquoise Coast. Each day offered a wonderful photographic tapestry of great images, as we sailed, hiked, swam, and dined.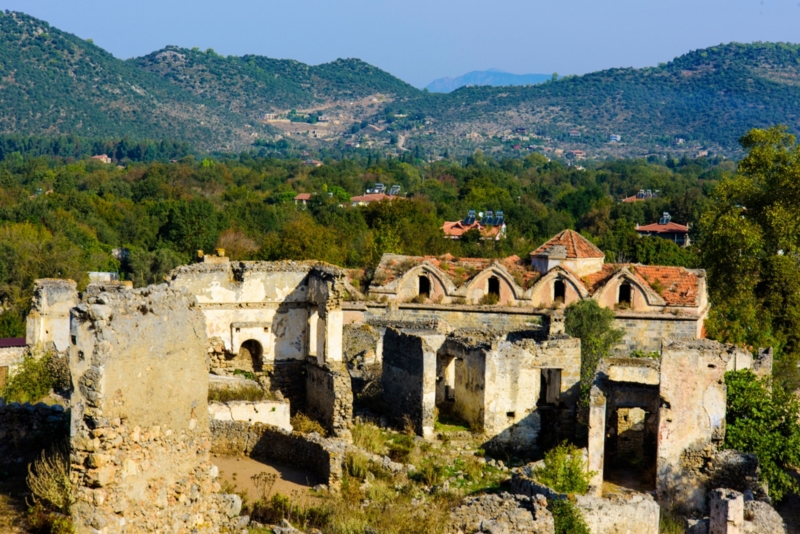 Kayakoy is a ghost town, a Greek village abandoned when the Turks expelled Greeks after their war for independence in the early 20th century. Turks living in Greece were expelled the same year.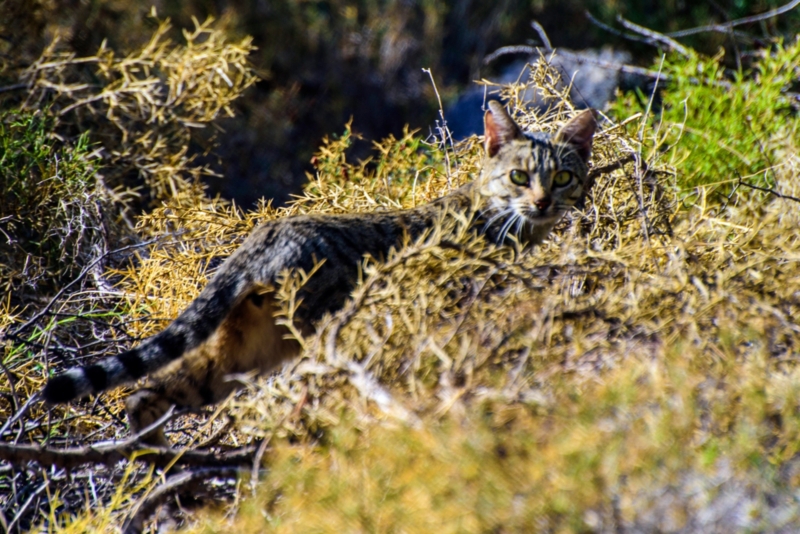 My wife Mary spotted this rare wildcat, which looked to us a bit like our local Californian bobcat, along one of our daily hikes. I changed lenses very quickly while approaching the cat slowly so as not to startle him, then captured this portrait using a medium telephoto just moments before he slipped into the brush.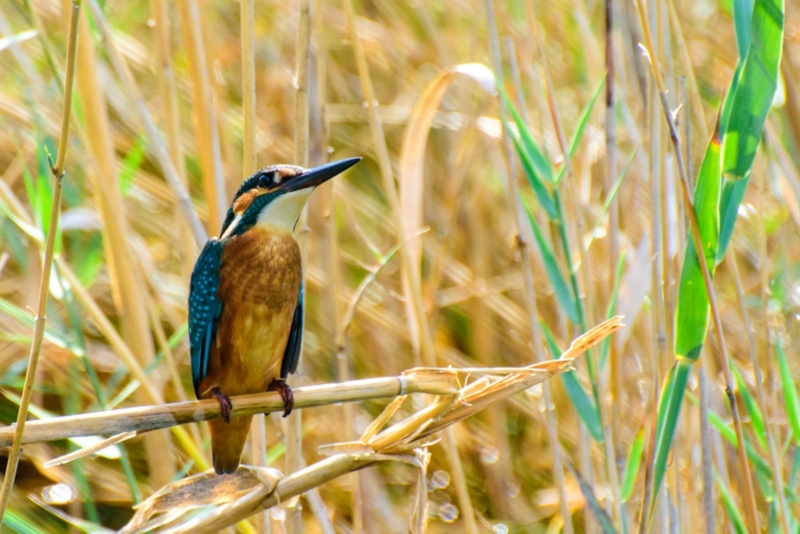 A riverboat took us from our gulet yacht to the ancient Lycian site of Caunos. This image of a kingfisher along the side of the river was captured using a long telephoto lens and a fast shutter speed to allow for handholding the camera on a rocking boat.
Throughout Turkey, the food was vibrant, simple, and delicious. Our final day's lunch, in a picturesque village in the mountains, consisted of course after course of delightful meze (appetizers).
Turkey is a remarkable destination for travel photography. I am excited to have the chance to return soon, now that safe and affordable travel again is available there.
I hope you've enjoyed this narrative and that you will be inspired to travel more adventurously, capture images like a pro, and share your photos more powerfully. To see more of my images and to learn more about travel photography, visit my blog, "To Travel Hopefully," at www.to-travel-hopefully.com. Also take a look at my portfolio at www.kadlerphotography.com. And check out my upcoming photography adventure in Mongolia in September 2019 by clicking here. Happy travels!
Make your own stunning images when you join our Turkey's Magical Hideaways adventure.