Soul of India: An Unknown Jewel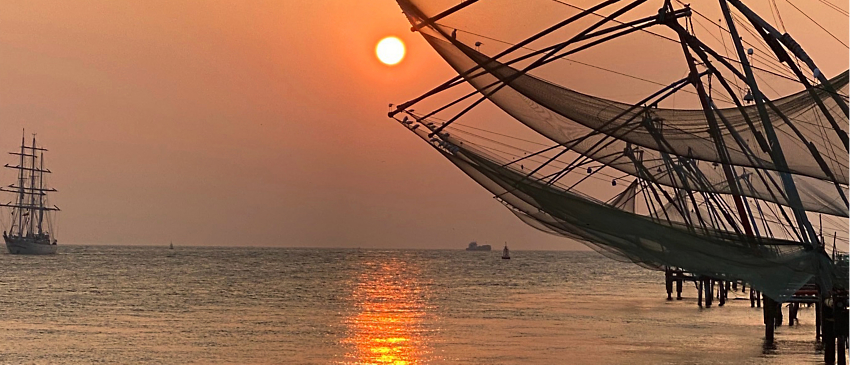 By Marlene D., 11-time traveler and 1-time Vacation Ambassador from Santa Rosa, CA
We have a group of about 20-25 friends who love to travel together on O.A.T., and we limit our group to 12-14 people for each adventure. My husband and I happen to LOVE India, although you never would have thought that before my first trip on the Heart of India in 2009 when I went with my parents who were advancing in age and were worried about their health. I volunteered to go on that, my first O.A.T. trip, just so they'd feel comfortable going. I loved that trip so much that my envious husband wanted a do-over. By that time, we were seasoned O.A.T. travelers, with a group of friends that we enjoyed being with. Even a repeat of my 2009 experience in 2017 was again magical with new experiences that made it feel brand new. Our group is so close, it's like being on a high school trip without the drama; being completely carefree, going to the bar at the end of each day and being totally cared for by the AMAZING O.A.T. Trip Experience Leaders who take all the stress out of travel!
So, when our friends put together a trip of the lesser known Southern India, we knew we were in! I have to express my ignorance of the south. Of course, the Heart of India O.A.T. trip is centered on the more well-known North with the Taj Mahal. That's a great trip but for us, we loved the South even more! Our trip in January exceeded any expectations we had! Unbeknownst to us, we were lucky enough to arrive during the Pongol Festival, the south's take on our Thanksgiving. The entire State of Tamil Nadu pretty much closes down with entire population going "home," usually to their villages from the cities. Our most amazing guide, Anuja Skaria (tied at the top of our list of all-time favorite O.A.T. trip leaders) was able to get our bus admitted to the local fair celebration where our group went up on stage, danced with the locals and were interviewed for the Chennai Local News Channel about what foreigners loved about Tamil Nadu and Pongol! The next three days were a blur of incredible temple sites, stopping along roadsides to dance in village Pongol celebrations and enjoying each other! These three days alone would have been enough to make this trip one of a lifetime. We still had two weeks to go.
I've asked the rest of the group for their favorite highlights of the trip and really, everyone had a different favorite experience. A Day in the Life, where you spend time in a local village or with a family, is always fun. The Periyar National Park, our first time to wind down came next with beautiful early morning walks to see animals in a preserve setting. Then a drive through the lovely countryside seeing miles and miles of tea and mangoes being grown to my personal favorite, the Backwaters of Kerala. We spent two nights on a rice boat, converted to luxury accommodations cruising the deltas of the south where rice fields go on for miles, cruising the village system of canals in smaller boats to see the quiet life of the rice field workers where beautiful birds are EVERYWHERE and the Kingfisher lulls you to sleep in the late afternoon.
Then it was onto Cochin, the lovely colonial town where we met local young men, motored around town on the backs of their motorcycles, had morning tea, and heard about what it's like to be a young man in India!
But, saving the best for last, O.A.T. recently added on three days to the trip so that travelers can experience Mumbai. We stayed at the world-famous Taj Mahal Palace Hotel, built in 1904 by an Indian who wanted non-British travelers to have a world class experience. We were pampered by the staff there and it was hard to leave. However, we also enjoyed seeing the tradition of the Dhobi Ghat, where laundry for millions occurs in a very intricate system to make sure it goes back to the correct house. The same system of organization needs to occur with the lunchbox delivery by the Dabbawallas who go to your home mid-morning to get your home-cooked lunch, deliver it by noon to your office, and then repeat with the dish delivery back home in the afternoon—all for about two dollars per month!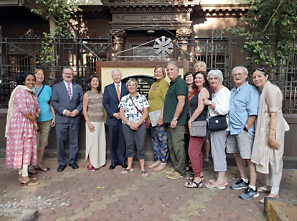 Crowning glory of that day, again by luck, was that our visit to the Gandhi Museum occurred on the anniversary of his death in 1948. It is a wonderful stop to see his room in the rooming house he stayed in Mumbai along with all his worldly possessions and writings. As we were leaving, there were a few policemen outside, and we asked what was happening. We lucked into being there at the same time as the U.S. Ambassador to India, Ken Juster who was there to place flowers at his memorial. We were able to speak to him and thank him for this symbolic gesture as what this world needs now more than ever is to embrace Gandhi's principles of respect for individual beliefs and non-violence.
So, in closing, the O.A.T. Soul of India trip is precisely that; India's Soul in a 20-day adventure. The food, colors, and warm & friendly people, who don't get many foreigners to visit, were life changing. I'm so glad we decided to experience the unknown south and its unknown treasures!
Marlene traveled as a member of the Prior Group in our Group Travel program. Learn more about the benefits of our Group Travel program here.
Discover the unknown jewels of southern India for yourself when you join O.A.T. for Enhanced! Soul of India: The Colorful South.