Scotland's Highland Cattle Live the High Life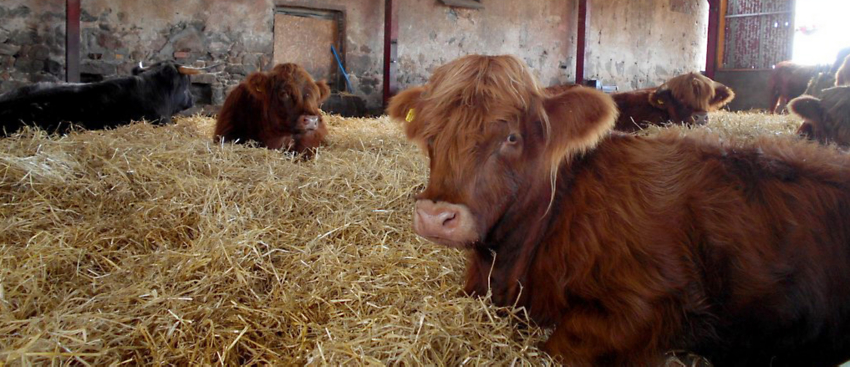 By Carol Bowman, 12-time traveler from Laredo, TX
Una stood steady so Grace could comb through her long, wavy red hair. Lengthy bangs extended down over her forehead and stray strands tickled her large brown eyes. Sounds of contentment spilled from within, as she relaxed to the rhythm of her back being stroked. Una's offspring, Katie Morag, nuzzled into her chest. Pampered, bathed, and coiffed, both seemed prepared for the big competition the next day. Before each showcase, all of Grace's entrants receive the full beauty and spa treatment. "They love the pampered life," Grace said.
Extending from the mother's temples, long horns bent in the shape of a lazy "L" had been polished and glistened in the sun. Horns? Oh, we're not talking humans; we're talking Scottish Highland Cattle, the oldest registered breed in the world. Originating in Scotland's Outer Hebrides Islands, these distinctive-looking cows, raised for their lean meat, were first mentioned in sixth-century Norse writings.
The crisp air, acres of moss-green, lush pastures, and a strong Scottish wind provided a serene backdrop as we arrived at Lochton of Leys Farmhouse located in the rural outskirts of Aberdeen, Scotland. Grace Noble, the 40-something, petite, blonde proprietor, and sole working farmer of this 160-acre spread, greeted us with enthusiasm. Her beloved fold of pure pedigree Highland cattle waited in the barn to wow us. In her passion to introduce travelers to the complexities of rearing these cattle, Grace arranges tours of her farm and this day, she welcomed our O.A.T. travel group. As guests, we interacted with these docile creatures, combed their long hair, rubbed their underbellies, and learned about the breed.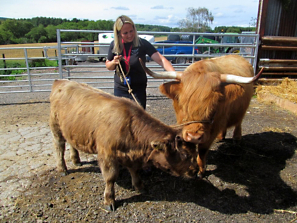 Known mostly for a ginger-red color, their double-layered coats can also be shades of black, brindle, yellow, or white, but their hair grows at least 13 inches long. The outer layer has natural oils that prevent Scottish rains from seeping into their skin, while the downy undercoat provides warmth during harsh weather. Grace winters her herd out on the hills of Cairn O'Mount, but brings them in for regular health checks. The cows use their long horns to forage for mixed greens through deep snow. Their warm coats make layers of fat under the skin unnecessary, resulting in meat 38% lower in fat and 4% less cholesterol than other breeds.
Due to their short legs and smaller frames with adult bulls maxing out at about 800 kg and cows at 500 kg, these hearty cattle can live 20 years on average. Cows are able to mate at 18 months of age, can calve once a year with a gestation period of 290 days, and each cow can bear between 12 and 18 offspring during her lifetime. The cow's milk contains a high percentage of butterfat, so calves are well nourished and healthy. Grace names, registers, and knows every cow by its individual personality and characteristics. It's like having 80 kids.
Her prize-winning bull, Duke, is a busy boy. Grace has even sourced some of his youngsters out to Queen Elizabeth's herd of Highland Cattle raised at nearby Balmoral Castle, the Queen's summer retreat. Grace's cattle have won ribbons as "Best in Show" at the local and national level Breeder's Cup Exhibitions. At the September 2018 Dalmally Highland Cattle Show, Duchess of Grace took home the Champion Award.
In a large hay-filled section of the barn, eight cows lazed, munching away, looking very satisfied and content. Grace informed us that thirty days before scheduled butchery, the cows selected for market are brought to the barn so they can be checked out medically. She feeds them supplements of the farm's own harvested silage and minerals the cows had not received while foraging the natural grasses. Grace prides herself in having her own onsite butcher shop, where she can control and oversee the process. The quality of the meat that she sends to market remains the most important thing for Grace's company, Aberdeen Highland Cattle. Many local restaurants advertise that they serve only steaks, ribs, and roasts that have come from Grace's farm.
As we petted these cows and watched Grace nurture each one with gentle kindness and love, the obvious question of conflict jumped out. When raising animals for food, animals that some people have bought as pets, how hard is it to send them to market after attachment has developed?
Grace explained how she accepts the inevitable. "I had always dreamed of raising Highland Cattle. After a career in environmental health, it became possible despite being a working mother of two teenagers, to found my own company in 2012. My goal was to provide the public with tender, nutritious, organic beef." Grace continued, "As part of that process, I insisted on giving the cattle idyllic conditions and grazing spaces, the best medical care, and the most stress-free environment I could offer." It seems she has managed to meet both objectives.
After our hands-on interaction with the cows, Grace's son and daughter invited us into a room attached to the farm house. Homemade shortbread biscuits and a sampling of the best beef stew I have ever tasted waited as our send-off treat. Leaving the sanctity of the farm and the beauty of rural Scottish Highlands came too soon. I was fascinated with this "new to me" breed and felt privileged to meet this positive, lone cattlewoman in the area.
Visit Grace's cattle farm and learn more about her processes when you join our New! Scotland Revealed: Legends, Lochs & Highland Landscapes adventure.