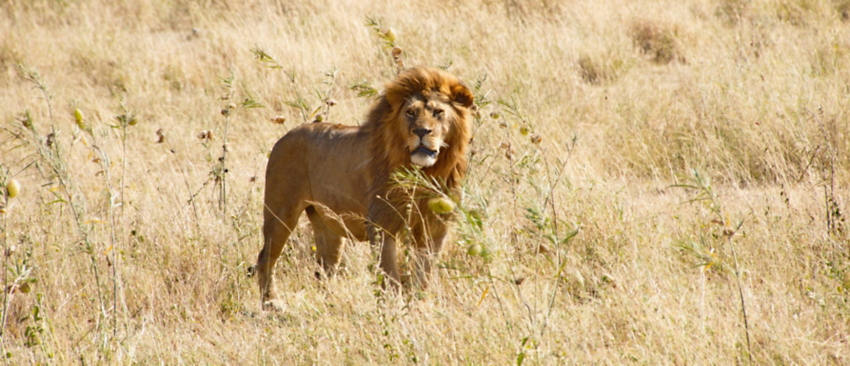 By Graeme G., 2-time traveler & 5-time Vacation Ambassador from Manchester, NH
In July 2018, my wife Connie and I traveled with four of our friends on the Safari Serengeti: Tanzania Lodge & Tented Safari trip, which we all enjoyed immensely. We saw many hundreds of animals on the seven game-viewing rides and we loved all the time we spent interacting with and learning about the people of Tanzania. I'm strictly an amateur photographer and still finding my way around my camera and photo-editing software (see below), but I was blown away by the number and variety of great photo opportunities I had on this trip.
After we returned home we first posted some trip summaries and some of the photos on a private Facebook account for friends and family. The response was so positive that we decided to set up a photo-journal website at GCJourneys.com to share our travel experiences more widely. Over time we're also adding travel tips and reviews. Here are some comments on some of my favorite photos drawn from the 400 or so on the website (out of more than 1,800 total).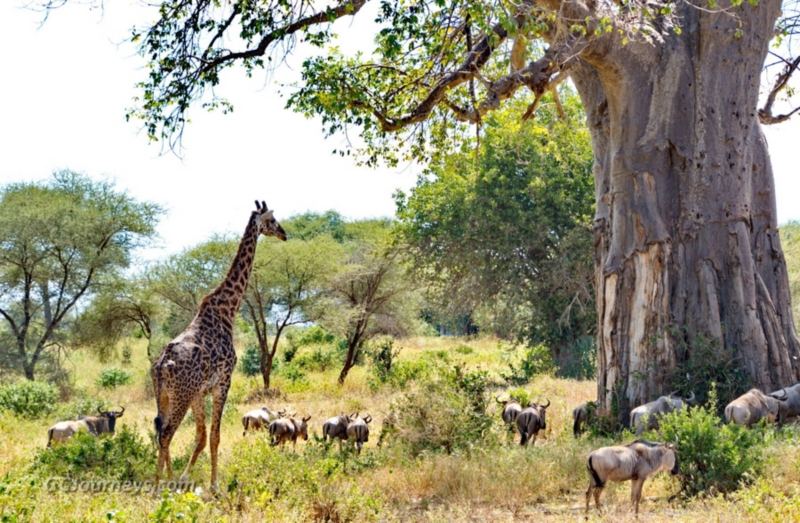 I was struck by the size difference between the giraffe and the wildebeest (gnus) in this shot and I like the framing with the baobab tree. As a frame of reference, the wildebeest are slightly bigger than an average cow.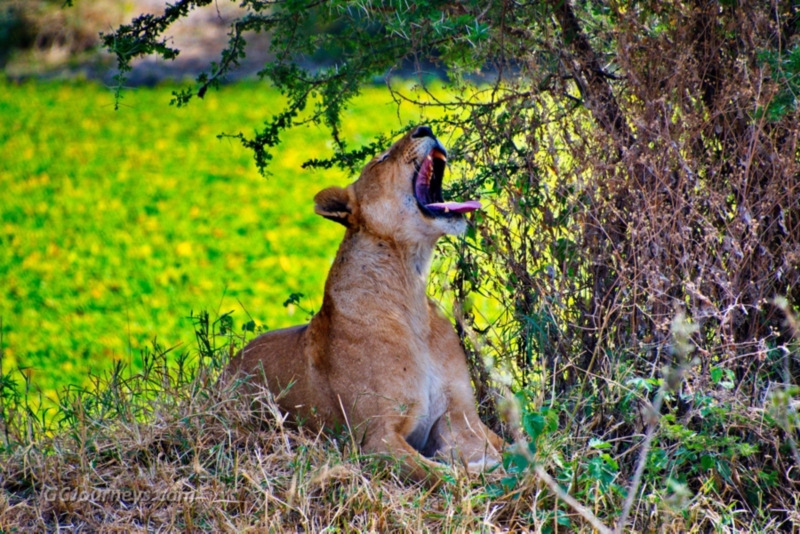 This was our first of many lion sightings and I had to edit the photo to pull her image out of deep shade. It is one of 33 photos I took of her, but the only one in which she's yawning.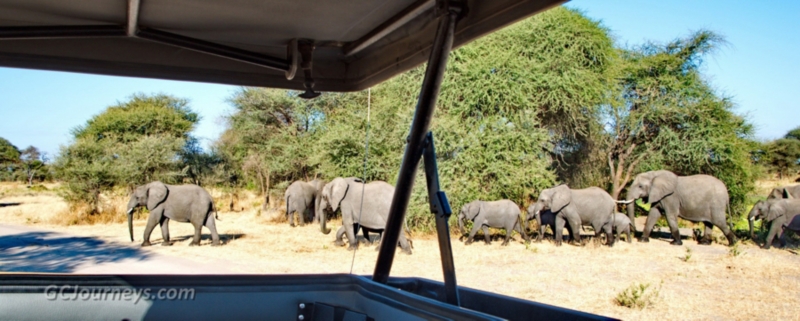 I usually tried hard to avoid getting any part of the safari vehicle in a photo but in this one it helps tell the story of the long line of elephants crossing the road in front of us.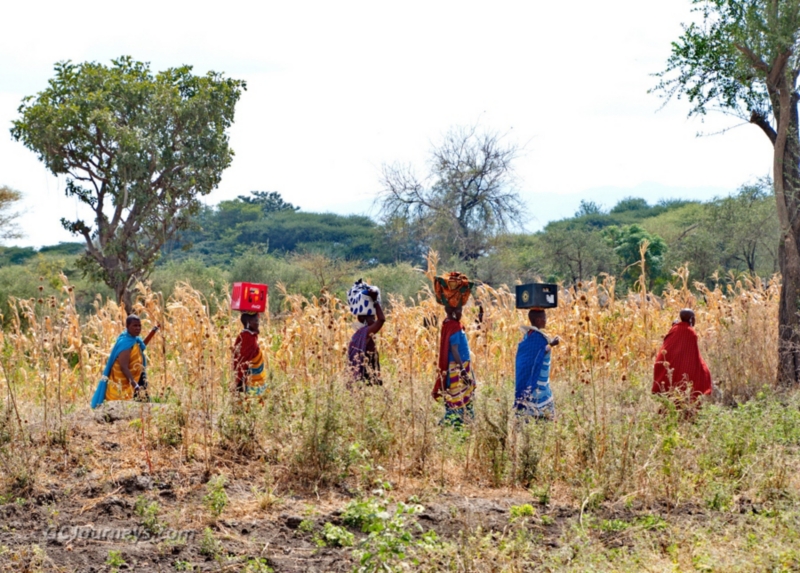 Our program director Lubé arranged for us to observe a Eunoto ceremony (a senior warrior coming-of-age celebration) in a Maasai village we happened to notice as we drove past. Lubé explained that this line of women were probably bring gifts or supplies for the celebration. Note the Coca Cola crate of soft-drinks, which they later offered to share with us.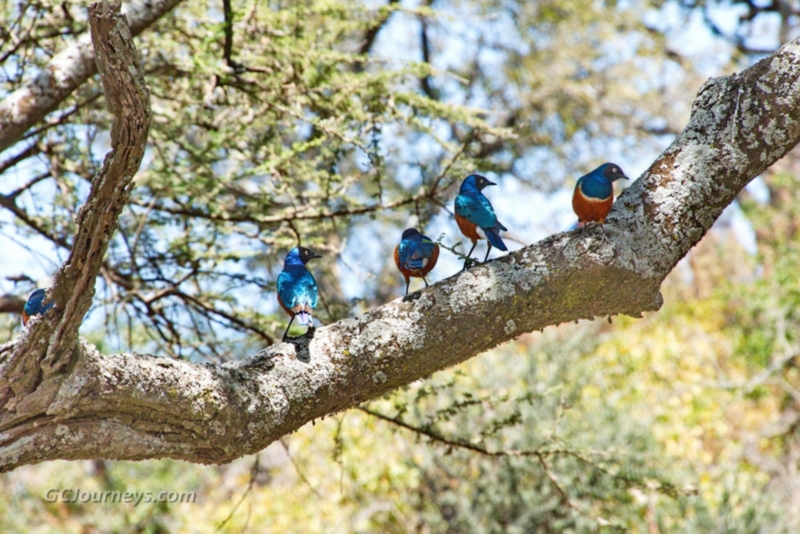 We were eating lunch at a rest-stop on the way into Serengeti National Park when I spotted these Superb Starlings lined up in a nearby tree, waiting to clean up our crumbs.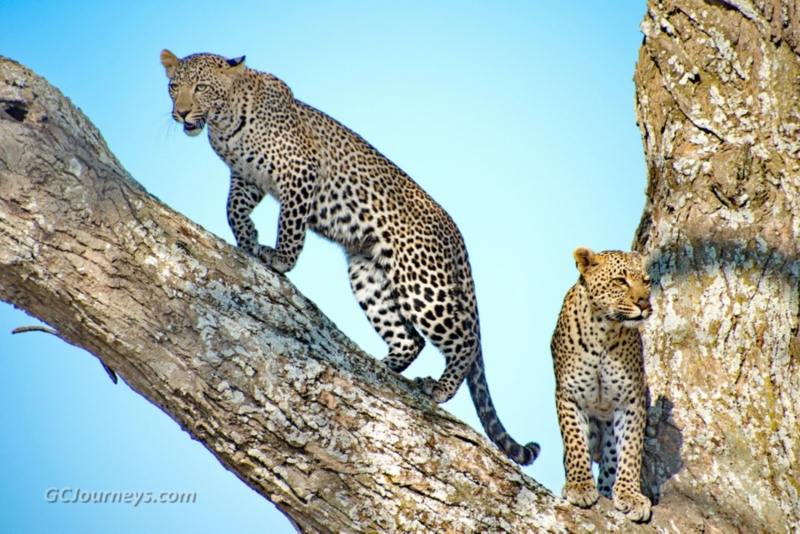 This leopard and her cub provided the photographic highlight of our trip for me. We followed them as they walked through the grass from about a quarter mile away on a path that gradually converged with our track, at this tree. The biggest challenge was culling from about 190 photos of them down to the 15 included on the website.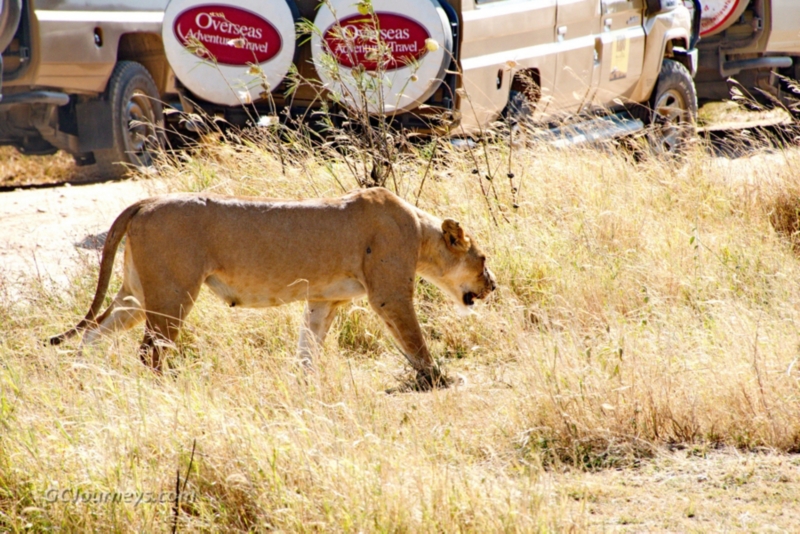 This lion wasn't fazed by the many safari vehicles in her way (including our three O.A.T. Land Cruisers) as she crossed and walked along the track between them. I also got one photo as she walked directly below my camera.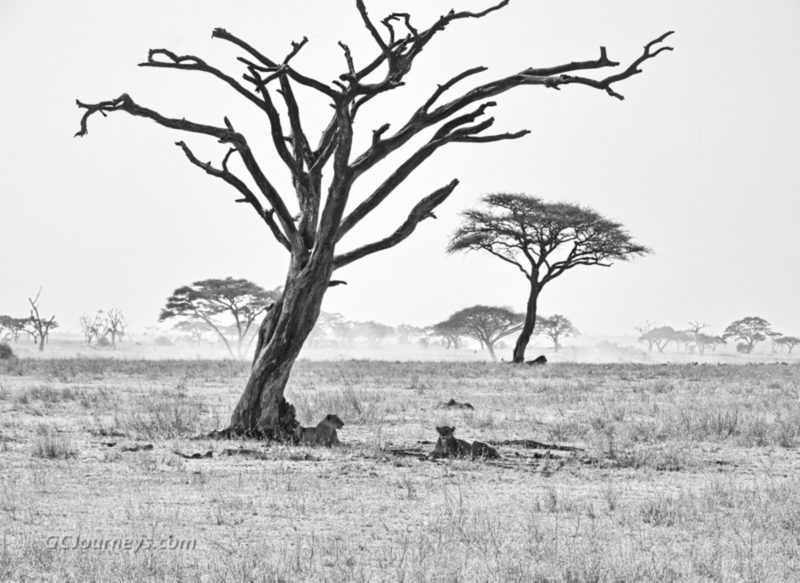 I love how much is going on in this photo. Two lionesses in the foreground, their dominant male in the distance keeping an eye on them, a group of gazelles that were carefully watching the nearby male, and a safari vehicle kicking up dust behind all that. With the featured dead tree it cried out to be shown in black and white.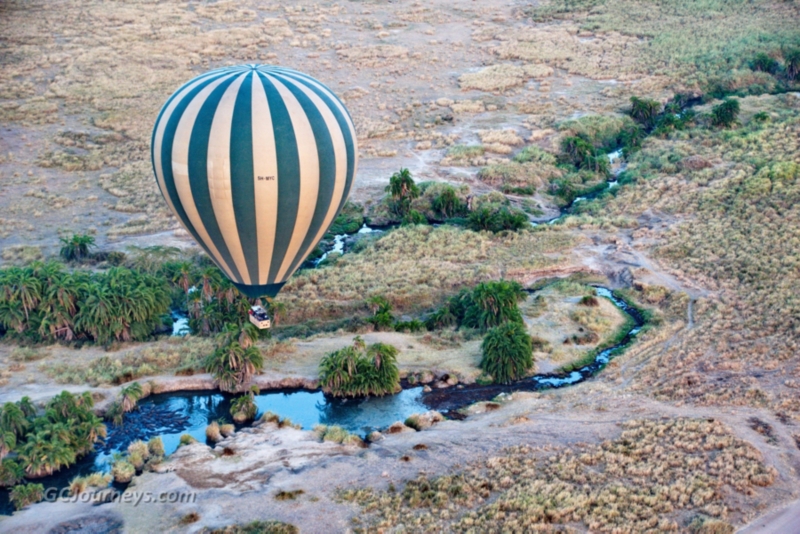 Our balloon ride over the Serengeti was another highlight of the trip. In the lower left is one of the many large groups of tightly packed hippos we saw as we drifted along the Seronera River. There were four balloons with a total of 64 passengers flying that day.
I had the lens fully zoomed to 300 mm with the lowest f-stop to blur the background for this shot of the colorful Mwazana Flat-headed Agama.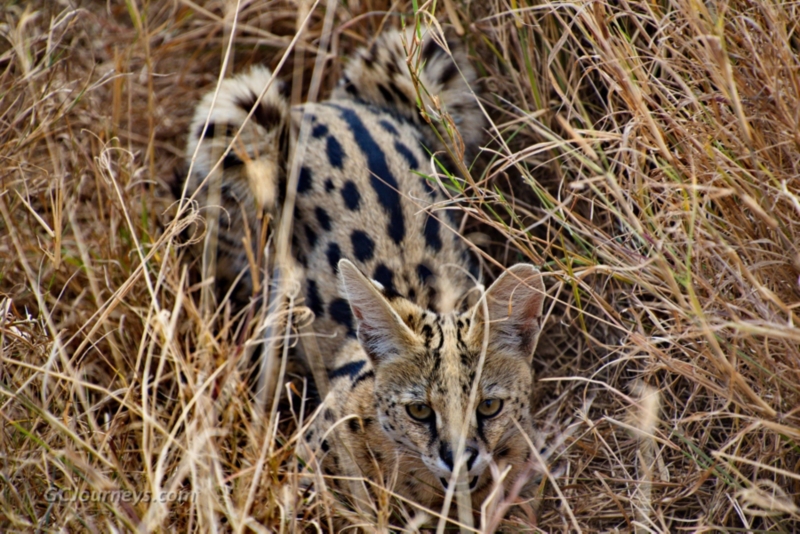 We didn't see this small Serval in the grass about ten feet from the track until we were right next to it.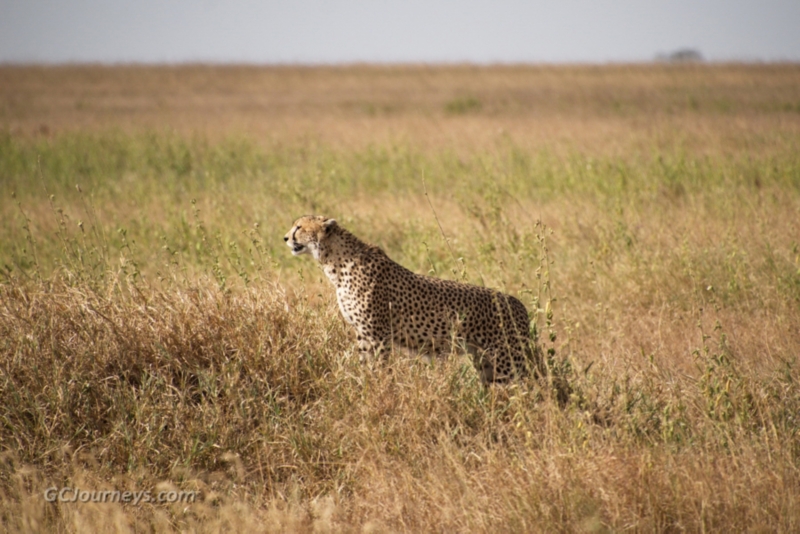 Our guide spotted this cheetah hiding in the grass and waited patiently until it emerged for this photo.
I hope you enjoy my photos as much as I enjoyed taking them. The full photo journal for our Tanzania safari trip starts here.
For those who are interested, my camera is a Nikon D5500 DLSR with a Nikkor AF-S 18-300 mm f/3.5-6.3 DX ED lens. I opted to pay a little more for a single lens that can zoom from wide angle to telephoto instead of the two separate lenses that come with most package deals. With wildlife you never know when or for how long a great photo opportunity will come up, and I didn't want to be caught switching lenses at the wrong time. One of our fellow travelers missed several great shots doing just that. I also took along an older Nikon Coolpix P100 because I thought its 24x zoom lens might allow me to better capture shots of distant animals, but that was a waste of our very limited luggage space. I only used it twice and neither of the shots made my "selected" list.
For photo-editing I use ACDSee Photo Studio Ultimate software, which I find to be very comprehensive and a lot less expensive than Adobe Photoshop. Most of the adjustments I make are to try to get as close as possible to the real-life visual experience, which often includes enhancing or reducing contrast, enriching color, or pulling more detail out of shadows. I also do a lot of cropping and straightening to improve the composition. I'm just starting to experiment with some more creative effects like the high-contrast black and white image of the lions under a dead tree.
Capture your own stunning images of the wildlife and culture of Tanzania when you join O.A.T. for Safari Serengeti: Tanzania Lodge & Tented Safari.