1976-2017: A Return Trip 41 Years in the Making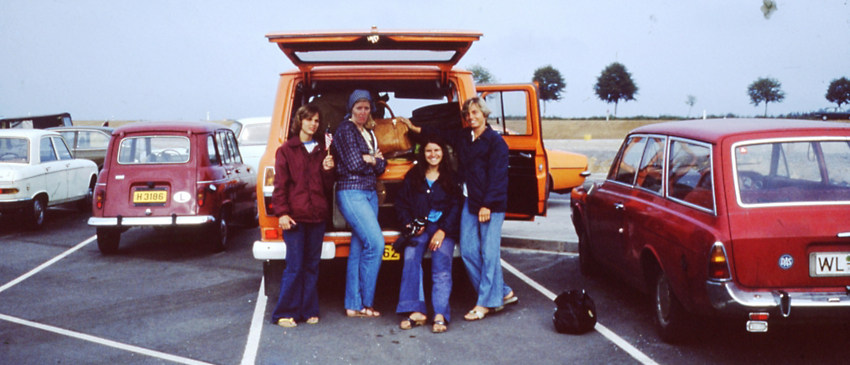 By Linda T. 2-time traveler and 2-time Vacation Ambassador from Tallahassee, FL
The year was 1976. America was getting ready to celebrate her 200th birthday. Five American teachers planned to celebrate that milestone with a six week camping trip through Europe. Armed with an eight person tent, sleeping bags, air mattresses, and some sparklers (for the Fourth of July celebration) tucked into our luggage, we flew to Luxembourg where we picked up our large orange Ford van.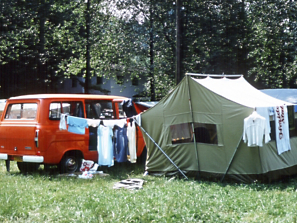 Each of us had a specific country we wanted to see, so we became the unofficial tour guides for those countries. We planned to camp through Germany, Switzerland, Austria, Greece, Italy, and France. By July 4th, we had made it to Vienna, Austria, where we celebrated our country's bicentennial with a picnic with other Americans on the grounds of an American school. We left Vienna on July 5th and headed for Greece via Yugoslavia.
None of us had prepared tour information for Yugoslavia because at the time, it was just a country we had to drive through to get to Greece. All we really knew about Yugoslavia was that Tito was the communist leader of the country and that he didn't align himself with either communist China or the Soviet Union. We had no idea what to expect, but we crossed the border with very little difficulty and were given a cordial welcome along with travel brochures and some friendly advice. Then we headed toward our first camping site in Zagreb. The countryside was lovely with flowers everywhere. Most of the homes looked like small stone farmhouses. People working in the fields used primitive looking rakes and pitchforks. Horses or cows pulled hay wagons and the landscape changed colors depending upon what type of crops were grown.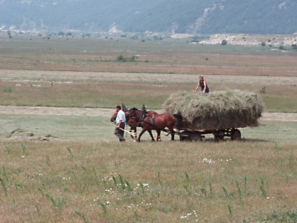 Upon entering Zagreb, we were taken aback with the drabness of the buildings and the state of disrepair of the roads. Everything looked dirty and gray. There was very little color even in the clothing people wore. Entering the main part of town, we became totally lost. Trying to read the signs was impossible due to the strange language. Since we were driving in the middle of town, our hesitations slowed traffic to almost a standstill. You can imagine what a sight we were—five women in an orange van trying to read streets signs and maps! Finally a nice man pulled his car up on the sidewalk, got out, and asked (in very good English) if he could help us. We showed him a piece of paper with the name of the campground on it and he told us to follow him. Gladly, we pulled behind him and he drove us to the campground.
It was somewhat disconcerting when we had to turn in our passports to the campground director. We were a little concerned that we might not get them back. We should not have worried. After we pitched the tent, we went to a restaurant that was close by. We were having obvious trouble translating the menu when some very cute young men came to our table and helped us. Even though we couldn't pronounce what we ate, it was a delicious supper of skewered meat and some vegetables.
The next day found us on the road to Plitvice National Park. What a paradise! We walked the lower lakes for a couple of hours amazed at the azure color of the water and the many beautiful cascading waterfalls. We commented to each other that this place is what the Garden of Eden must have looked like. We spent some time sitting at the water's edge cooling our bare feet and soaking in the peacefulness of our surroundings. There were very few people there and some children approached us selling small woven baskets with luscious ripe, red berries inside. The kids were so cute that we all bought some of their baskets. The time came for us to drive on to Split. We ate lunch at the park cafeteria before leaving. In my journal I wrote that of all the places we had seen so far on the trip, Plitvice was the one place I would like to see again.
After a quick night's stay in Split, we headed on to Dubrovnik. We knew little about Dubrovnik except that it was a medieval town located on the Adriatic. The further we drove south, the rockier the terrain became. We were fascinated by the stone walls that ran up and down the green hillsides and wondered what they were for. The roads were not in very good condition and in some places we had to slow down considerably to cope with traffic and farm animals in or near the road. The people working the land took time to stop their work and wave to us.
We arrived in the early afternoon at a campsite on the outskirts of Dubrovnik overlooking the sparkling Adriatic. We took time to wash some clothes and hung them to dry with clotheslines we had strung up on the outside of the tent. As it was getting late in the day, we decided to drive into Dubrovnik and eat dinner and walk the walls that surrounded the city. The wall walk was recommended by the friendly people we had met when we crossed the border. Getting into Dubrovnik proved to be time consuming and difficult as the road into the town was very narrow and, of course, we had a hard time reading directional signs. After about an hour, we were able to find a place to park—parking spots for a large van were few and far between. Finally we located an entrance into town, which was down some steps, through a tall stone gate with the figure of Saint Blaise standing guard.
It was getting dark and we found out that the walls had been closed. As disappointed as we were that we couldn't do the walk, we were amazed at the lovely interior of the town. The narrow marble streets inside the town gleamed in the dimming light. It had started to lightly rain which gave the streets a slick patina. There were shops that were still open and an artisan showed us how he crafted silver jewelry. He recommended a restaurant which had once been a cloister. The food was delicious. By the time we had eaten, it had started to rain harder and we remembered the clothes we had left to dry outside the tent. We decided we needed to return to the camp and take them inside. I was very disappointed to not have been able to see more of Dubrovnik and I had especially wanted to explore it in the daylight.
We wanted to get to Thessaloniki the next day so we had to break camp very early. As the sun was rising, we drove the narrow, winding road past beautiful Dubrovnik. I told my friends, "I will be back one day."
The drive that day was difficult. The roads in most places were rough and narrow. Often there were farmers riding in ox driven carts causing the vehicular traffic to slow to a crawl. As we cautiously drove up into some mountains, we found the roads to be winding, twisting and in some places bumper to bumper with trucks and other traffic. Several times we crossed high bridges that often had huge holes in the road. The holes were often partially covered with boulders, but you could see down into the valley below. In some spots, we were so high up in the mountains that it was misting rain and we could reach out and touch the clouds. We said we were touching the face of God. We began to give the bridges names: Cloud Picker Pass, Boulder Junction, and Long Way Down Bridge, among others.
These and many other memories of a beautiful country that was so different from others we would see; memories of a people who were friendly and curious about us, who seemed locked in a time gone by haunted me for years. Then in the 1990's, war devastated that land, and ashamedly I admit I largely ignored what was happening over there. However, when I heard that Dubrovnik was being shelled, I got interested in what was happening to the city I had fallen in love with so many years before. I began to watch the news and tried to sort out why the war had happened and the results of the war, but in so many ways, the information I got was confusing. I remembered that in 1976 I had vowed to return someday, so 41 years later, I did return, traveling with Overseas Adventure Travel.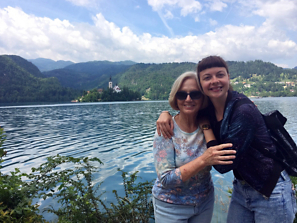 Prior to our arrival, our Trip Experience Leader, Ivona Ercegovic, contacted us by email to introduce herself and gave us some insights about our upcoming journey. I wrote back and let her know that I had been to her country before she was even born and I was excited to be coming back. From the time I set foot on Croatian soil, she went out of her way to be sure our group had the best of every experience. Because she knew I had been to her country years ago, she took extra time to point out things I may have missed on my previous trip as well as things we all needed to see in order to understand her country and the other countries of the former Yugoslavia.
After 41 years, I got to do my approximately 1.2 mile walk up and down the city walls around the Old Town of Dubrovnik and look down upon the famous red tile roofs. I was saddened to see the shell of a home that had been destroyed during the war, but was glad that so much of Dubrovnik had been restored. I learned a lot of the history of the place that first day and was able to dip my toes in the beautiful Adriatic. Walking through the vendor stalls in the square, I noticed that the narrow streets still had the polished patina that I remembered, and the entry gate into the Old Town had not changed. So much was new to me, but it all seemed somewhat familiar as well. We spent some free time just casually wandering the alley ways and small shops tucked away on side streets, and eating the fabulous gelato I had not had the opportunity to sample the last time I was there. There were many more people in the town than I remembered from before and our guide told us that so many cruise ships were now coming into Dubrovnik, and the small town was becoming overcrowded to the point the number of ships making port there might have to be limited. Selfishly, I don't want too many tourists to discover this place because then it will change. I would love for it to stay the same, the quaint and beautiful historical town that I explored so many years ago.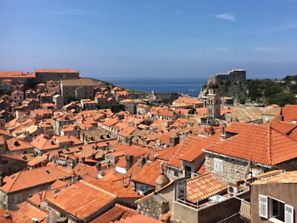 As we passed though the border check point driving north from Dubrovnik, I noticed the new, wide roads that could accommodate much traffic—such a difference from before when we had to navigate narrow, poorly paved highways. I asked about the stone walls that still dotted the hillsides and was told that they had been created many years before in order to clear farm land; to mark off agricultural plots, or in some cases to shelter farm animals from cold winds. They are called dry stone walls because no mortar is used to hold the rocks in place. Some of the places we visited that were new to me were Montenegro and the Lady of the Rocks shrine; I walked across the iconic restored bridge in Mostar that joined the Muslim community with the Croat community and read about the way the war destroyed the bridge and divided the town.
When we arrived in Sarajevo, I was fascinated by the town's Venetian inspired architecture and the history. Our local guide shared so much about the war and as we walked the Olympic town, it was hard to imagine that just a few short years ago it was ravaged by war. The Sarajevo Roses located throughout the small town were a stark reminder of the lives lost during the war, but it was the Srebrenica Exhibition that explained the genocide that took place right under the noses of U.N. "Peacekeepers" that angered me and brought tears to my eyes. We walked in silence up the hill behind the town and looked at the massive burial site that littered the landscape with white grave stones and a huge wall memorial dedicated to those who died. We walked through the narrow Tunnel of Hope and got a first-hand view for what it must have felt like for those desperate enough to dig it and use it to bring in needed supplies.
All was not grim in Sarajevo however, as we enjoyed meeting the people, eating great food, and attending our first Home-Hosted meal where we received wonderful Bosnian hospitality. During the time of our trip, many Muslims were observing Ramadan. Our local guide shared with us that while growing up she and others experienced what they called "weekend sacrifices" where children of all religions would gather together in the mosque for Saturday classes and on Sunday, they would all go to the churches. Even today, she said, sometimes Muslims go to Christmas services with their Christian friends and services with their Jewish friends, and then they all go out for ice cream together.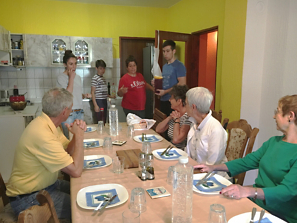 It was a fun farm stay in Karanac where we had A Day in the Life experience and dinner with a lovely Croatian family. Then it was on to Zagreb. Our guide, Ivona, was so enthusiastic about what we would experience in this, her second home town. I couldn't quite believe her because the Zagreb I remembered was dreary and very backward. Imagine my surprise when we arrived at our hotel which was located right across the street from a beautiful park. As soon as we unpacked, we were out the door of our delightful hotel walking up toward the train station located in a central part of the bustling town. I couldn't get over the youthful feel of the city, the vibrancy, the beautiful flowered landscapes, and the modern buildings. The whole time we were in Zagreb, I was sending pictures back to my friends who made that first trip with me. I had done the same thing from Dubrovnik. They too were astounded by the differences. I don't know why we were so surprised that change would have occurred during the past 41 years.
One afternoon I asked my O.A.T. friend from California to walk with me down some side streets to see if I could find any remaining communist era buildings. We were able to find some buildings that looked as I remembered: gray, uninviting, and decorated with graffiti. But, mostly Zagreb is very modern and appealing in its uniqueness.
Plitvice Lakes National Park was the paradise that I remembered it to be—the many beautiful waterfalls, the blue green lakes, the lush foliage, and the peacefulness. It was all there. Though we hiked the upper lakes on this trip, I was glad I had originally walked the lower lakes. The big difference this time was there were so many people in the park. 41 years ago we almost had the park to ourselves. The park restaurant is still there, though modernized to keep up with the times. The first time I visited this park, we had the time to sit and dangle our feet in the water, to talk to the children who sold us berries in woven baskets, to wander along the wooden plank walkways without being surrounded by tourists with cell phones taking selfies and blocking the pathways.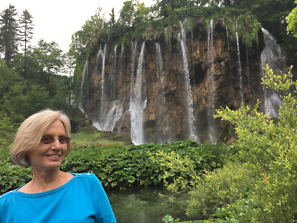 When our O.A.T. group left Plitvice and traveled toward Slovenia, we knew that while we had many other adventures ahead, our time together was coming to an end. I will never forget the lovely town of Ljubljana (it took me awhile to learn how to say the word) or the almost sacred site of Lake Bled and its fairy-tale like surroundings. Ivona loved to say to our group, we had "nema problema" (Croatian for "no problems"). How right she was!
When I had told my hometown friends I was going to Croatia, Serbia, Bosnia and Herzegovina, and Slovenia, they thought I was going off to some third world countries, but once they saw my pictures, they came to understand why I wanted to return and re-experience some of the things I had seen and done so many years before. I can honestly say this trip was probably one of the best group trips ever and I have my O.A.T. travel mates and fabulous guide to thank for making my trip "down memory lane" so special.
Explore these beautiful countries for yourself with O.A.T. during Crossroads of the Adriatic: Croatia, Montenegro, Bosnia & Herzegovina, and Slovenia.