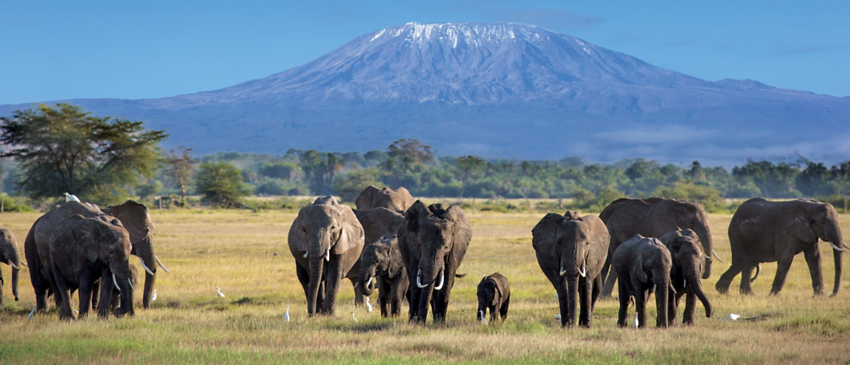 By Donna D., 10-time traveler from Manchester, ME
Africa? It was never on my bucket list. I've always been a fan and subscriber of National Geographic Magazine. I stay glued to the National Geographic TV channels. I've read numerous nonfiction books about Africa and have watched movies and documentaries about Africa. I've attended lectures about Africa and lived vicariously through adventures of friends who volunteered in Africa. I'm a big sissy, and I was never traveling to Africa; even though I longed to be surrounded by Africa's wildlife.
When Carl and Phil, fellow members of the Kennebec Retired Educators Association (KREA), returned healthy and unscathed (from South Africa), I changed my mind! Kenya, Tanzania, and Rwanda, here I come!
After signing up for my trip, I had a lot of paperwork—three different visas and lengthy medical forms. I headed to the travel clinic for my three vaccines, my stamped Yellow Fever card, and scripts for malaria pills and Ciprofloxacin just in case Imodium didn't fix a certain problem.
After my trip, I can now offer some warnings, advice, and the worst case scenarios! Avoid wearing certain colors that will attract Tsetse flies. White clothing signals danger to some species. Be prepared for the 33- pound limit for luggage and carry on combined. Game drive vehicles have no air conditioning. Plan to arrive at the tail end of the rainy season. Expect uneven, bumpy, and dusty roads! There were three different kinds of currency needed during the trip. It took 15-16 hours to fly from Boston to Nairobi, Kenya. What did I get myself into?
I chose East Africa over other parts of Africa because of the visits to Kenya's Maasai Mara Game Reserve, Lake Nakuru National Park, Amboseli National Park, and Nairobi. In Tanzania, we visited Serengeti National Park, Mount Kilimanjaro, Ngorongoro Crater, Lake Mantra National Park, Tarangire National Park, Arusha, and Karatu. The rich culture of Kenya's and Tanzania's Maasai people was amazing!
I added Rwanda to my travel itinerary because I wanted opportunities to trek into Volcanoes National Park, to spend one whole hour with one group of Rwanda's Mountain gorillas, and to learn about the 1994 Rwandan Genocide by talking to survivors and learning how Rwanda has moved forward.
First African stop? The city of Nairobi: life-sized metal sculptures of Kenya's wildlife line the roads leading to and from the Nairobi Airport! With more than two million residents, Nairobi is an active business and political capital. It is home to the Kibera Slum, the largest slum in Africa. The traffic was scarier than any wildlife I encountered throughout the trip. The Nairobi National Museum was fascinating! There were exhibits including Africa's past and present natural and cultural history, extending as far back as the origin of our species! A perfect introduction to Africa and the journey ahead of us!
My stay in East Africa took place in mid-May through the first week of June. Spring! Frisky wildlife searching and competing for the privilege of mating. I felt sorry for some of the males of the species because there was aggressive fighting that sometimes resulted in death. The winner got to pass his bloodline on to one or more of the females. Good fortune could mean taking over a pride of female lions, a group of female mountain gorillas, a herd of female Thompson gazelles, or up to forty or more female giraffes! Defeated males? Better luck next time!
Our group observed some impressive male standoffs from male elephants and giraffes! Male ostriches, puffed up—their legs turned a bright pink. The male hippos faced their competition with open mouths and large teeth, ready for a challenge! What about the retired, rejected, and beaten males of the species? They wandered off aimlessly, without the security of their entire group—their lives in constant danger.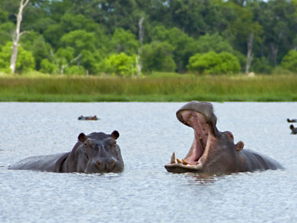 During each game drive and trek through the bush, we cooed over the newest, infant animals; some barely able to stand up, while others mimicked or tested the limits of their parents. We saw baboons and Vervet monkeys riding on their moms' backs. These babies reminded me of little cowgirls and cowboys!
One contented female leopard (with a full belly) was asleep on a sturdy tree branch, her baby hidden high above on another branch. A gutted, large animal draped close by on a different branch.
A mother cheetah sat out in the open—her two cubs by her side. Abruptly she stretched and headed out for prey; the little ones followed. Mother cheetah chased a rabbit towards her babies, who finished the kill. Mother elephants guided their little ones, patiently waiting until they'd had their fill, rolling in the mud and playing with other infant elephants. Baby giraffes tried to mimic the lopping gaits of their parents. Whole dens of lions, exhausted after a large meal, were all lying down—sometimes as many as fifteen to twenty in one group, the smallest members nursing or teasing their mom. Baby warthogs trotted behind their moms, all with their tails extended upwards. It was very comical!
We spent a long period of time focusing on one group of lions. This large pride of lions was surrounded by over one hundred thirsty zebras. One by one, lions appeared in the tall grass, patiently and silently waiting for zebras to head to the watering hole. The poor zebras barked warnings if they suspected a lion was near. Not one zebra would be the first to head to the waterhole. They were never one hundred percent sure if a lion was close by.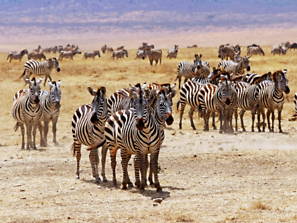 We witnessed heroic displays of courage as animal parents kept their eyes glued on would-be predators, which targeted baby animals. One Cape buffalo was frustrated when her small calf wouldn't stand up and walk behind her. A hyena tried to distract the mom away from the baby. The Cape buffalo snorted and charged the hyena several times. Finally the youngster managed to rise up and follow its mom back to the herd.
Hippos spend their evenings outside of their ponds where they devoured lots of vegetation. Every morning they headed back to the water. We witnessed this and were happy not to be in their way. Then all hippos jockeyed for pond positions. Baby hippos can get in the way until mama hippos chase instigators away. These protective moms will physically shove another hippo or bite!
We were astounded by the numbers of animals we encountered at one time here or there. During one game viewing, we were suddenly surrounded on all sides by more than two hundred elephants. One juvenile male, about three years old, made a false charge towards us. Once he realized he was the only one doing so, he turned to join the rest.
There were two opportunities where we got to feed the animals: elephants and giraffes. Once was at the Nairobi elephant orphanage. One small group after another of orphaned elephants, following a handler, bounded down a hill and frolicked in a roped off area. There they were bottle-fed. We got to feed them some straw. Later they splashed in a small pond, rough housing and entertaining one another. At some point, these newly formed family groups will be introduced to a larger elephant herds in the wild. A trip to The Giraffe Center granted us an opportunity to get close to rare Rothschild giraffes! We fed special pellets to these gentle giants and got some kisses, too. This 1974 sanctuary for five orphaned Rothschild giraffes grew into "Giraffe Manor." These giraffes have thrived. Some are taken back to live out in the wild.
We learned quickly to keep our eyes open each time we sat down for a picnic lunch. One time, a Vervet monkey sighted us, climbed up on one of our members, and stole her sandwich before any of us knew what was happening! One driver told us about a time he parked his vehicle for a moment. Inside his vehicle, there were several guests and a bunch of bananas. One lady decided to open a window and a baboon got his chance. He climbed inside and stole the whole bunch of bananas before anyone could react. These animals are smart and they are fast!
One of my favorite places was Kenya's Maasai Mara Game Reserve, a 45,000-acre private camp. Landing at the small remote airport, we were met by David, a Maasai, whose dad is chief of a Maasai community. David, a proud Maasai, was dressed in what looked like a sleeveless plaid jumper, a cape of similar material, and sandals made out of old tires. He, like other Maasai men and women, wore lots of beaded, metal decorated jewelry! We wondered how the Maasai stayed safe and healthy as they live and work outdoors. We were advised to wear long pants, long sleeves, and sturdy shoes.
David was an outstanding guide, game vehicle driver, expert resource, and animal advocate! Communicating by cell phone with other fellow Maasai guides, David made sure we were camera ready for spectacular wildlife viewings and serious wildlife drama: elephant, rhinoceros, lion, hyena, zebra, wildebeest, Thompson's and Grant's gazelles, topi, Cape buffalo, cheetahs, hippos, crocodiles, and leopards as well as a variety of bird species!
The Maasai are semi-nomadic and will pick up and relocate when their herds of livestock need water and greener pastures. Maasai culture is primitive in many ways. The Maasai are reluctant to abandon a way of life that might prove to be challenging for you and me. We found ourselves awed by the Maasai's respect of family, community, beliefs, etc. I confess that I was a tad envious of a life lived with minimal distractions; problems that one can do little about, such as greed, hate, technology, interference from the outside, etc.
As far as Maasai gender roles go, a Maasai man's worth is measured by the number of cattle and goats he owns. As his flocks grow, he sometimes decides to marry another wife. It takes many hands to live the life of the Maasai. I liked the idea of herding cows and goat rather than the women's responsibilities: sewing, washing and mending clothes, babysitting, cleaning, cooking, crafting beaded jewelry, and building Maasai homes. Maasai women build and strengthen the walls of their huts with handfuls of fresh cow manure. We had a chance to participate. I chose to watch.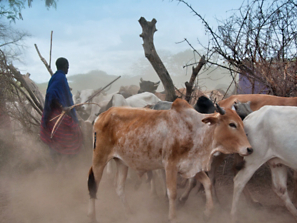 One day, our Maasai guide drove us to the Mara River. If we had been there a month later, we might have witnessed the annual migration of thousands of wildebeest and zebra. These animals travel from the Serengeti in Tanzania to the Maasai Mara in Kenya. During our stay at a camp on the Serengeti, our nights were interrupted by hundreds of wildebeest. The ruckus was deafening! The young males were collecting females for their harems. As we left the Serengeti, we encountered hundreds of wildebeest and zebra—lines of them stretched out as far as the eye could see; these critters driven by thirst and hunger.
Once wildebeest and zebra get to the Mara River, they are met by hungry crocodiles! Lions and hyenas look forward to the migration. Some zebra and wildebeest never make it across the river from one country to another. Some are eaten by crocodiles. Some drown. Some are trampled to death. Some get to the other side of the river only to be met by ravenous lions, cheetahs, and hyenas.
The last part of my East African adventure was Rwanda, a country of a thousand hills. It had breathtakingly lush terraced, cultivated gardens. Every available space is needed to provide food for the people of this very small country.
The city of Kigali, today one of the safest cities in Rwanda, is situated along a ridge of a valley. The security at the Kigali Airport was top notch. Once seated at your gate, if you decide to visit the restroom, you're required to go through security check again and take off your shoes.
Rwanda is haunted by a disturbing history of unrest, especially the Rwandan Genocide of 1994. Museums, monuments, and mass graves are found all over the country. We heard chilling stories of the survivors. I find it hard to comprehend how this country, twenty years later, has bounced back after such mistrust, violence, and destruction.
Volcanoes National Park in Northern Rwanda had mountains that included six volcanoes. This was a destination where we'd encounter one of several different groups of mountain gorillas. Our group of eight, which was led by porters, trekked through very rugged terrain. Suddenly we were alerted: the Agashya group of gorillas was spotted. Agashya, named after its commanding Silverback, is a big fellow weighing over three hundred pounds. Once briefed again about what to do and not to do, our walking sticks were taken from us and so were our backpacks. We walked into a clearing with nothing but our cameras. There were more than twenty in this gorilla group. Agashya was on his back. He was checking out his fingers and toes. Some gorillas were engaged in play, relaxing, or munching on bamboo and fruit. They stared back at us with soulful eyes. Every once in a while, one or more would get up and brush past us. I was surprised when a large adult male, about three years old, grabbed my bottom as he passed by! Younger gorillas climbed into tree tops, played tag with one another, or twirled around on vines. The adult female gorillas seemed relieved that the youngsters were entertaining us and leaving them alone for a few minutes. The hour flew by quickly. I still can't believe that we stood within a few feet of these massive animals. They were not scared of us. It was less daunting of an experience than my first few years as a junior high teacher!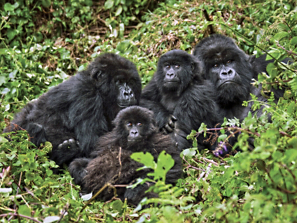 The following day, we returned to Volcanoes National Park, this time to spend an hour with the endangered Golden monkeys. This time, the hike to find the monkeys took longer and we dealt with additional obstacles. Porters lifted us by our elbows if we were hesitant to move ahead. What beautiful monkeys! They had orange gold eyes, rust colored fur on their backs, and what appeared to be flecks of actual gold leaf dotting their foreheads and cheeks. They concentrated on their breakfasts and ignored us. Just when you thought you had a good photo, they'd scamper past. They had faces that resembled old men.
Africa has not seen the last of me! Since returning, I've borrowed and read two to three nonfiction books a week from the state library. I'm learning even more about Eastern Africa. I just might book next year's trip to another part of Africa. There are so many animals to see and so many tribes to explore. I felt 100% safe booking my trip with O.A.T. The worst thing that happened to me? I deleted half my photos, by mistake. I wished I had brought extra batteries and another camera card. Next time!
Experience the abundant wildlife and get to know the Maasai people during O.A.T.'s The Best of Kenya & Tanzania adventure.