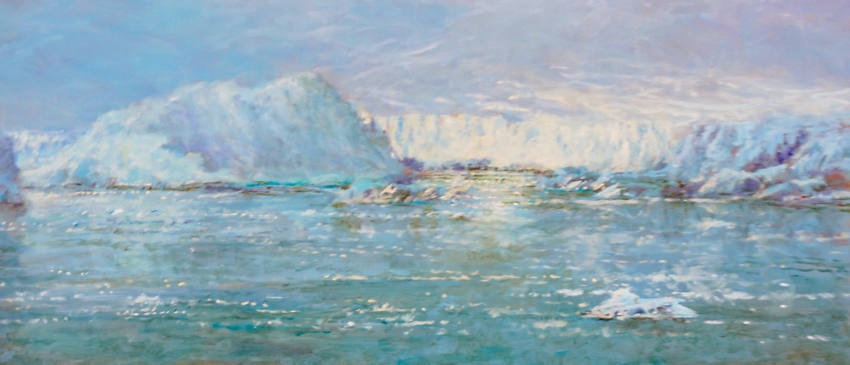 By Pem D., 8-time traveler from Evergreen, CO.
As a professional artist and pilot, I have had the opportunity to travel to many parts of the world. I have observed that wherever you are, the light and colors are unique to that area.
The inspiration of the light in Antarctica was beyond anything I had experienced before. My wife Jo Ann and I travel about once a year with O.A.T. On our trip to Patagonia, our Trip Experience Leader, Carlos Segura, who knew that I was an artist, said "You need to go 500 miles further south." Taking his advice, we made our first trip to Antarctica the following year. It was such an awe-inspiring experience that we both decided we wanted to go back, so we signed up for O.A.T.'s Antarctica's White Wilderness Small Ship Adventure. We were a little hesitant because we were wondering whether it could be as good as it was the first time we were there.
If anything, it was better. In fact, the first time Jo Ann stepped off the Zodiac on a shore excursion, she had tears in her eyes. It was like coming home.
I am primarily a landscape painter, and Antarctica is the most spectacular landscape I have ever encountered. It's simply unlike any place else. I am especially moved by the crisp, cool, clean, untouched feeling of it all. Everywhere else one goes in the world, mankind has left his impact, but there it is untouched. It's like going to another planet.
For me as an artist, Antarctica just piques your senses so you cannot help but get emotionally involved. I start out by looking for something that has an abstract design to it. I use this design as a foundation to the painting. It may be just an arrangement of penguins that strikes me, not as a portrait, but as an abstract shape.
What I look for most of all in my painting is the emotion or the mood that the scene creates. It's like when you're driving along and suddenly there's a "wow" moment when you see something special. That's what I want to share with other people. As an artist, you also get very focused on even the small details that others often don't see. I combine all these things to try to draw people in so that they can really feel what's in the painting.
Because of the difficulty of transporting my paints and other equipment, I take numerous photos and make sketches to create the paintings later. For me, the emotion of the moment is best communicated in a painting because I am able to change the light and shapes to more closely depict the actual experience.
People really have no idea what it's like down there. They know where Antarctica is, but they don't have an understanding of what it is. On our first trip, our Trip Experience Leader, Andrea Salas, who was from Argentina, said "You're going to go home and show photographs and tell people about it all, but they'll have no idea what it's really like."
I wish everyone could experience it, so I try to bring it to them through my paintings. Currently I'm preparing for a show of the paintings from our trip. In all the years that I've been painting, this is probably the most exciting series that I've done. It's a wonderful place, and O.A.T. is a wonderful company to travel with. Everyone should go.
To see more of Pem's paintings, visit www.pemdunnart.com. Get inspired by the icy continent's landscapes when you join our Antarctica's White Wilderness Small Ship Adventure.