Poetic Beauty at Machu Picchu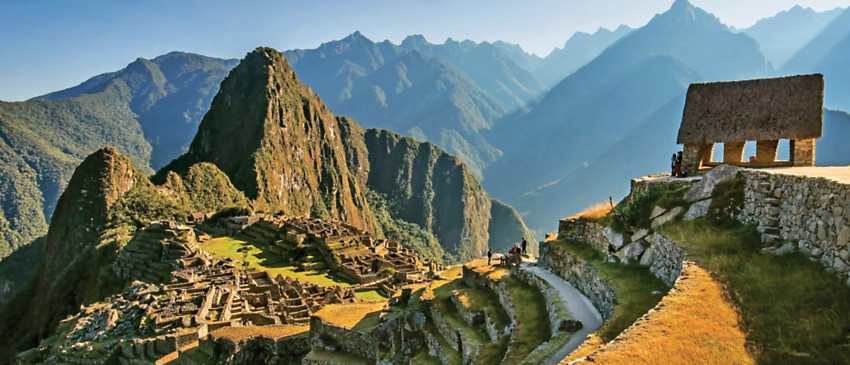 By Marie Guzman, 9-time traveler from Greendale, WI
You might say I'm hooked on O.A.T. I've already taken eight trips, including journeys to Egypt and Jordan, Turkey, Southeast Asia, Kenya and Tanzania, and most recently Machu Picchu & the Galápagos. I always capture my experiences, thoughts, and feelings by journaling during my adventures. However, my journals are slightly different from most, as mine are poetic rhyme. They're not the flowery kind that leaves the reader thinking, "I wonder what she meant by that?" My poetry is filled with places, events, impressions, people, and the wonderment of discovery.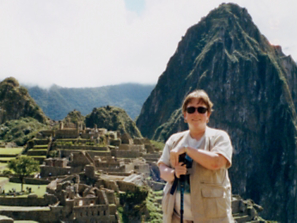 I've always fancied myself a poet. And it allows me to combine my two greatest passions in life: traveling and writing. I've also realized that when you write about your travel experiences in any form, it forces you to pay closer attention to all of the sights, sounds, and people around you.
Towering mountains, glistening streams,
Shadows dappled by sunbeams.
The Urubamba Gorge is sacred,
Many treasures lie ahead.
Veronica's white gleaming peak
Soaring nineteen thousand feet,
Fleecy clouds kissed mountaintops,
And at one of our pick-up stops
With hand-made dolls the vendors waited;
Crafting skills well demonstrated.
Corn was drying in the fields;
With much labor, this land yields.

The best thing about my journals is that I can come home, put the journal in a safe place, and pull it out years later to remember my trip … and every moment and feeling comes back to me in living detail. I feel as if I'm right there again.
There are so many special moments from my trip to Machu Picchu and the Galápagos that come back to me as if I traveled there just yesterday. As I read through my journal, I remember visiting Machu Picchu for the first time. I may not remember every detail of our hike or the actual effort it took to get to the Sun Gate, but I do remember that we were there before the full sunrise and we caught our first glimpse of the ruins through the clouds. When we reached the top, the sun came out, the clouds dissipated, and we viewed Machu Picchu in all of its breathtaking beauty. We just stood there and absorbed the sight before us.
At the Temple of the Sun,
Hands touched stone by everyone.
Felt a tingle in my hand;
So much power in this land.
We had to stop many times there
For photographs…and for some air.
Eight thousand feet made climbing tough;
Uneven grounds made walking rough.
But all of us took sticks in hand
And happily explored this land.
There was a certain electricity there. And as we approached the Pyramid of the Sun, we were within inches of touching the stone altar. I felt a sensation as if there was some type of energy coming through. The feeling really took me by surprise. I took a few moments to meditate and remember the incredible moment.
Late afternoon the sunlight waned;
The awesome spectacle remained…
Interplay of shadow, light,
Created a breathtaking sight.
I doubt my camera captured this,
But in my spirit, I felt bliss.
It's experiences like what I encountered at the Pyramid of the Sun that can't be explained or shown in an image. They can only be expressed through my poetry.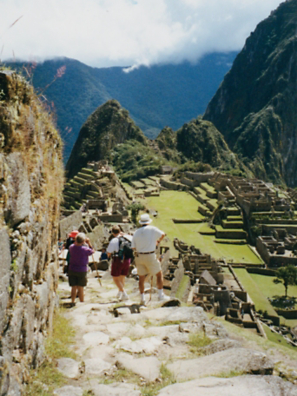 My journals have also encouraged others in my travel group to write as well. I normally travel on my own—and it allows me to meet new and interesting people that way. I'm always struck by how wonderful some of my fellow travelers are, and I've made some lifelong friends during my trips around the world.
Sometimes, when I share my words with my fellow travelers, it helps them share their own writings. As I read through their notes, it opens up a whole new world for me. I'm able to see the world through their eyes. We both might have experienced the same moment, but our interpretation of this moment was completely different from one another. That's what makes writing and traveling such a magical thing: We come together on the trip as strangers, but by the end, we've shared a piece of ourselves with each other.
We took the train back to Cuzco,
Dropped our stuff and off we'd go
To eat our dinner on the square
And found a pleasant restaurant there.
Good food, good beer, good company;
We're making a great memory.
Perhaps the beauty of Peru will inspire you to draft your own poetry when you join O.A.T. for Machu Picchu and the Galápagos.