Piggy's Great Egyptian Adventure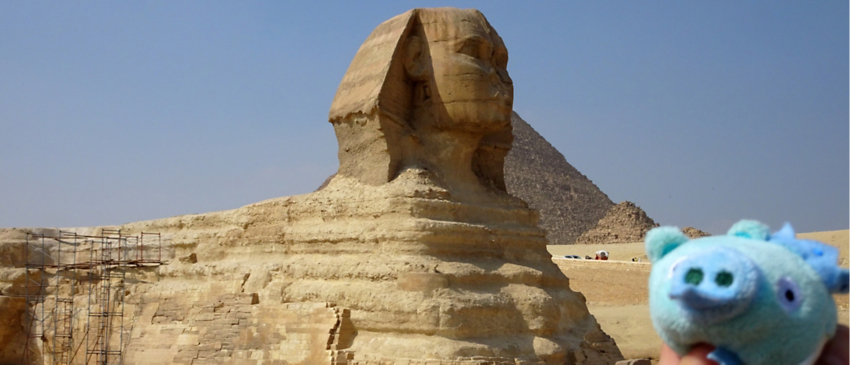 By Michele W. and Lee O., 9-time travelers from Port Washington, WI
My best friend Tyler told me to go with Nana Shelly and Baba Lee to a place where they don't eat pork. We went to Egypt and Jordan with a great company called Overseas Adventure Travel. It's called O.A.T. for short, which is really cool since I like oatmeal.
I was so excited to go on my first plane ride and see new places! Baba and I were so tired after the flight that we just had to take a nap as soon as we arrived in Amman, Jordan.
The Temple of Hercules in Amman is really tall! We went through Hadrian's Arch to get into the Roman ruins of ancient Jerash. The people of Petra carved their tombs into solid rock, mostly around 2,000 years ago. That's before Baba was born! Is that camel trying to kiss me or make me her dinner?
We found a baby donkey in the hills above Petra. He seems to think I smell pretty good. We got on another plane and flew to Egypt to see the pyramids and other ancient places. The Great Pyramid was built by Pharaoh Khufu about 4500 years ago... that's even older than Baba!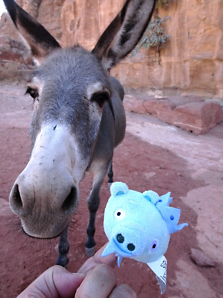 The Sphinx was covered with sand for most of the last 4500 years. It's the world's largest stone sculpture. We ate lots of tasty foods. I found out I actually like humus.
I liked Abu Simbel so much I jumped out of my backpack when Nana and Baba weren't looking. I wanted to stay longer. I was lost for days. Nana and Baba couldn't find me anywhere. Then their guide Hassan got on my trail. He called the driver Taha who found me in the bus. I stayed on the bus and went to Aswan with another group. Then Hassan's friend Mina, an O.A.T. representative, put me on a public bus that was going to Luxor. I arrived at the hotel in the middle of the night. My new buddy Hassan got up at 2 a.m. just to rescue me. In the morning, he delivered me to Nana and Baba. What an amazing adventure!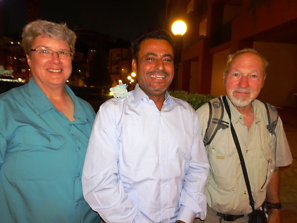 I saw things they didn't get to see. I was really lucky because that day the road from Abu Simbel to Aswan was closed due to a sandstorm. Thanks to Hassan's detective work and the help of him and his friends, I got out just in time! Nana emailed Tyler a picture of me right away. He was so happy to see I was actually not lost anymore.
Finally, it was time to go home. I loved visiting Jordan and Egypt, but I was ready to leave. I missed Tyler so much! We had a very long plane ride to Wisconsin. At last I was back home with my best friend Tyler. I won't ever jump out of my backpack again!
Witness the marvels of Egypt, just like Piggy did, during Egypt & the Eternal Nile by Private, Classic River-Yacht.