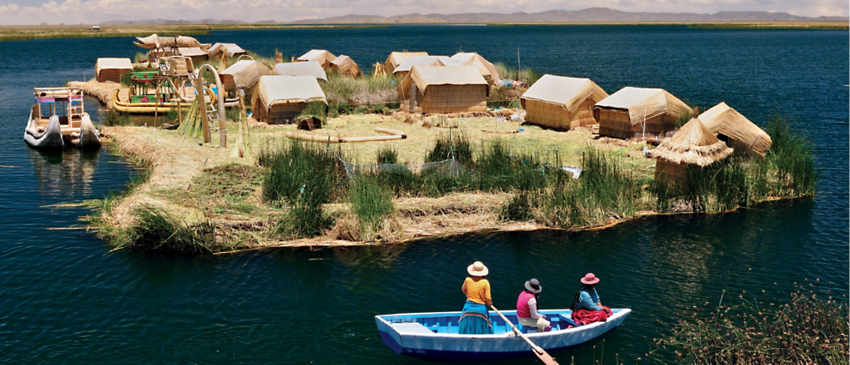 We received this story in response to the announcement of our new "Activity Level" tool, which gauges the physical requirements of all of our trips on a scale of 1-5. Look for the rating near the top of each page as you browse our adventures. As Pat and her husband Sterling discovered, high altitude is sometimes a major factor to consider—but help is there when you need it.
By Pat C., 18-time traveler & 11-time Vacation Ambassador from Fairview, TX
The new guide to provide activity level on each trip is a wonderful new addition to the planning information available for the O.A.T. adventures. So I just had to share how pleased I was to see its addition. I really could have used it for our last trip and will use it every trip in the future.
Five years ago we took the Real Affordable Peru tour and enjoyed every minute of it. I had heard about the Uros people on Lake Titicaca when I was in grade school and never dreamed that one day I would visit these amazing and resilient people. The altitude had been a slight issue when we climbed stairs on that trip, but overall did not affect our activities.
Fast forward five years and we once again went to Peru to revisit the islands on Lake Titicaca on the Southern Peru & Bolivia: Inca Landscapes & Lake Titicaca itinerary. This time the altitude was a major issue for us. When we arrived in Puno, my husband felt so awful that he said he wanted to go home even after taking oxygen treatments in the hotel. Our wonderful Trip Experience Leader, Dante, arranged for a local doctor to come to the hotel and see what he could do for Sterling. When he checked his oxygen level and found it to be only 60%, he gave him an injection and wrote two prescriptions which I had filled in town with Dante's help.
After a rest overnight, Sterling felt so much better that he went on the day's activities with the group. I am so glad he rebounded and was able to complete the trip without further incident, even when we were at 16,000 feet in Bolivia. The moral of the story is that five years can make a difference in the physical ability of anyone and it will be very useful to match our changing abilities to the right adventure using the new tool when we plan our next O.A.T. trip.
Highlights of the trip included:
Revisiting Lake Titicaca. This itinerary had us visit the floating islands and observe the amount of building that had occurred in the five years between trips. We also went to an ancient religious site on another island and visited a number of places along the shore that were new to us. Stopping to see how the reed boats are made was fascinating.
Revisiting the village of Iskapataka. As we approached the village, the head of the village came to greet us and recognized us from our visit five years ago. Sterling's handlebar mustache and head-to-toe Disney attire makes a lasting impression. He had Dante tell us that his wife had passed away since we were there. I remembered her since she was the oldest person in the village at that time. I told him how sorry we were for his loss and that I had just lost my father. He and I shared a moment.
Touring the Casa de la Moneda. The National Mint Museum in Postosi, Bolivia, was built by the Spanish Colonizers in the 16th century. When we returned home I looked at a Spanish coin we had that indeed had been struck there in 1621. Small world that our Mel Fisher treasure from the Atocha ship sunk in the Caribbean ended up in Texas, and we saw the very spot where it was struck.
Experiencing the Uyuni Salt Flats. The Bolivian post-trip extension was full of interesting places and not to be missed. We learned so much about the history of the changing country of Bolivia. The stargazing was amazing there as the sky was full of stars.
So many of our holiday card photos have been taken on O.A.T. adventures and we hope for many more in the future.
Experience the new discoveries that awaited Pat and Sterling on their second visit to this fascinating country on Southern Peru & Bolivia: Inca Landscapes & Lake Titicaca.