Personal Encounters: The Best Part of Travel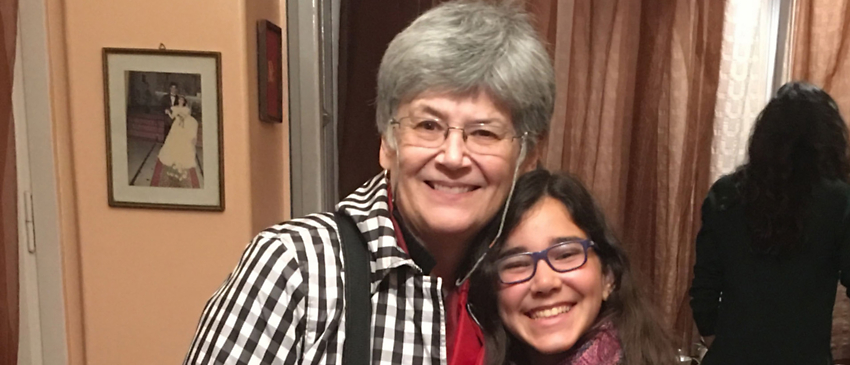 By Mary Jean J., first-time traveler from Sarasota, FL
I enjoyed all aspects of Ancient Egypt & the Nile River. But special highlights for me were meeting two Egyptian families during our home-hosted visits.
Our first home-hosted visit was with a Cairo family: a recently-widowed mother, one adult son, and three daughters, ages 27, 18, and 12. The mother had spent more than a day preparing the meal, and our group effusively expressed our appreciation. Having lived in Paris, the family is fluent in French as well as Arabic and English, and communicating was easy. While we ate, the son and oldest daughter chatted with half our group. At my table, the middle daughter bonded with a youthful member of my group, a 21 year-old traveling with her grandmother. Their lively conversation crossed cultural barriers and they ended up exchanging emails. I sat next to the trilingual 12 year-old, and, in excellent English, she described her school life. A former teacher, I was enchanted by her maturity and ability to clearly express herself.
Before going to Egypt, O.A.T. had suggested we might like to give a gift to our host. I gifted the family a book about ancient Egypt in English. I chose it thinking it might enhance English language skills. I briefly looked at it with my young dining companion and was greatly impressed at her strong understanding of English. She would be delightful to teach.
Before we left, there were enthusiastic hugs all around. On the bus back to our hotel, we all agreed we had a terrific experience and appreciated O.A.T.'s dedication to helping its travelers meet local people.
Our second home-hosted event was with a family living on the verdant banks of the Nile near Luxor. O.A.T. surprised us with this luncheon and, as before, our group had an outstanding experience. Like our previous dinner in Cairo, the lunch required hours of effort by the mother. She arose early to bake bread in the outdoor oven and prepare everything else in their modest kitchen. Upon arrival, we were greeted by her husband, an adult son, and two daughters, one in college, and one approximately age 12. Mom shyly enjoyed our grateful thanks, translated for her by her English-speaking husband. The older daughter practiced her English with us while attentively observed by her younger sister, Aya. After lunch the dad proudly showed us his well-tended garden and mom gave us a tour of their mud brick home. Aya showed us her two rabbits, now pets but eventually a meal.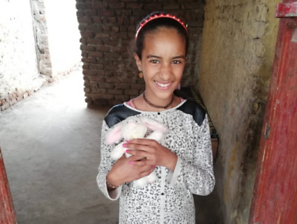 Because visiting this family was a surprise, none of us had taken any gifts. But when we returned to our ship, the Nefertiti, I pulled a small toy rabbit out of my suitcase and asked our excellent guide, Mr. Amin Serag, to get it to her via the next tour group. Before we returned to the U.S., Mr. Serag emailed me an adorable photo of Aya, with a darling big smile on her face, hugging her toy bunny. Meeting these families and their two young preteens, one in Cairo and one in Luxor, were fulfilling highlights of my trip and wouldn't have happened without O.A.T.'s commitment to bringing cultures together.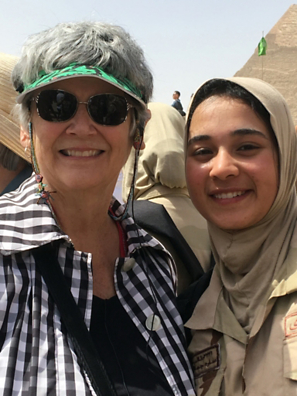 A third (serendipitous) meeting with young Egyptian women studying to be nurses in their military also put human faces on Egypt.
While visiting the Pyramids and the Sphinx we unexpectedly crossed paths with dozens of young Egyptian women in their military fatigues. Although there wasn't time for long conversations, many of us exchanged short greetings. Smiles among everyone involved spoke more than words ever could. They happily posed for our photos and we posed for and with them. Their open, friendly faces radiated positivity while meeting us. The frisson in the air was electric. It was amusing as our Program Director, Mr. Serag, struggled to reestablish order as the two groups mingled, laughed, and exchanged photo ops. Too soon they went on their way and so did we.
These three interactions were the kinds of people-to-people experiences that make travel meaningful. Our brief encounters increase understanding, compassion, and openness to others. In our world, too often torn by misunderstanding, we felt mutual, spontaneous joy, warmth, and interest in each other during our memorable, if somewhat, delightfully-chaotic encounters.
I am strengthened in my belief that it is the people-to-people interactions that elevate travel to a higher level, increasing understanding between people, regardless of culture.
Retired teacher and nonfiction writer, Mary Jean Jecklin, a first time traveler with us, was a National Geographic Traveler magazine "Traveler of the Year 2012" for creating www.PACforKids.com.
Make your own unforgettable encounters with the people of Egypt during Ancient Egypt & the Nile River.