We received this traveler insight as a response to our December Question of the Month: Where was the first place you traveled internationally—and how did it change you? You can read more responses here.
By Chet M., 17-time traveler and 2-time Vacation Ambassador from Bensalem, PA
The first place I traveled internationally was Vietnam courtesy of the United States Air Force. I had been a history major in college and was interested in various cultures. My assignment in Vietnam was teaching English to the Vietnamese Air Force Cadets so they could go to the U.S. and learn to fly jets.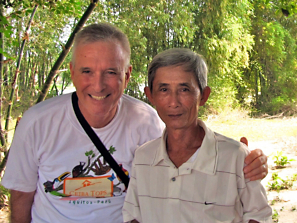 This assignment gave me the opportunity to interact with not only the students, but their families and Vietnamese instructors. I was invited to their homes and shared meals with them. Sometimes it was just a broth with some noodles. Seldom was there any meat. And if there was, you didn't ask what it was.
The poverty was pervasive but there was a pride and dignity that came through the poverty. They shared what little they had. They were eager to show me the historical sites that were nearby. I attended a wedding and a funeral. Though the war sometimes raged around us, life goes on. It's as if the soldiers and the citizens live two different lives—both fighting for survival but in different ways.
The experience taught me that people are people. No matter what the government is like, no matter what the living conditions are, or how difficult the situation they find themselves in—when we meet another person one-on-one, we are all the same. We can laugh together, cry together, and share in each other.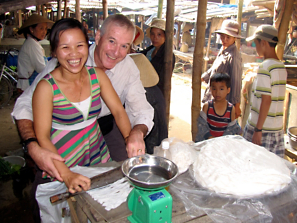 My first international trip changed me forever. I travel all over the world—sixteen times with O.A.T and Grand Circle. I am fascinated by the places, but it is the people that draw me in. It's the people that I want to spend my time with. The barriers of language crumble when you speak to a person from another culture with your eyes, your heart, and a gentle touch.
Several years ago, I went back to Vietnam with O.A.T. It was a memorable trip and I even saw the building that I taught in. But most important is I found the same warm, friendly people I had met 30 years prior.
Get to know Vietnam's history and its welcoming people when you join O.A.T. for Inside Vietnam.