Patagonia Through My Lens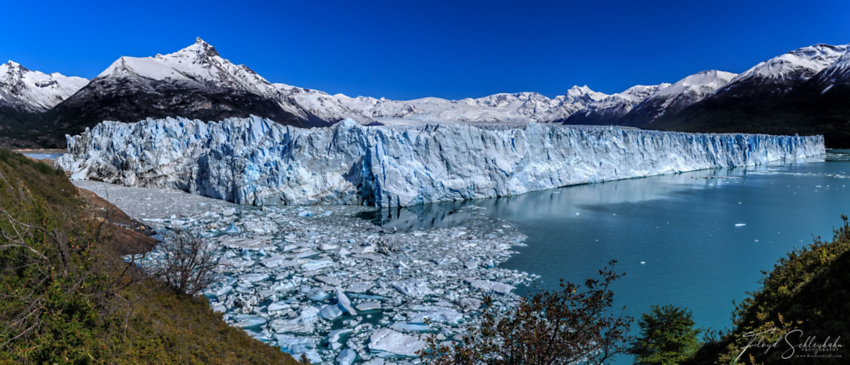 By Floyd Schleyhahn, 10-time traveler and 2-time Vacation Ambassador from Pawnee, IL
After returning from our 2016 annual O.A.T. vacation, my wife Jodi and I began planning our 2017 O.A.T. destination and chose The Wilderness Beyond: Patagonia, Tierra del Fuego & the Chilean Fjords with both the pre-trip to Iguassu Falls & Buenos Aires, Argentina and the post-trip to Santiago & Easter Island, Chile. As we began to research this area, and as an amateur photographer with professional gear, I began to salivate over all the photo ops this trip would provide—landscapes, cityscapes, waterfalls, cathedrals—a photographer's dream!
By the end of our journey, I had taken nearly 12,000 shots (I do a lot of exposure blending, whereby I bracket my shots to take multiple underexposed and overexposed images then blend those together using luminosity masks in Photoshop), and though this sounds like a lot of shots (it is), each shot I take has anywhere from three to seven exposures with it, so it's not like taking 12,000 shots of different subjects. I also take long exposures with the help of a tripod and neutral density filters which block out several stops of light, thereby giving moving water a smooth and silky look. These exposures can range anywhere from 1s to 45m, depending upon lighting and strength of neutral density filter strengths. For me, the times I enjoy taking photos the most are in the early mornings, getting up well before sunrise and getting to my spot long before the other tourists are even out of bed. The lighting then suits my photography style, and it allows me to take pictures for as long as I want wherever I want without worrying about being left behind when with the group.
As with any O.A.T. trip we choose, in addition to the itinerary O.A.T. provides, we supplement that with information Jodi reads about under the Tips & Advice link provided with any O.A.T. package offering and work those suggestions in during our free time. One of the suggestions she read about for this trip mentioned taking a day trip to Uruguay to visit Colonia. We decided to leave a few days before our pre-trip and fly directly to Uruguay where we rented a car and visited Montevideo, Punta del Este, and historic Colonia before taking a ferry to Buenos Aires for our pre-trip.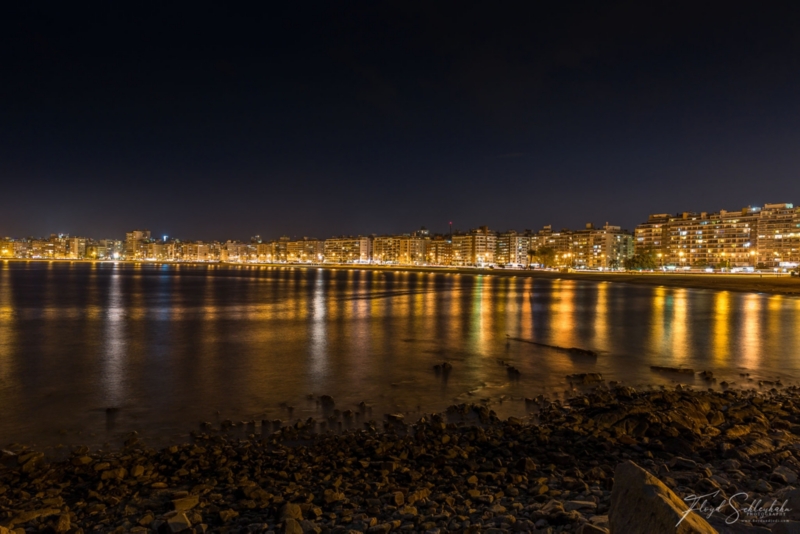 Montevideo, Uruguay's capital and largest city, is situated along Montevideo Bay and has a population of 1,319,108 (about one-third of the country's total population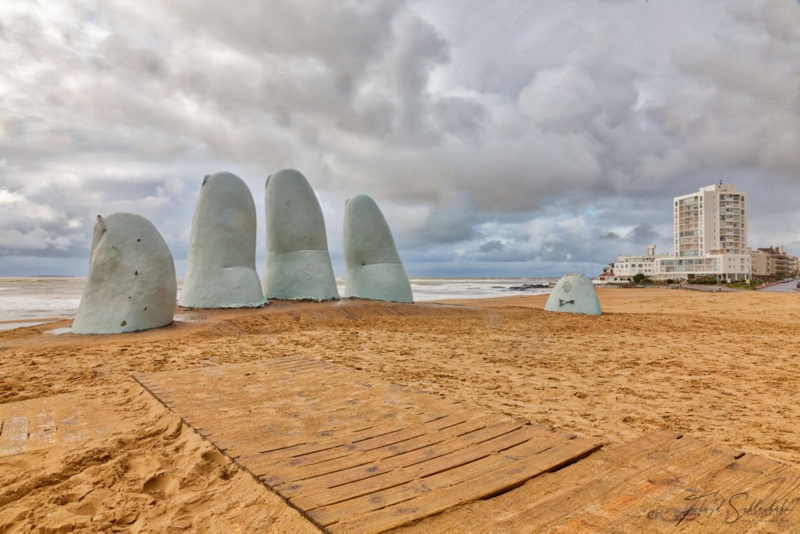 Punta del Este is a resort city on a narrow peninsula in southeastern Uruguay and is known for "La Mano de Punta del Este," or in English, "The Hand of Punta del Este," a giant sculpture of five fingers protruding the sands of Brava Beach.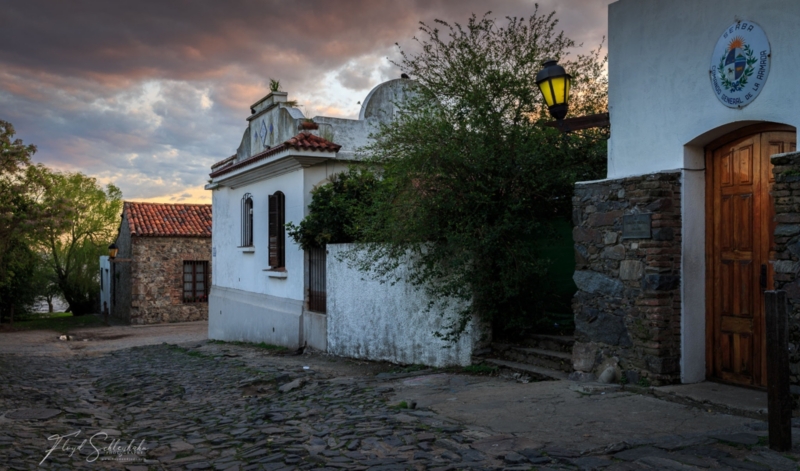 Located at the tip of a short peninsula in southwestern Uruguay on the north shore of the Río de la Plata, facing Buenos Aires, Colonia del Sacramento is known for its narrow, cobbled and winding streets in the historic quarter, a UNESCO World Heritage Site.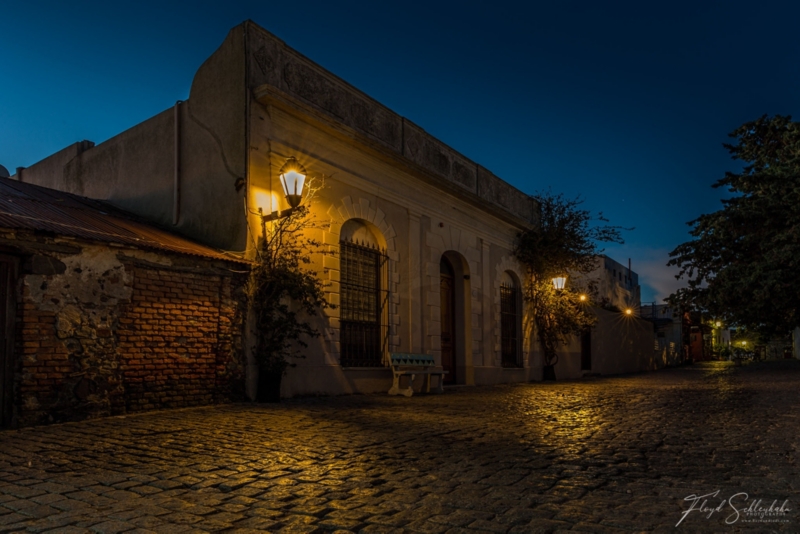 Jodi chose this scene in Colonia for a bracketed shot I took during Blue Hour, the time after sunset when the indirect sunlight takes on a blue shade. With the underexposed images, I was able to blend the details of the illuminated lamps into my final image, thereby preventing them from appearing blown out which would have been the result had I only taken a single shot.
Upon disembarking the ferry in Buenos Aires, we joined our group at the hotel. The next morning, we flew to Iguassu Falls, Brazil, located on the Argentinian border. In terms of viewing the falls, since 80% of the falls are in Argentina while only 20% are in Brazil, the Argentinian side acts as the stage while the Brazilian side serves as the seats. Iguassu Falls are twice as high as Niagara Falls, 65 feet wider, and are the widest waterfalls in the world.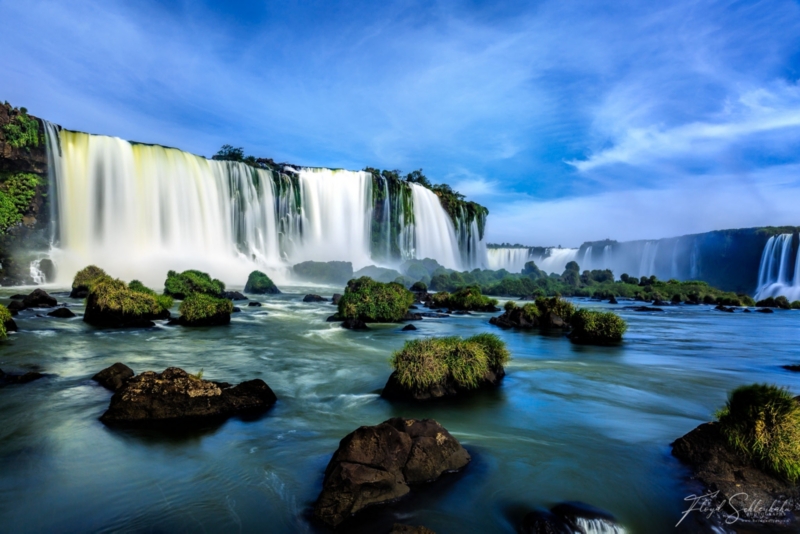 With a 2s shutter speed and a 5-stop neutral density filter, I was able to capture some cloud movement as well as some silky flowing water of Iguassu Falls on the Brazilian side.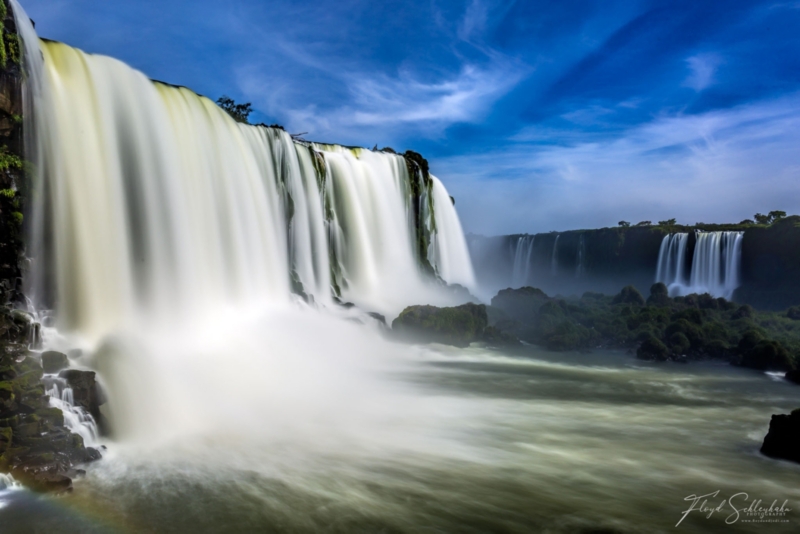 This 4-second exposure of the falls from the Brazilian side using a wide angle lens was somewhat of a challenge only because the mist from the waterfall kept spraying on my lens.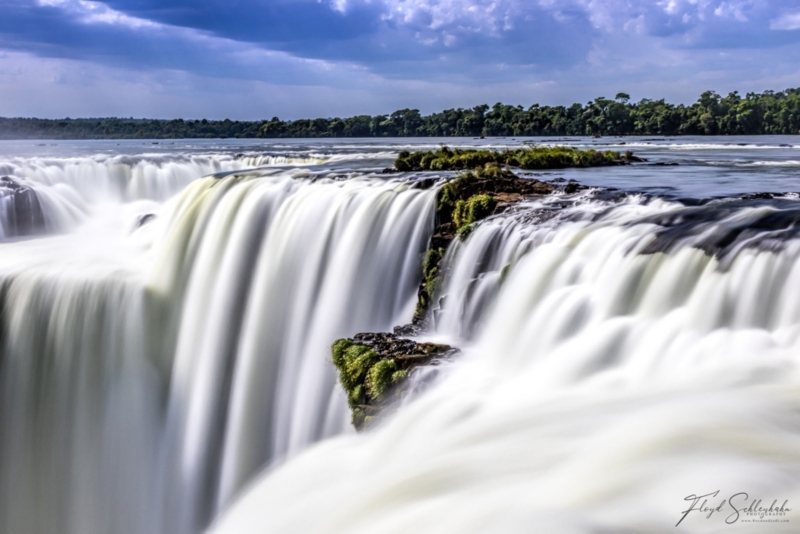 Because this image of Iguassu Falls on the Argentinian side was taken at the brightest time of the day, I adjusted my aperture to its narrowest setting and used a 10-stop neutral density filter to mask as much light as possible to lengthen my exposure time, thereby reducing the choppiness of the water flow.
A rainbow appeared in this 0.3-second shot I took of Iguassu Falls from the Argentinian side.
After returning to Buenos Aires where we joined our fellow travelers for the main trip, we took advantage of the free time allowed and visited the Palacio Barolo to take panoramic views of the Buenos Aires skyline. Six separate images, each bracketed with 3 exposures for a total of 18 shots, were taken then stitched together using Photoshop to create this panorama.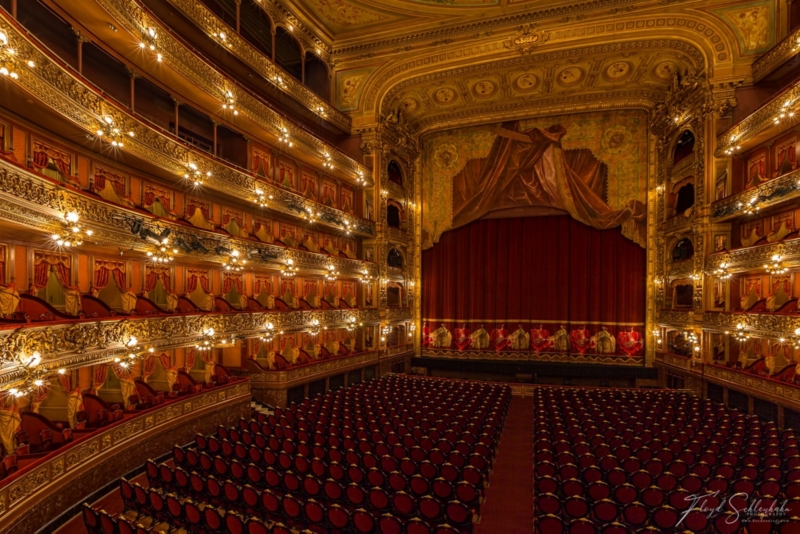 Ranked the third best opera house in the world by National Geographic, the Teatro Colón in Buenos Aires is one of the world's most famous opera houses. Though tripods are not allowed, security allowed me to use mine provided I promise to send them all the pictures I took, which I gladly did.
From Buenos Aires, we flew to Calafate to begin our excursion to Los Glaciares National Park via motor coach. Declared a UNESCO World Heritage Site in 1981, Los Glaciares is the largest national park in Argentina and is a part of the Southern Patagonian Ice Field, which feeds around 48 glaciers.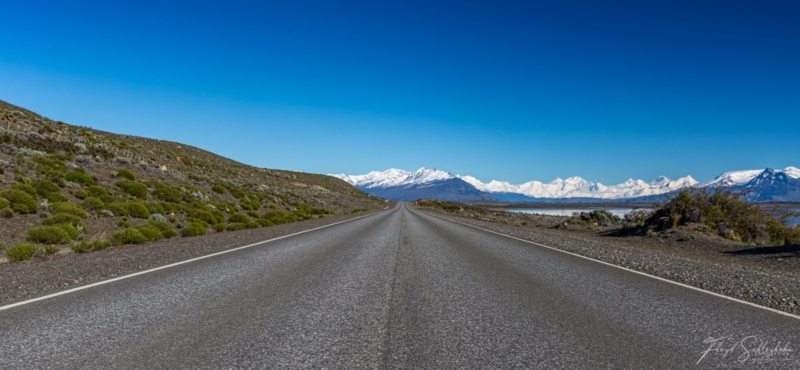 The drive to Los Glaciares National Park was simply beautiful. I took this shot using the road as a leading line for the viewer to follow into the image.

This panoramic shot of the Perito Moreno Glacier in Los Glaciares National Park is comprised of 2 images, with 3 bracketed exposure values for each of those images allowing me to maintain a balance of light in both the highlights and the shadows.
We continued our journey in Patagonia, crossing the border into Chile before arriving at Torres del Paine, renowned as one of the most remote, beautiful, and unspoiled places on earth. Though it was an eight-hour journey, the drive was broken up with many stops, each with plenty of photo opportunities.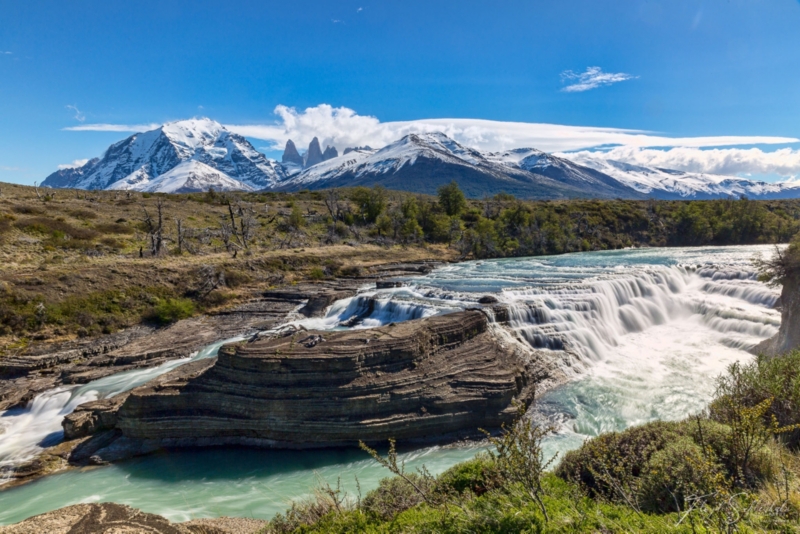 This 0.5-second exposure time using a 5-stop neutral density filter allowed me to slow down the movement in the water yet prevented the rest of the scene from being overexposed.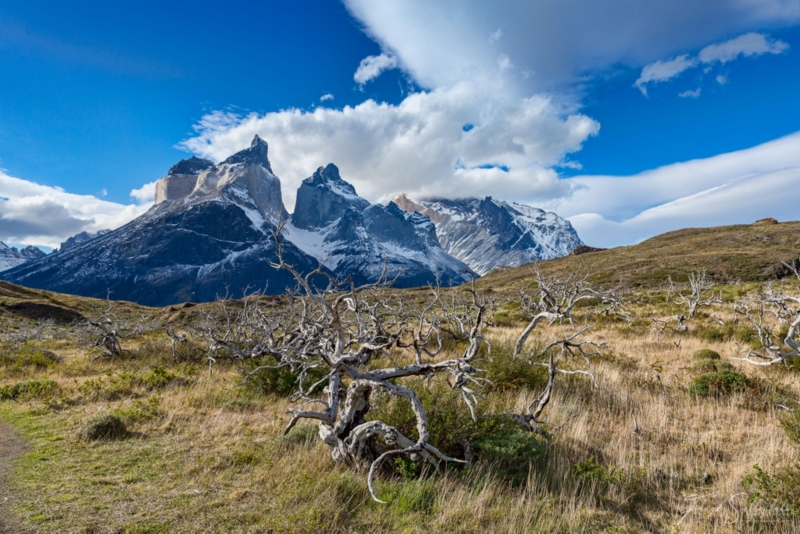 The Torres del Paine are the distinctive three granite peaks, also called horns or towers, of the Paine Mountain Range.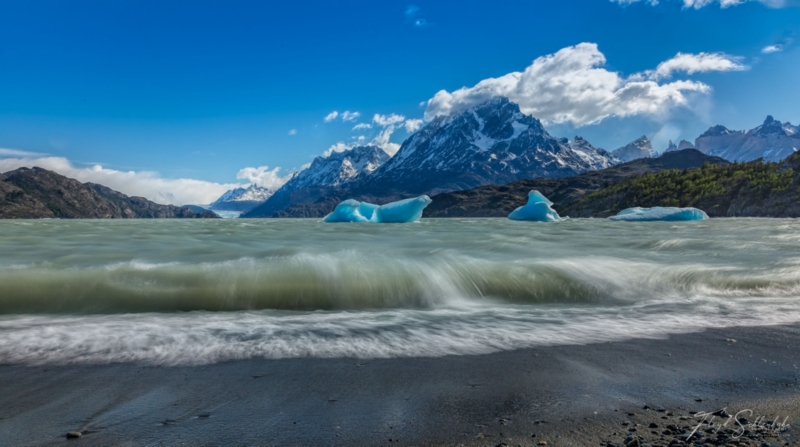 As we walked along the moraine at Gray Lake in 70+ mph winds, taking this shot was somewhat of a challenge because my tripod kept swaying. Using some stones, I was able to add them to my tripod case then hang it from the tripod to weigh it down long enough to capture this 1/6-second shot.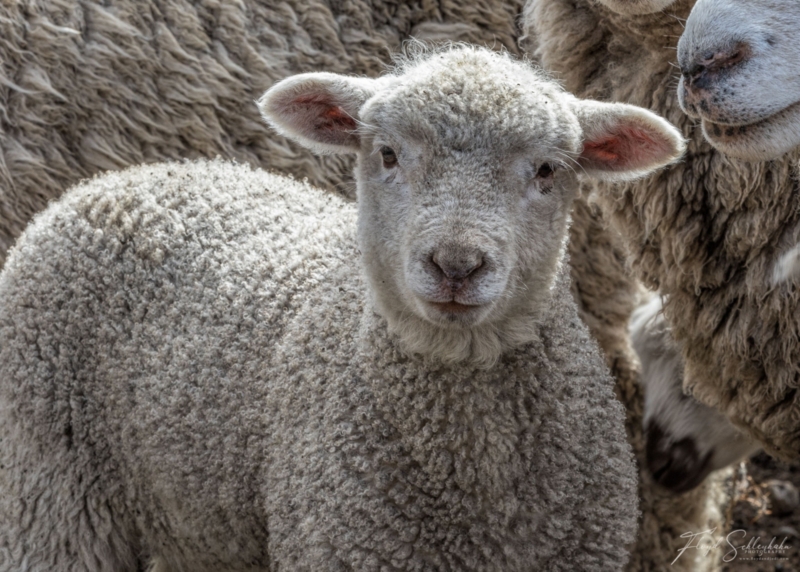 Continuing our journey through Patagonia, we stopped at the Estancia Fitz Roy Sheep Ranch where we enjoyed a lamb barbecue and watched a sheep shearing demonstration.
Upon our arrival in Punta Arenas, a port overlooking the Strait of Magellan, Captain Adolfo N. and his crew welcomed us aboard the Expedition Cruise Ship M/V Stella Australis, our home for the next four nights as we cruised the legendary waters of the Strait of Magellan around Tierra del Fuego. Weather was on our side for this trip as we were able to stop at all the scheduled shore excursions, including Cape Horn, where the Atlantic and Pacific Oceans meet.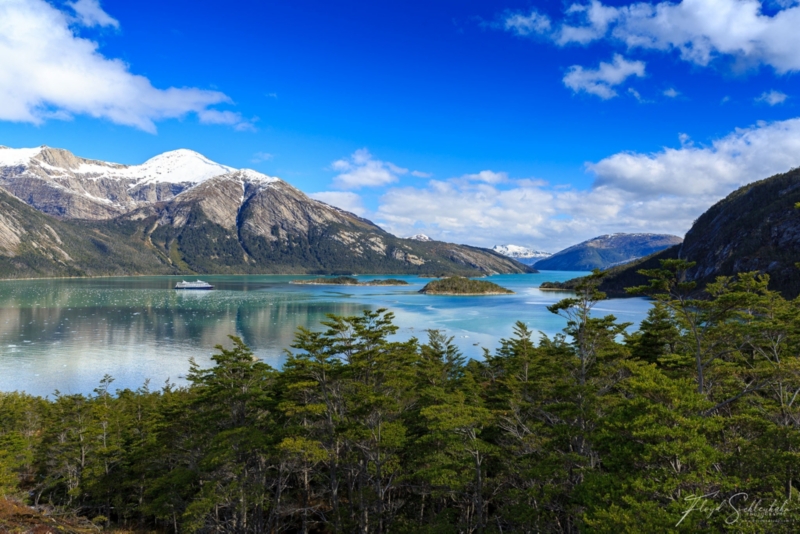 This shot of the Stella Australis in the Beagle Channel was taken from one of our shore excursions.
With a wide-open aperture, I focused on the closest Magellanic Cormorant making it sharp while blurring those in the background.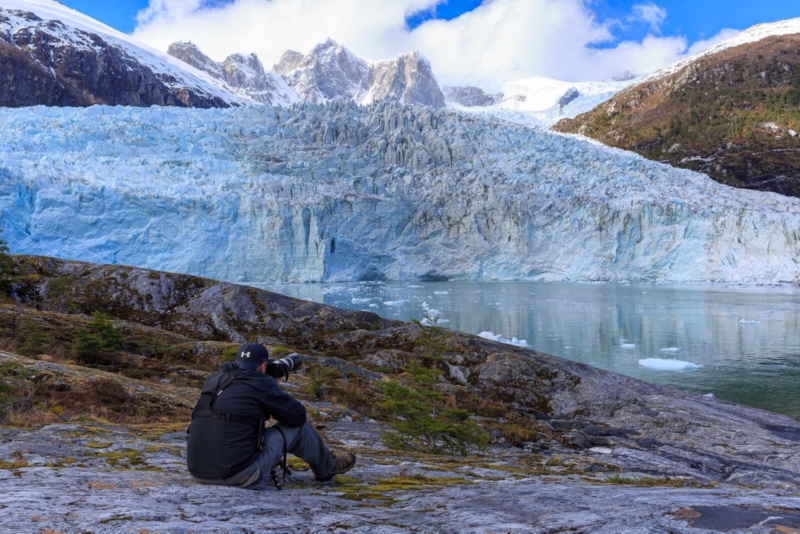 Jodi took this shot of me as I photographed Pia Glacier. This image is portrayed as it looked out of camera after it was converted from a RAW file to a JPG.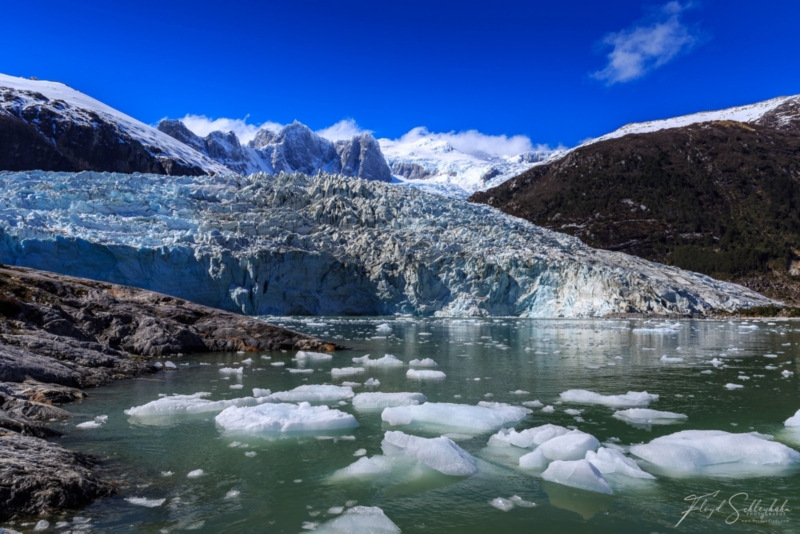 After entering Pia Fjord, we boarded a Zodiac for a shore excursion to Pia Glacier on the northwest arm of the Beagle Channel. This glacier is embedded in the Darwin Mountain Range and it gradually runs down into the waters of Pia Bay. After disembarking the Zodiac, we took a short hike to enjoy different views of this spectacular glacier.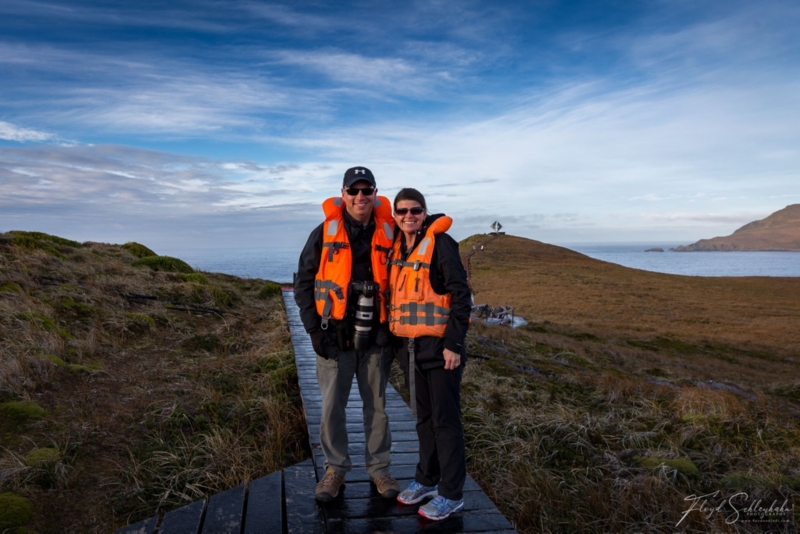 With exceptional weather and calm waters, we were able to make land on Cape Horn, whose route around South America is considered one of the most dangerous nautical passages in the world. With a tripod and a 10s autotimer, I was able to capture the moment.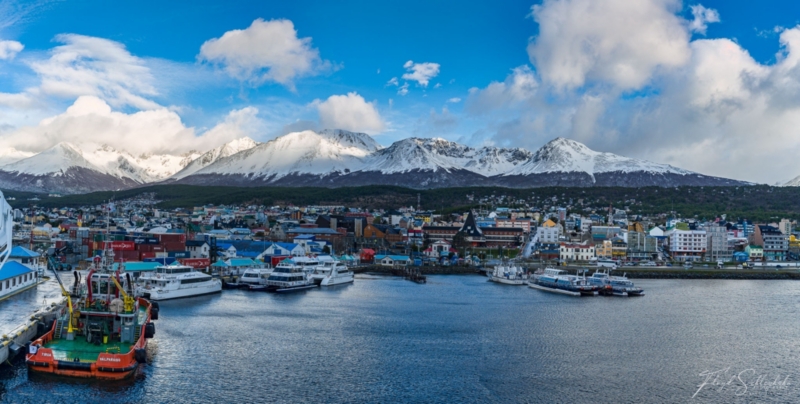 In Ushuaia, known as the "city at the end of the world", prior to disembarking the Stella Australis for our last time, I took this panorama comprised of 8 separate portrait oriented images stitched together using Photoshop. With exposure times of 1/250th of a second, unlike previous images showing smooth and silky water, at shutter speeds this fast, it is not possible to catch the flowing movement of the water so the water looks a bit choppy here.
At the conclusion of our main trip, we flew back to Buenos Aires then onto Santiago, Chile's capital and largest city, as it was the springboard to reach Easter Island for our post-trip.
This nightscape of the Santiago Skyline was taken from the 62nd floor of the Costanera Sky Center. Closing at 10:00PM and with the last elevator to the top at 9:00PM, we didn't think we'd make it due to the late arrival of our plane and lost luggage. As this would be the only night possible to take a night shot of Santiago, our O.A.T. leader told the driver "rapido" as soon as we left the airport and we were dropped off with only a few minutes to spare before that last elevator.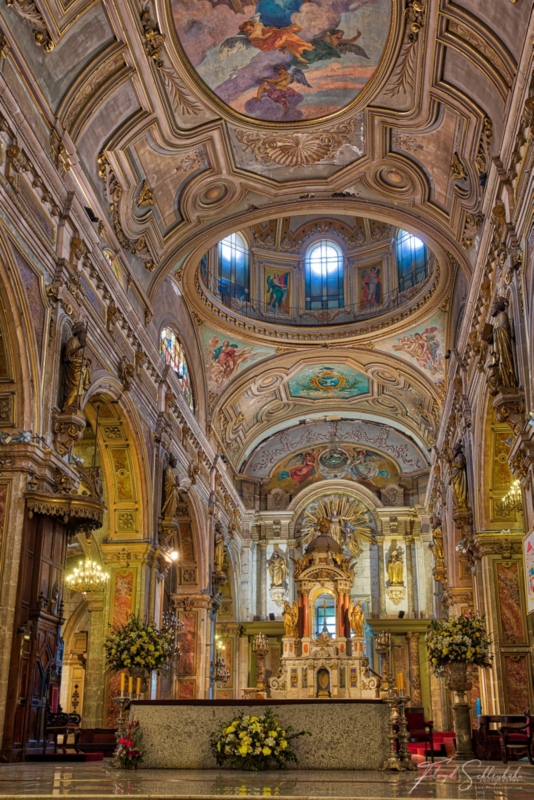 Using a 16mm wide angle lens, this picture of the altar in the Cathedral of Santiago de Compostela was taken with 3 bracketed shots then blended together using luminosity masks.
Located just under 2,500 miles west of the coast of Chile, 2,000 miles east of Tahiti and 4,300 miles southeast of Hawaii, Easter Island, named by a Dutchman who discovered the island on Easter Sunday in 1722, is one of the most isolated islands in the world. With a population of around 3,000, Easter Island is a small volcanic island famous for its 887 large stone statues, or moai, carved out of volcanic stone that grace the landscape.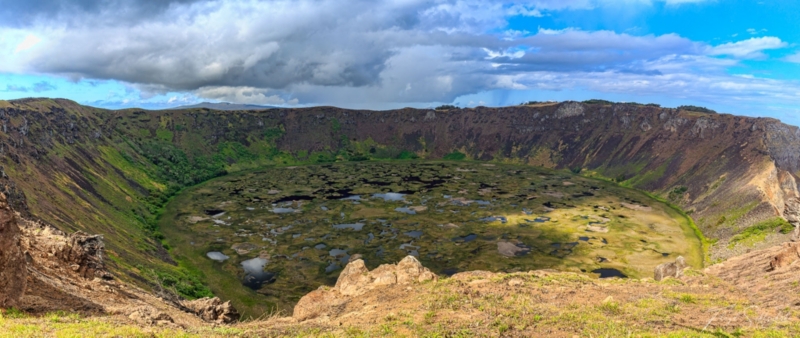 This shot of the freshwater lake formed in the craters of Rano Kao Volcano was taken with 5 landscape oriented images that I stitched together in Photoshop.
In order to capture the sunrise behind Ahu Tongariki, I had to hire a driver to pick me up at 4:30am from our hotel. Upon arrival, it was still pitch black, and the driver pointed me to the area to setup. I could hear the ocean but hadn't the slightest idea of where I was walking. Eventually, as the blue hour of morning started, I was able to make out the shapes of the moai and set my tripod and camera up to capture the moment.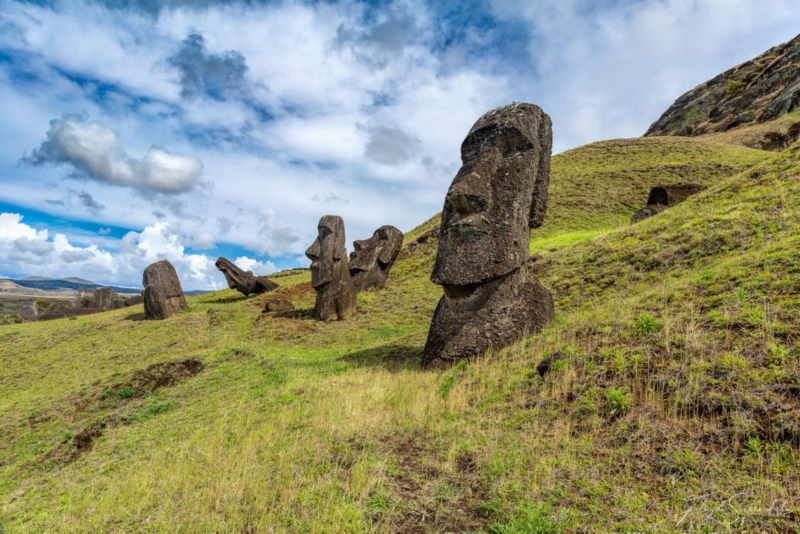 With the sun at its brightest at high noon, the only way I would be satisfied with taking this shot is if I could make the scene darker. Using a 5-stop neutral density filter, I was able to stop enough light to capture a balanced scene of the moai on Ahu Vaihu.
From an early age, I gained a passion for photography, with my first camera being a Kodak Disc 4000 then eventually getting a Canon AE-1 SLR film camera. My first digital was a Canon PowerShot A610 which I used for a number of years before getting PowerShot SX10 IS which I mainly bought for a safari in Africa. As I compared my photos to professionals, I was disappointed, so I bought the Canon 7D, my first DSLR, and used the kit lens for a number of years. I began shooting RAW images, which allowed me to do all of the developing using Lightroom and Photoshop. Unlike shooting RAW images, JPG images are developed by the camera then compressed, so the options available to further develop them in Lightroom are limited. Eventually, I was able to purchase my first full frame DSLR (Canon 5D Mark III) and along with it, purchased a few extra Canon L Series lenses with various focal lengths (16-35mm f/2.8, 24-70mm f/2.8, 70-200mm f/2.8 and the beast, a 300mm f/2.8).
Today, I have 2 full frame bodies (Canon 5D Mark III and IV) and 1 crop frame body (Canon 7D Mark II), whose image sensor has a 1.6x crop, thereby giving my 300mm lens a focal length of 480mm. When taking pictures on my own on our trips, I shoot in manual mode, but when with the group, I shoot in Aperture Priority, letting the camera decide what the shutter speed should be while I determine the depth of field, thereby speeding up the process. Prior to any trip, I research the places we will be visiting and look at various websites for ideas of shots to take and to get familiar with where we will be going.
In addition to landscape and travel photography, I also enjoy concert photography. If you would like to see more of my photography, including pictures taken from other O.A.T. trips, please visit our website. If you would like to view some coffee table books I made, please visit our Shutterfly Photo Book Sharing Site.
Use Floyd's tips during our The Wilderness Beyond: Patagonia, Tierra del Fuego & the Chilean Fjords Small Ship Adventure and capture your own stunning images.