Painting New Perspectives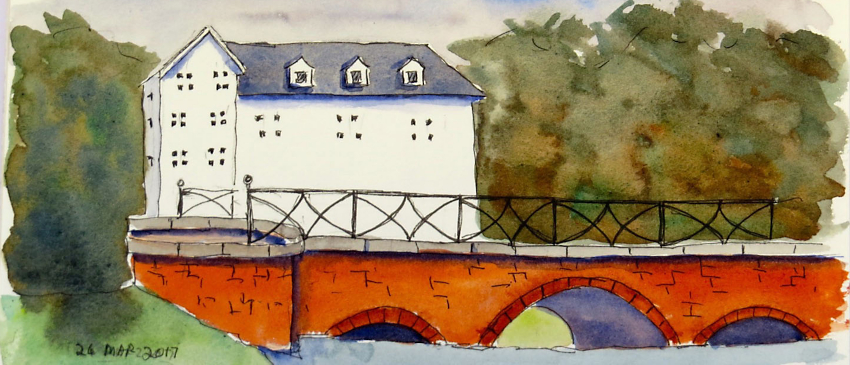 By Tom B., 6-time traveler from Kernersville, NC
I began painting in watercolor only a few months before my wife and I ventured abroad on our first tour with Grand Circle Travel in November of 2014. We chose to visit Sicily because it was the birthplace of my maternal grandparents. That first tour enthralled us, as have each of those that followed—living up to their enticing descriptions on the website. We cannot know what the future holds but we look forward to many more adventures exploring this amazing world. Our next and our sixth Grand Circle tour will be to England, Scotland & Wales this fall.
My wife Marie and I come home from each trip with thousands of photos between our two cameras and two iPhones. Since that very first trip to Sicily, I have tried to capture both the beauty of each place we visit and a sense of the people and culture in the watercolor paintings I do. In the last few adventures, I have taken along a sketch book and a few painting supplies so I can create on location some small drawings and paintings in addition to our photographs. Of course, the reality is that words and images can only afford a glimpse in time of the life around us. Art, in all its forms, filters that reality through the eyes of the artist and the viewer: an active engagement in which all participate.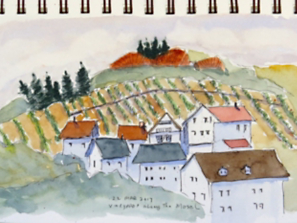 Romance of the Rhine & Mosel was our very first cruise, so almost every aspect of this trip was a new adventure. We found the Netherlands especially interesting for a variety of reasons, among which were the ingenuity with which the people are coping with the dangers presented by rising water from storms and climate change, and the seamless integration of various modes of travel using automobiles, public transportation, bicycles, and pedestrian walkways. The morning we visited the Kinderdijk was particularly stunning. Before the sun had risen fully overhead, the windmills were bathed in an early morning mist, giving their silent silhouettes an almost ethereal quality. I knew that one of the scenes I captured that morning would find its way into a painting!
We were only days into our journey when we began to see firsthand the Rhine's importance in the economy and commerce of the region. While we knew about the Rhine, it was as a matter of geographical reference rather than an in-depth understanding of its relationship to this part of Europe. We watched daily as a caravan of barges of all sizes churned the swift current of the river. It was literally a fluid highway, whisking an array of goods and commodities to destinations all along its banks.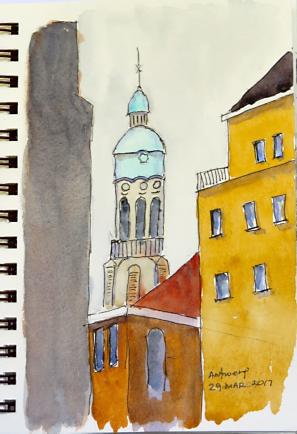 Among the memorable highlights we encountered on our cruise was seeing the important work of the Stork Park in Alsace, which has preserved and protected this once endangered species. We hiked a short but steep trail through a vineyard above Kues to see an old castle currently under renovation. This vantage point high above the Rhine afforded us a new perspective not only of the river and the life dotting the slopes down to its banks, but also of ourselves.
Our two-week cruise exposed us to many reminders of the grand scope of human civilization and history. The Porta Nigra in Trier was so visually haunting, adjectives slipped away unnoticed, leaving us to marvel at the extent, influence, and uncanny persistence of the Roman Empire. During the optional tour to Luxembourg, it was the heart rather than the mind, or perhaps it was both, that dominated our emotions while standing respectfully at the American Battle of the Bulge Cemetery and the German Cemetery in the Ardennes; a sea of crosses brought tears for the loss of life and its immense scale, and dismay that history has not shown us a way to be better stewards.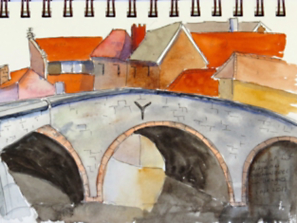 Many of us are challenged by the uncertainty of new adventures and find comfort in the familiar; however, we have found that it is even more comforting to travel and meet those with different backgrounds who offer us their particular insight and friendship. Our cruise was a true melting pot of cultures, ideas, values, and experiences blended in a broth of conviviality. The crew, the Program Directors, and fellow passengers were all eager participants in a grand journey. Who could ever forget the nightly episodes of the scheming whodunit "Murder at Mulligatawny Castle," crafted and energetically performed by our Program Directors? Or the wonderful selection of food we were served in the dining room by staff who exuberantly celebrated each birthday or anniversary? Or the long conversations with new friends, and travel companions such as the Matlows? Or the thoughtfulness, courtesy, and friendly efficiency of every member of the crew and staff, especially our artistic cabin attendant Sabina Todorova? Sabina was so friendly that I did a small painting for her, and she reciprocated with a drawing of her own on our last day on the cruise.
We have enjoyed using the photographs of our travels to create a coffee table-sized photo book for each of our Grand Circle trips. In this way, we can share our adventures with friends and family who may then be inspired to begin an adventure of their own.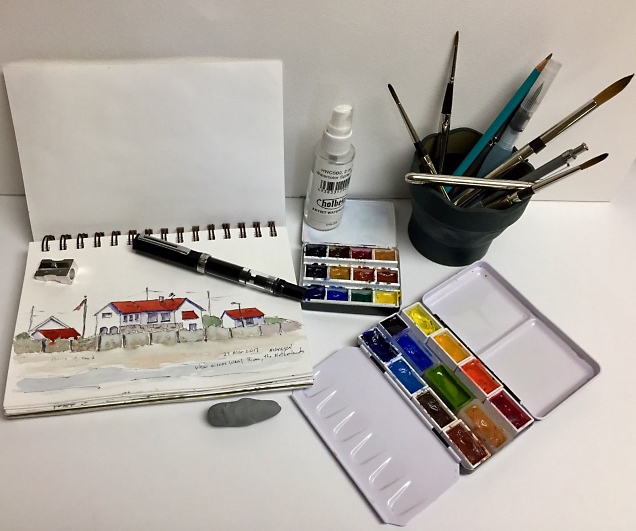 See the landscapes that so inspired Tom during our Romance of the Rhine & Mosel River Cruise.