While Howie was impressed by Registan Square during the day, he knew it would be even more stunning when lit up at night—and the sight did not disappoint.
By Howard A., 23-time traveler & 10-time Vacation Ambassador from Ashland, MA
"I don't care how you get there, get there if you can" – Oleta Adams
My wife Nancy and I recently had the good fortune of visiting the Central Asian country and former Soviet republic of Uzbekistan. In that travel is logistically difficult in this region, we feel very fortunate to have been early American visitors to this fascinating epicenter on the 4,350-mile Silk Road; the ancient trading route that extended from China to the Mediterranean Sea. It is along this trade route that the early exchange of culture, cuisine, music, philosophy, religion, crafts, and art once took place, on an unimaginable scale. Because of its strategic location between China and the Mediterranean, and its reputation as a city of scholars and skilled craftsman, the ancient city of Samarkand in Uzbekistan became one of the Silk Road's great trading centers. It was visited and conquered many times as far back as 329 BCE by notables including Alexander the Great, Genghis Khan, and Tamerlane, and was once the site of a massive bazaar and gathering place for merchants, caravans, and ambassadors arriving from around the world. After the Soviet restoration of this area, Samarkand was most deservedly added in 2001 to the UNESCO World Heritage List. It is a place of architectural mastery that stuns the imagination.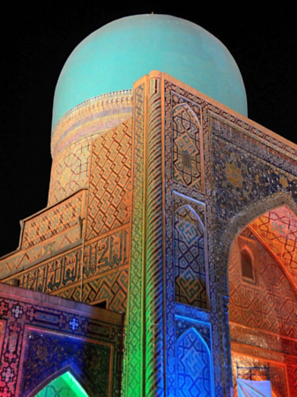 Although this city is replete with beautiful architecture and marketplaces, the crown jewel is unquestionably the 600-year-old Registan Square. Built over a period of 250 years, three sides of the square consist of massive grand madrassahs: scientific and educational centers of research and learning where scholars and students studied astronomy, mathematics, philosophy, theology, and language. Each madrassah's façade is adorned in mosaic, gold, and lustrous paint, and sports its own unique religious, mythical, abstract, and geometric Islamic patterns. Each is strikingly beautiful, displaying colorful mosaics, mesmerizing archways, towering columns, minarets, and enormous brightly painted domes. The open center square is the size of two football fields. The scale seems unimaginable. As you view these amazing structures you can feel their history in your bones!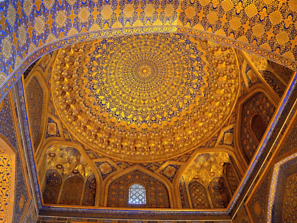 As impressive as these exteriors are, the interiors do not disappoint, with gold and gold leaf and spectacularly rich vibrant colors adorning the walls, domes, and portals. One could spend countless hours here and not see it all. Registan is truly a place of striking beauty that cannot be adequately described in words.
As a photographer I was in my element here. I returned on my first evening as I knew that Registan would be colorfully lit. I arrived early to find many local couples and families enjoying their country's centerpiece. All were very anxious to speak to me and interested in where I was from and my impressions of the country. They were thrilled to have me take photos of them and their families.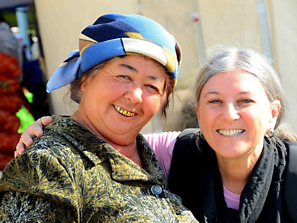 At dark the lights went on and what I saw took my breath away. As beautiful as Registan had been by day, it was even more spectacular at night. Under the multi-colored lighting the complex took on an otherworldly surrealistic feel that saturates the senses. I stood motionless—for how long I do not know. My mind had drifted away. The entire experience was dreamlike.
What more can I say, reader. For the intrepid traveler this was a "bucket list" experience. Go to Samarkand now while it is still pure and relatively undiscovered. By the way, Nancy and I felt totally safe here. The country's crime rate is ridiculously low. You will see police and military personnel at monuments, government structures and the like, but their presence is intentionally discreet and subdued. They are clearly there for our protection and benefit. I walked the city streets alone that night the mile-and-a-half back to my hotel carrying my Nikon. I saw many local people enjoying the evening, and no one bothered me. My only encounter was with two twenty-somethings that I asked directions of. They insisted on walking me back to the hotel. How good is that!
Howard Axelrod is an Ashland, Massachusetts resident, travel photographer, writer, and former high technology executive. He has photographed in 82 countries on six continents and has travelled to 38 of the U.S. states. He is primarily interested in native and tribal cultures, architecture and wildlife, which he feels are all disappearing at an alarming rate. His goal is to document through photographs and writing as much of this as possible, while it still exists. He can be reached at highwind@verizon.net.
Experience the undiscovered beauty of Samarkand when you join O.A.T. on The Stans of Central Asia: Turkmenistan & Uzbekistan.