Not So Different After All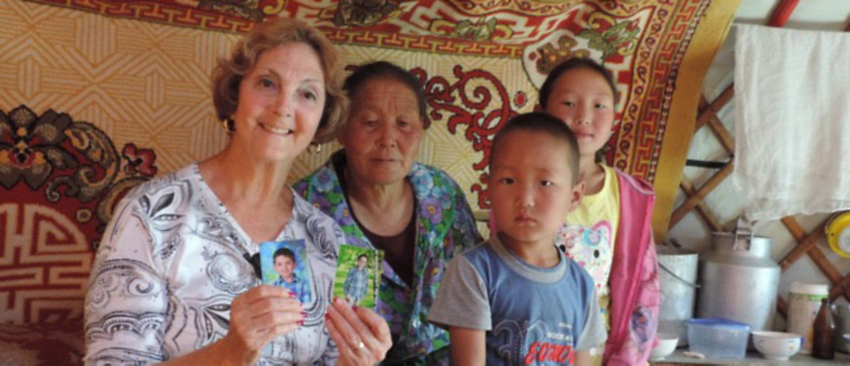 By Beverly L., 15-time traveler and 2-time Vacation Ambassador from Rockland, MA
Travel is so much more than just the journey. It is the sights that you see, such as the Eiffel Tower in Paris, or the moais or monoliths in Easter Island, or the pyramids in Egypt. It is the experiences that you encounter, such as riding an elephant in Africa, or being enveloped by the spray at Victoria or Iguassu Falls, or experiencing the aboriginal culture in Australia.
During our trip to Mongolia in 2014, we visited a family in their homestead called a ger. They were a nomadic family and their dwelling allowed them to break down and set up in random places to meet the needs of climate, temperature, and environment to maintain stability for the family. We were fortunate to meet this family and participate in their daily activities.
We milked yak, made cheese from yak milk, and worked yak and goat wool to form miniature ger's as ornaments to take home. We then had time to explore the ger and ask questions. In a quiet moment during this hustle and bustle, I observed the matriarch of the homestead with two young children. I asked our Trip Experience Leader, Billy, to inquire and learned that she, in fact, was the grandmother, watching her two grandchildren while the parents were out tending to their chores.
It didn't take me long make a meaningful connection on the other side of the world. I took out photos of my two grandsons, Benjamin and Nathan. Billy interpreted/explained to the grandmother and grandchildren that I too was a grandmother and the photos were of my grandsons. We exchanged information as to the ages of the Mongolian children and I shared my grandsons' ages. We talked about what they were learning in their home school and what they did for fun.
I noticed that there was a satellite dish outside the ger and a computer inside—the children were most interested in computers and playing video games. I acknowledged that my grandsons also loved computers and video games. I am sure that so many of the O.A.T. travelers are grandparents and we all do our share of babysitting, transporting, and supporting the family. As was so aptly stated years before, "it takes a village …"
In my many travel experiences, I have come to realize that we are all so similar and live life in much the same way. Kids, in particular, are universal. From the big cities like Rome or London, to remote villages in Africa or hill towns in Southeast Asia, kids want to be with other kids. They like to play soccer, play tag or jump rope, and of course, play video games. It is one of the true treasures of travel to experience real life in other parts of the world.
This was a great experience that was there just for the taking. Sometimes the obvious is just so obvious that you overlook it, but if you just read between the lines or brush away the surface dust, you uncover unique and remarkable opportunities. Such wonders exist and are there for you to behold.
Make lasting connections with the people of Mongolia when you join O.A.T. for Mongolia & the Gobi Desert.