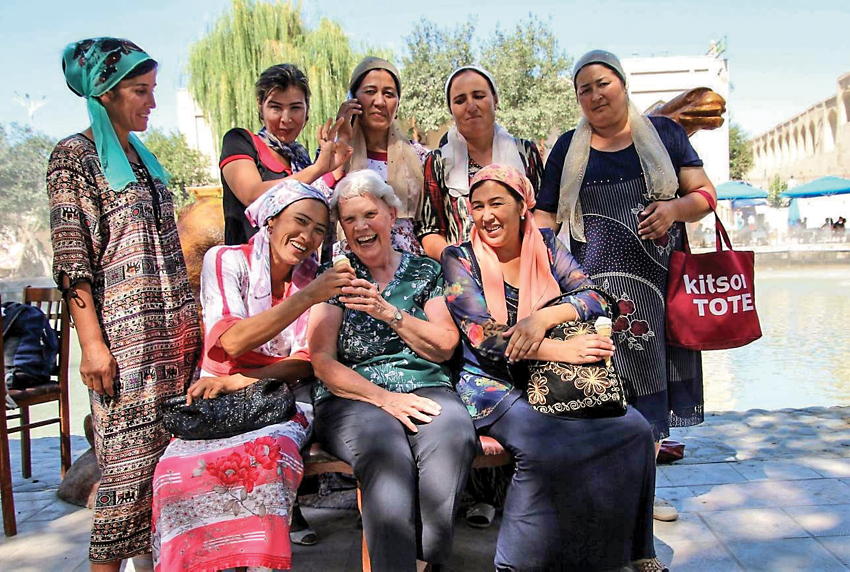 By Carol J., 15-time traveler and 7-time Vacation Ambassador from Kennewick, WA
I recently returned from a wonderful experience in Uzbekistan. One of the highlights of my trip was meeting the women in my picture.
On September 15, 2017, our O.A.T. group visited Bukhara, Uzbekistan. During "lunch on your own," I decided to just have an ice cream cone and watch people in the lovely park near our hotel. I first noticed a bride and groom having their photos taken there.
Then seven women with a professional photographer came near my table. The photographer lined the women up in front of a cement camel with a lovely pond in the background. I smiled at the women as the photographer arranged them for the photo.
Then a woman in a pink and white dress walked over to me and held out her ice cream cone. I assumed she wanted me to hold her cone while her photo was being taken, so I smiled, nodded and took her cone. After she walked back to her group, I noticed that all the women were motioning for me to join them!
So, I set my cone down on some paper and joined them, still holding the other woman's cone! The two women in front were each sitting on a chair and they moved to the outer edges to make room for me in the middle! I straddled both chairs, but I was so happy to be included in their group.
When the photographer finished his photos, I asked him if he would take some photos with my camera. He was so nice to do that for me. The photo shows seven beautiful Uzbek women and one American who couldn't communicate with words, but thoroughly enjoyed their delightful company! I now have a very warm place in my heart for the people of Uzbekistan!
Experience your own memorable moment with the Uzbek people during O.A.T.'s The Stans of Central Asia: Turkmenistan & Uzbekistan adventure.