Nchi Ya Simba ("Lion Country")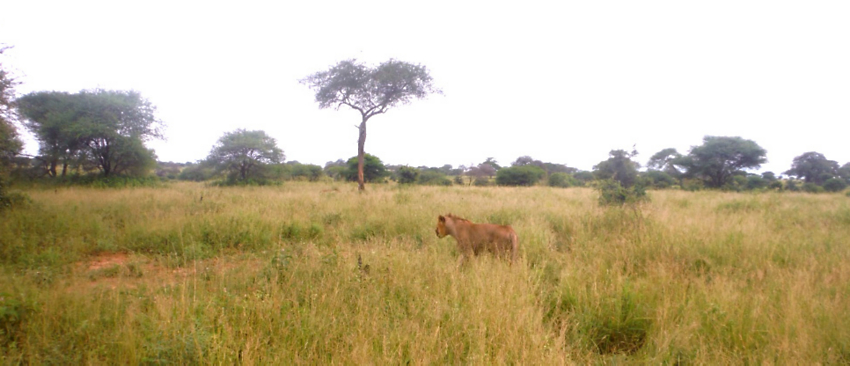 By Peter Vint, 2-time traveler from Arlington, VA
Everybody came to Tanzania to see the Big 5, especially the lions. We all know that Tanzania is the home of The Lion King and hakuna matata (no worries). We set out in three safari vehicles into Tarangire National Park, where Haji, our Trip Leader, told us there were lions abound. Every night after dinner, Haji would gather us round and discuss the events of the day and the plans for tomorrow.
Tomorrow, we were going back into Tarangire. "But we did not see any lions," said one traveler.
Haji developed an intense look. "You will see many lions," he said. "We are magic." The drivers, Domy, Richie, and Salim, solemnly nodded.
That night we stayed at the Burunge Tented Camp, outside the national park, i.e., Lion Country. In the afternoon, Haji organized what he called a walk. We will hunt lions and visit remote villages—armed only with our smiles.
On our walk, Haji pointed out a track. "Simba!" (lion) he said. That night in the remote huts along the lake, we could hear lions outside roaring in the dark. But we had still not actually seen one.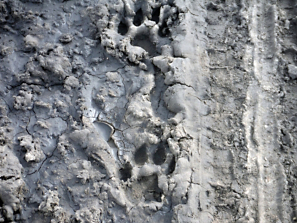 The next day we were riding around Tarangire again, seeing everything there was to see, but no lions. Suddenly we came around a turn on the dirt track we were riding. "Simba!" called out Haji, and there, not 10 feet off the road was a male lion on its side, motionless.
We edged our vehicle right over to the side of the road for a close-up photo.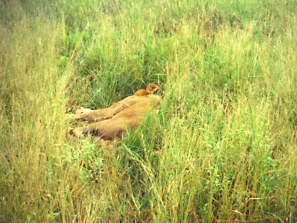 "He is not dead," said Haji. He has been wounded in a fight with other lions. Perhaps he tried to take over a pride and lost. One great thing about Haji was that whenever we saw something interesting, he was in no hurry to move on. He wanted to watch the drama play out, plus you could take as many photos and ask as many questions as you liked. "Won't the hyenas or other lions kill him?" we asked. No, said Haji. He has a protector. Where? We asked. Haji pointed out a spot about 100 meters away, in the tall grass. When we looked carefully, we could just see a tiny piece of the second lion. Nobody managed to get a photo of that one. Soon enough our first lion began to stir, although barely. He managed to walk a few meters, then fell back down.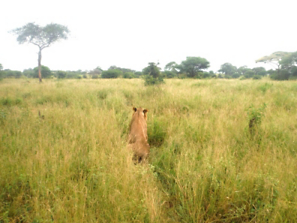 After about 10 meters, he runs out of energy.
He gives us a full profile before lying back down.
When he turns his head, we see that the other half of his face is basically missing.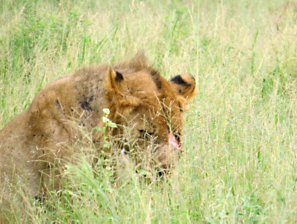 He can barely move, let alone hunt. "Won't he die of starvation," someone asks.
"Lions are very good at recovering from wounds," says Haji. All he needs is meat. His protector, probably his sibling, will bring it.
After a while, the wounded lion gathered some more strength and managed to get another 20-30 meters before lying down again, this time basically out of sight. "Twende" (let's go), we said. Everybody learned several phrases of Swahili, and that was one of them. And off we went, Big 5 well in hand. Maybe Haji and the drivers really are magic.
But we were not done for the day.
We saw another lion meandering down the track in Tarangire. She is tracing her steps back to where she left her cubs. We follow her until she cuts straight across the countryside, with occasional glimpses of her until she disappears.
Then, when we got to the Serengeti, we saw lions everywhere we looked.
Spot lions in Tarangire National Park when you travel on Safari Serengeti: Tanzania Lodge & Tented Safari.