Tanzania: More Than Just the Animals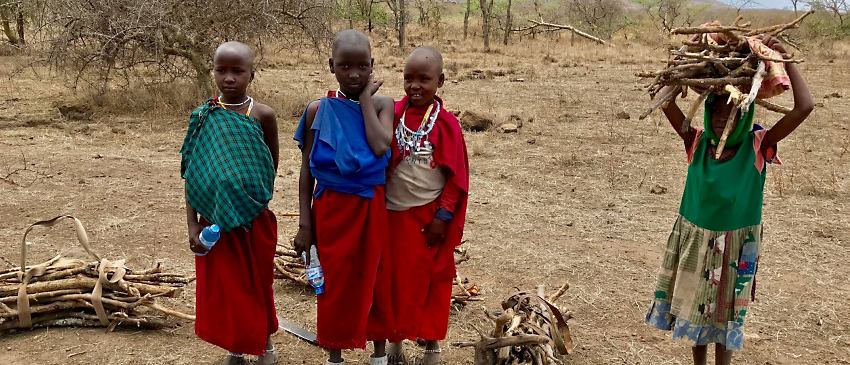 By Susan B., first-time traveler from Walla Walla, WA
This piece was originally published on Susan's blog: As Seen By Susan.
Learning and Discovery: The People of the Hills Region
I came to Africa to see the animals, but it is the encounters with the people that I will remember most. I had no idea when we signed up for this O.A.T. trip to Tanzania all that we'd see and do. Sure, the animals were the big draw. And the itinerary listed the O.A.T. standard A Day in the Life experience and a visit to a school supported by the Grand Circle Foundation; but beyond that, I had no preconceptions or expectations.
Even after our first home visit, the ride in a tuk-tuk, and taste-testing local banana beer, I wasn't prepared for all the different opportunities for learning and discovery that awaited us every single day. For example, on day two of the Foothills of Kilimanjaro pre-trip, we were given the opportunity to visit a local medical clinic located near our tented camp. It was an optional, free-time activity, so not all of us chose to partake. But I did, along with four others.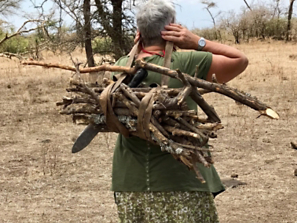 Along the way to the clinic, I commented on three young girls I saw carrying large bundles of sticks on their backs. "Do you want to try that?" asked Lenny, our Trip Experience Leader. "Of course," was my immediate and enthusiastic reply. This was the first "Stop the Land Cruiser" moment. (There would be more.)
This is/was an ongoing personal concern about how to engage with the locals without 1) My feeling like a voyeur, and 2) Their feeling like an animal on display. To allay at least part of those concerns, I assumed that the people involved in these "Learning and Discovery" encounters were compensated, but I didn't know how and/or when.
Judging by their height, these girls are probably 8-10 years old. And despite their shaved heads, which to Western eyes may suggest they are boys, we learned that only girls gather wood. In fact, as we would later learn, girls and women do all of the labor intensive domestic work of maintaining a family/village.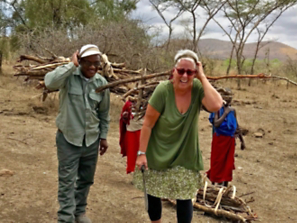 Girls are often promised in marriage long before they are of age, and according to our Trip Experience Leader, they often wear a single white-beaded necklace as an indication that they have been spoken for. Marrying girls in exchange for cows or money is still being practiced, and Tanzania has one of the highest percentages of child brides in the world. Almost two out of five girls in Tanzania are married before their 18th birthday.
Unlike the girls who take these bundles on and off by themselves, I needed the help of Lenny to lift mine up and onto my back. I guessed the bundle itself to weigh about 30 pounds, which equaled the weight of my safari duffel.
I could lift that, but getting this bundle of sticks onto my back and the head strap across the top of my head proved more difficult that I imagined. Walking proved difficult, too. I tried leaning forward to compensate for the weight on my back, but I am sure that after a few yards, my lower back would be screaming. And watching the girls, I could see they were able to stand pretty much erect.
Even Sylvester, the Kambi Ya Tembo camp manager who served as our local guide today, took a turn at carrying a bundle. There was definitely lots of learning and discovery going on!
The Olmoti Clinic: The Initial Purpose of this Optional learning and discovery Excursion
Mama Yaya is a Maasai midwife who, like her mother and grandmother before her, worked in this remote Olmoti region. And like her predecessors, she had a long-time dream of preventing the needless deaths of infants and mothers during childbirth. Then in 2009, she met two visiting American women, Diane Raleigh and Gloria Upchurch, who turned that dream into a reality by building a health clinic. And that was the start of something big.
As if this wasn't already enough learning and discovery, there still was one more encounter to meet a few of the local people before we returned to our camp for our late afternoon game drive.
Perhaps you'll take part in this optional activity as well during our Foothills of Kilimanjaro, Tanzania pre-trip extension of O.A.T.'s Safari Serengeti: Tanzania Lodge & Tented Safari