Matera: A Spectacular City of Stone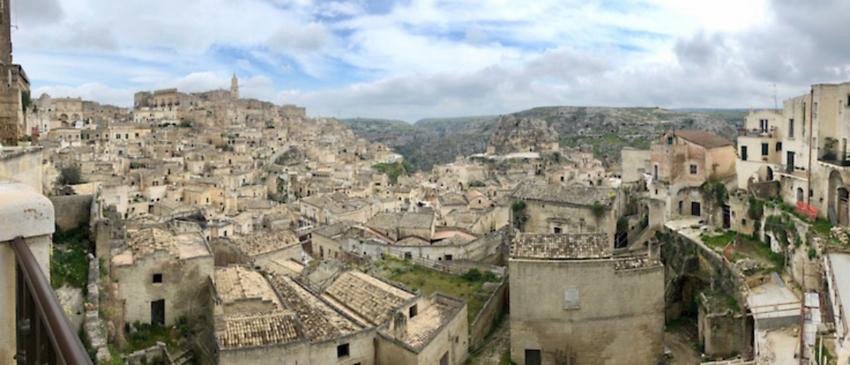 By Sharon Kurtz, 7-time traveler from Dallas, TX
Nestled in the instep of Italy's famous boot—between Basilicata and Puglia in Southern Italy—the ancient city of Matera has quite literally been dug out of a rock. When you first encounter the panoramic views of the Sassi from one of the stone terraces overlooking the deep ravine ("la gravina") of Matera, you'll feel like you've traveled back in time.
Called "one of the most unique landscapes in Europe," Matera is undoubtedly one of the most spectacular places I've visited in Italy or anywhere in the world. My first glimpse of the Sassi di Matera stopped me in my tracks: Gazing across the expansive tangle of stone houses, windows, roofs, and Cathedral dome across the rugged ravine took my breath away.
What are the Sassi?
The Sassi (stones) are a complex network of cave dwellings, passages, arches, and stairways revealing stunning ancient churches and cave houses that have been inhabited since Paleolithic times.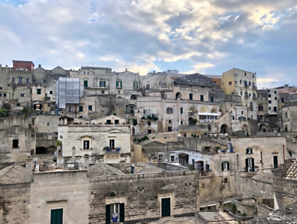 Teetering on the edge of a rocky ravine, Matera is divided into two valleys, Sasso Cavoso and Sasso Barisano. A patchwork of alleys and tunnels connect houses, churches, and ravines, offering endless views.
Step into the narrow lanes between houses, and you are actually standing on the roof of the house below. The best way to explore the two neighborhoods is on foot, roaming through the narrow alleyways, up and down uneven stone staircases, discovering dead ends and tiny courtyards adorned with flower pots, cave churches, and expansive views of the Sassi.
A brief history of Matera
Visiting the ancient city of Matera is not only breathtaking but also fascinating. Its history goes back more than 30,000 years, being one of the oldest continuously inhabited settlements in the world. Only Aleppo and Jericho have been inhabited longer.
The original inhabitants and their ancestors never left. Instead, they quite literally "dug in." From the oldest period in human history to eventually digging caves with metal tools created during the Iron and Bronze Ages, the people and their dwellings remained throughout the later waves of rulers and empires. Descendants of past generations still remain, even though some things are a little different now.
Life wasn't easy in Matera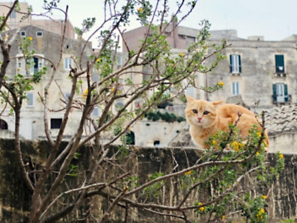 Matera came into national prominence in the 1950s. By then it was a forgotten city that had sunk into poverty. Whole families were living in the Sassi cave houses with no electricity or running water, sharing space with their livestock. Diseases were rampant and a constant threat. Conditions became so bad that in 1952, the Italian government evacuated most of the city and the inhabitants were moved to housing in a newly constructed part of the town, leaving the Sassi cave houses empty for decades.
Matera: UNESCO World Heritage Site & 2019 European Capital of Culture
Before being selected as a World Heritage Site by UNESCO in 1993, Matera had long been one of the poorest cities in Italy known as the Citta dei Sassi, literally the City of Stones. The prestigious UNESCO label gave a new image to the city that was once an example of degradation and national shame.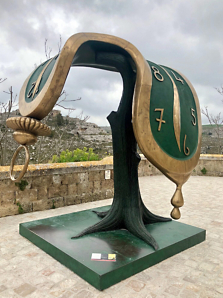 More recently, Matera was designated as one of two 2019 European Capitals of Culture, the other being Plovdiv, Bulgaria. This milestone now marks another important chapter in the city's history. The theme "Matera 2019 Open Future" is the slogan associated with the designation. Various artistic and cultural events were scheduled throughout the year, including exhibitions and public works of art across the city.
What to do in Matera
Matera is a place to wander and get lost. Go for a walk without a map, with a sense of adventure, and you'll experience a surprise at every turn no matter which direction you walk. You are bound to come across the major attractions without necessarily looking for them.
Piazza Vittorio Veneto is a lively square with several churches, cafes and Roman remains. Via del Corso, the main shopping street, links the square with Piazza San Francesco and Piazza Sedile. In the early evening, join the ritual passeggiata (a leisurely stroll): Amble through the streets, or enjoy an apertivo or glass of wine at an outdoor café and watch the world go by.
There are over 155 churches hewn from the rocks in and around Matera, more than you can view in a single visit. The Rupestrian churches are carved into the stone and covered in beautiful frescoes.
Dating back to the Middle Ages, there are stunning frescos inside that date back to the early-Medieval period before recorded history began. Some churches charge admission while others are free of charge—but they are all impressive.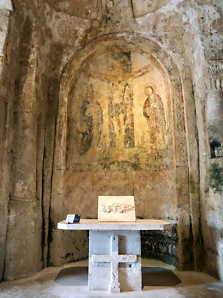 Recreated cave dwelling give visitors a first-hand look at how a family in Matera lived in the 18th century, complete with a cistern to collect rainwater. The entire family (on average six members) including animals lived together in the cave.
Matera gives you a glimpse of the distant past, as the city hasn't changed much since Roman times. Bearing a considerable resemblance to ancient Jerusalem, Matera is a magnet for filmmakers and artists seeking a biblical landscape.
When I was in Matera, the city was abuzz because actor Daniel Craig (aka "007") was in town to prepare to film the prologue action sequence for "Bond 25".
What to eat
I find that it is best to eat foods from whatever region of Italy you are visiting. In Matera, you find plenty of local ristorantes and cafes serving classic Puglian and Basilicata cuisine, using lots of fresh seasonal vegetables. From pastries to pasta, and cheeses to deli meats, eat as many local dishes as possible. Find a restaurant or café that catches your eye and go for it.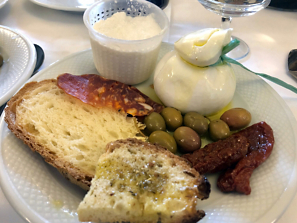 I loved the dining experience at Il Terrazzino Ristorante. Located in Sassi de Matera with ambiance to spare, it has a cave interior with vaulted stone ceilings and an outdoor terrace overlooking the historic Sassi. With antipasti, fresh cheeses, local pasta, seafood and more, the owners serve typical regional dishes whose recipes have been handed down from their grandparents.
The local wine specialty, Primitivo, is served in a large carafe (and at a super reasonable price). Service is friendly and the ristorante features a wine cave and underground small museum…. What's not to love? It's located on Vico San Giuseppe, not far from the Piazza Duomo.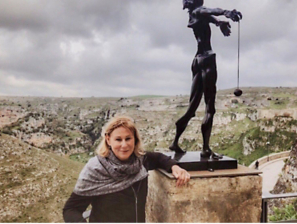 Matera is an amazing, special, unforgettable place with an undiscovered air about it. Off the normal tourist track with its spectacular setting and fascinating history, plan a visit soon before the rest of the world finds out about it. The magical, otherworldly glow of Matera at night created by the glimmering lights from each side of the Sassi over the deep ravine is a sight I will not soon forget.
Explore the enchanting cave dwellings of Matera when you travel on the pre-trip extension to Sicily's Ancient Landscapes & Timeless traditions.