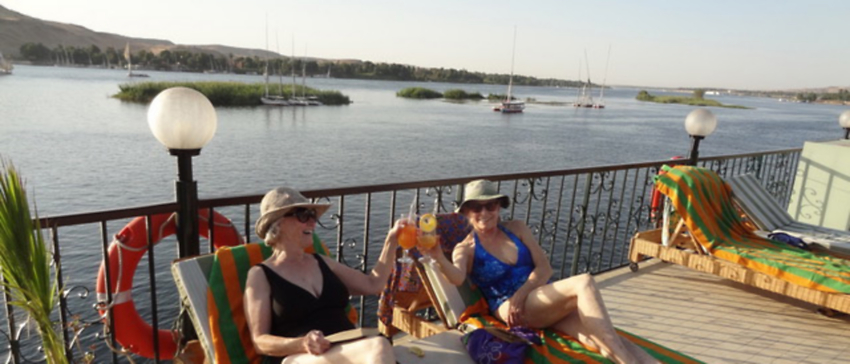 By Bonnie H., 5-time traveler and 3-time Vacation Ambassador from Sandwich, MA
There is a quote attributed to Mark Twain that I found in an inspirational calendar that goes something like this: "Why not go out on a limb? That's where the fruit is."
Taking this to heart I signed up for O.A.T.'s Ancient Egypt & the Eternal Nile River "seeking a roommate." While there is no single supplement for most O.A.T. adventures, river cruises with Grand Circle do charge a supplement. So I thought why not take a chance, it could work out well and if not so well, how bad could it be for two weeks? After all, I had been on four previous trips with O.A.T. and found my travel companions friendly and engaging. I couldn't think of anyone in all those trips with whom I could not manage two weeks of travel.
Call it serendipity, luck, karma, or whatever, my roommate Sandra was a fabulous match! I am from Massachusetts and Sandra lives in California. We exchanged a few emails and phone calls before the trip and settled a most important item: neither of us snored! (Though for me, that would not have been a game-changer: a good set of ear plugs can be a God-send!). We established early on that we were each fairly easy going and willing to accommodate the other if necessary so were off to a good start.
We met at our hotel in Cairo when I arrived late in the evening of the first day of the trip. We began conversing and found we had a surprising number of things in common! We were both of a certain age and retired (so far not too surprising considering the demographics for most Grand Circle travelers). But moving on we discovered we were both daughters of first generation immigrant Polish mothers who had to leave school after eighth grade to help support their families. We were each brought up by working single mothers and had one brother about 10 years older. We each had one daughter and a grandchild with some medical issues of concern. We even each had a "beauty mark" on one cheek.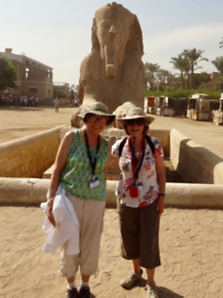 After a good night's rest, we were off on our Egyptian adventure. We seemed of a similar mind when it came to pacing and interests. We were up for whatever presented itself. We were enthralled with all the information about Egyptian life and history provided by our most outstanding Trip Experience Leader, Walid. Neither of us were obsessed with shopping. We both were anxious to avail ourselves of the hotel's refreshing swimming pool after our day's adventures in the hot Cairo weather (this was October and the temperatures were unseasonably warm we were told). And on the whole trip we only turned on the TV once just to see what Egyptian programing is like!
We found we enjoyed many of the same types of experiences. On the Nile boat portion of the trip we felt comfortable venturing forth on our own into the souks to experience the local vibe. We relished the time amidst the ancient temples, soaking in the history, art, and ambiance of the thousands-year-old culture. And after our daily adventures, we eagerly headed for the on- board swimming pool, cooling off while watching the varied riverside scenes of the Nile drift by. When it was time for the evening entertainment we both jumped right in to party with our fellow travelers and the amazing boat staff (boy could those fellas dance!).
All through the trip we found we both came to rely on the other to supply information about the day's details that the other had missed or to locate temporarily "lost" items. We appreciated having each other to take each other's picture or hold our spot in line or have a room key handy when the other could not locate hers.
So I'm glad I went out on the limb for this one. As a matter of fact, I began to re-evaluate my decision to book O.A.T.'s Ultimate Africa adventure as a single. As it turned out, Sandra was looking to make Africa her next destination. O.A.T. made it easy for us to reschedule my date of travel and change my booking to a double so we could make the Ultimate Africa trip together next spring! And so through Overseas Adventure Travel, I found not only a roommate but a kindred spirit and a new friend.
Explore Egypt with a friend—or make a new one in your roommate—during our Ancient Egypt & the Nile River adventure.