By Carol M., 12-time traveler from Elburn, IL
While on my recent trip in February, Allure of the Adriatic: Italy & Croatia, I had the opportunity to meet Tina and Lindsay, two delightful staff members with O.A.T. They happened to see me flying my kite and became interested in my "souvenir" from my travels.
In 1997 for Mother's Day, my son Paul gave me a kite to fly when I traveled on vacations. It is compact, foldable, has three tails, and comes in a small bag. I went outside his home and flew it for the first time, putting the place and date on it. I was thrilled with it and happy to fly it around the United States.
After my husband passed away, I decided I wanted to travel and see the world. I was introduced to a woman who traveled by herself and she told me about her upcoming trip to Australia, New Zealand, and Fiji. The next day, I booked my first trip, solo, thus my adventures started with Grand Circle. Never in my wildest dreams did I think that so far I would be fortunate enough to travel to 51 countries and all seven continents.
It's not always windy enough, so my kite doesn't have to actually fly in the air, I just have to take it out and give it a try. When I write the new location and date on the tail, it is a great way to remember all the other places I have been. It is a good conversation piece. On my second trip to Turkey, the Greek Isles, and Greece, I met a psychologist who asked me all about flying my kite and wanted to share my story with one of her patients. I have met many wonderful and interesting people on my trips and have new travel companions.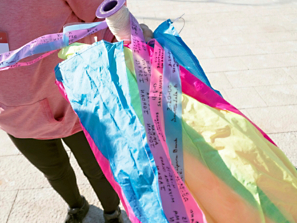 I only have a small amount of space left on my tail. I have to decide to either retire it or get new tails. There has been discussion as to what my family should do with the kite when I take my final trip to the cemetery, and the idea of flying the kite and releasing it has come up, but who knows, we will see. Hopefully it won't be too soon because the free app I have on my phone, Visited Map, which is very simple to use, says there are 250 countries and I have only been to 21.1%. I have been on six trips with Grand Circle and six trips with O.A.T. I have two more trips booked this year. I was bitten by the travel bug and it bit me really hard—can't wait for the next trip.
Perhaps you'll keep track of your travels in an interesting way. Start off with O.A.T.'s Allure of the Adriatic: Italy & Croatia Small Ship Adventure.