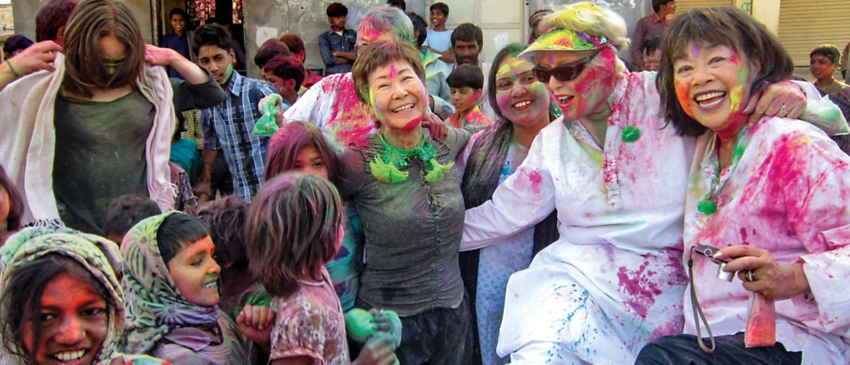 By Joyce W., 11-time traveler and 10-time Vacation Ambassador, from Sacramento, CA
"The journey of a thousand miles begins with a single step." For Jashan, that journey started three years ago on our O.A.T. journey to the Heart of India. Jashan was our bus driver helper, lifting heavy luggage from our tour bus to the hotel lobby, offering cold drinks while traveling in the bus, helping direct the bus driver in insane Indian traffic, offering to help us on and off the bus, etc. Everyone on our intimate group of twelve thoroughly enjoyed his attentiveness to our needs as well as his kind and helpful manner. At the end of the first part of our journey, he gave me his email address to stay in touch after we had given him our tips for his service. However, this was not truly goodbye to this wonderful young man.
Another travel mate and I were "stranded" at the train station for our trip to Kajuraho. We were struggling to get our luggage under the barriers at the train station. Our group had proceeded way ahead without even looking back to check on us. Just as we were panicking, we heard "I will help you!" We both looked up to see Jashan, and exclaimed in unison "You're an angel, Jashan!"
He quickly grabbed our bags and said, "Follow me!" which we did until we caught up with our group. No big deal right? Wrong. It was a BIG deal because the whole area was full of hundreds of buses, cars, motorcycles, and porters carrying luggage on their heads etc. No wonder panic was setting in. When we finally met up with our group, everyone shouted "Hey Jashan! What are you doing here?" They hadn't even missed us! Jashan was at this train station waiting to help his new group of arriving tourists. He could have easily ignored us, but chose to help us, true to his nature.
Upon returning to California, I emailed him. To my surprise, he responded in broken English: "I wanna come US, so I can open medical clinic." We communicated by email, and soon I was sponsoring him for his English education at Success Route Institute. I sent the tuition money directly to the Institute's director, as I wasn't sure how serious Jashan would be about following through on his mission to improve his English to get to the qualifying level to come to college here in the U.S. I even solicited the help of Prachi Verma, an O.A.T. representative in New Dehli, to make sure Jashan was in fact a trustworthy young man. Prachi was with us on our tour, so she also got to know the helpful character of Jashan. The director of the institute loved Jashan's industrious nature, and soon he was opening the institute when she wasn't there, helping her do sundry duties at the office, and she no longer charged the tuition fee. She even took him to her vacation home with her family to northern India.
After studying for about six months, Jashan was prompted by his dad to build their family home. Jashan lost his mother when he was one and a half years old, and Jashan, his brother, and father lived with an aunt in their home for all his formative years. His father was incapacitated and could not work because of a serious injury while working in the fields. Jashan and his brother helped plant, grow, and harvest the crops while attending school in their agricultural village in Northern India. With our financial support, Jashan was able to build a beautiful home for his father, brother, and himself.
All the while, he kept studying to improve his English, and even opened a mini Success Route Institute in his village to teach spoken English and computers. We eventually sent money for him to buy a laptop so he could communicate with us without paying for service at an Internet café. He then could take photos with the laptop to show us the progress of building his home, as well as photos of his mini Success Route Institute. His brother, Mohan, eventually married a woman named Pooja so there would be someone to cook and take care of Jashan's father. In their village, the marriages are arranged, and so that was the case with Mohan and Pooja, who now have been married for over a year. They will run the mini Success Route Institute as a source of income, in addition to planting vegetables and working their plot of land.
Jashan has been accepted to the fall semester at American River College here in Sacramento, California. He will pursue a course of study in the medical science field. His ultimate goal is to get a degree in nursing or medicine so that he can eventually open a clinic in his village in India to serve those who cannot pay for necessary medical care. The clinic will honor his mother who died at the age of 26 years old for lacking medical care. With Jashan's determination and drive, I have no doubt that he will achieve his goals.
For Jashan, it'll be his "dream come true," and the beginning of his new journey in America. For these "empty nesters" who have raised three wonderful "kids" of our own—myself, Lynnelle W., educator, Jereld W. M.D., and Gerard W., architect—we begin our new journey of nurturing Jashan, our newly acquired "grandson." With God's help, all things are possible.
Make your own connections with the people of India when you join our Heart of India adventure.
You may also like…
Amar
Follow another local, Amar, through his daily routine.
Patients without Borders
Learn about this traveler's medical experience in India.
Where in the World?
Where can you stand in this giant "calculator" ?