Introducing Baseball to Schoolchildren in Zimbabwe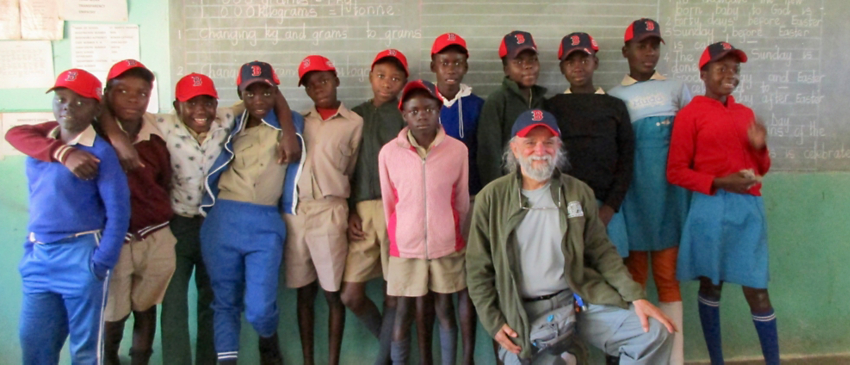 By Bob B., 14-time traveler from Braintree, MA
I've learned over the course of thirteen O.A.T. trips (and one Grand Circle Foundation tour of Cuba) that U.S. sports mementos can be used to enrich person-to-person encounters in foreign lands. Even where language barriers exist or where American sports may be unfamiliar, such items tend to instill curiosity and encourage interactions. In advance of an upcoming trip, I accumulate a variety of sports-related souvenirs and collectibles to stuff into my well-traveled large rolling duffle bag. While I tend to focus on Boston-based teams, I don't overlook materials from other clubs and performers that may have an appeal outside of U.S. borders.
Some of these exchanges of sports items have taken place during A Day in the Life itinerary stops, while others have occurred on a "spur of the moment" basis. On tour, I always carry a variety of these mementos in my olive-colored O.A.T. Sir Edmund Hillary foldable daypack. Recent journeys to Cuba and Spain provide examples of memorable contacts. A Grand Circle Foundation People-to-People trip to Cuba included a stop-off at a church-sponsored senior center. There, I observed two men sitting at one of the many tables at the facility. One was hatless while the other donned New York Yankees headgear. Invited to sit at their table, I learned that they were brothers who exhibited a sibling rivalry even in their advanced years. Given the island's longstanding interest in baseball, I extended the Boston-New York sports rivalry to Cuba by gifting a Red Sox cap to the younger of the pair, who then prodded his brother into posing for a picture wearing their adversarial headgear.
O.A.T.'s Backroads of Iberia resulted in a number of similar interchanges with local folks. At a bull ranch in Ronda, Spain, I presented a 100-year-old bullfighter trading card of my late grandfather's to its owner, a famed matador. At a Home-Hosted Dinner there, I revisited my childhood by engaging in swapping sports cards with the family's young son. Our local guide in Toledo, Spain mentioned in passing that he was a basketball fan and I surprised him with several cards of Spanish players who were performing professionally in the U.S. All of the previous examples involved individual exchanges. However, the most memorable and largest related interaction awaited me in Africa.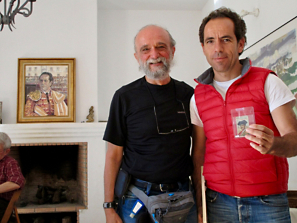 O.A.T.'s Ultimate Africa combines sightseeing safaris with opportunities to meet people of four nations in the southern part of the continent. The countries situated in this portion of Africa were former British colonies. That results in an ease in communicating as English is taught in their schools. However, the downside is that in addition to driving on the "wrong side" of the road, their athletic activities focus on soccer, cricket, and rugby. I pondered how to extend my gifting tradition under such circumstances.
A stop noted in pre-trip materials drew my immediate attention as a potential introductory baseball opportunity. Plans called for a visit to St. Mary's Primary School in the Hwange community of Zimbabwe. The rural school has drawn significant support from the Grand Circle Foundation. To date, the foundation has provided the school with such things as indoor plumbing, desks, texts and tools to repair the facility. In addition to my supporting the Foundation's efforts by bringing school supplies and making a donation, what better place would there be on this trip to expose the students to Boston's Red Sox Nation!
Having booked the trip well in advance of its scheduled departure date, I had sufficient time to seek out sports-related mementos during the intervening months. The Red Sox conduct an annual yard sale at their December "Christmas at Fenway" event. It was there that I spotted a huge box filled with red and blue child-sized Red Sox Kid Nation ball caps, replicas of the official team hats. They represented a surplus from prior years, resulting in a deeply discounted price. I rounded up for purchase a dozen caps, evenly divided in colors.
To further supplement my complement of sports items to bring, I attended a small local sports memorabilia show in my hometown, sifted through boxes of cards and picked up as many colorful Red Sox and professional sports cards as I could. As I packed for the trip, I assembled the trading cards into packets to place in my daypack in anticipation of handing them out during my time in Africa.
An intervening event just prior to my trip's July departure caused my planned African baseball activities to become more relevant. On April 26, 2017, the Pittsburgh Pirates made major league history when they inserted second baseman Mpho' "Gift" Ngoepe into their line-up. Ngoepe became the first big leaguer to have been born in Africa. The middle infielder hails from South Africa. Now I had a practical example to include in conversations with the locals.
At the mid-point of the Ultimate Africa tour, we arrived in Zimbabwe, formerly known as Southern Rhodesia prior to receiving independence in 1980. It would be here where the long anticipated presentation of ball caps would take place. As the day of our group's St. Mary's school visit approached, our Trip Experience Leader, Vitalis Chipunza, checked in with the school's principal to confirm permission for me to address the students and "establish" an African chapter of the Red Sox's children's fan club. The principal welcomed the opportunity and expected some 50 children to participate. The surprising number of attendees posed a challenge as to how to fairly distribute the 12 caps among such a large group. I and the Trip Experience Leader put our heads together and came up with a plan. Slips of paper that read "red," "blue," or "white" would be randomly handed out to the kids. Those with the six "red" tickets would receive like colored hats as would those with the six "blue" slips. The remaining children would be handed packets of sports cards.
Upon arriving at the school, a large throng of children extended greetings in song and dance and escorted us to a large classroom. There, the excited youngsters provided seats at individual tables as our group divided up and proceeded to engage in vigorous question and answer sessions over a wide range of topics. The time then came for the students' first exposure to baseball and Boston's Red Sox.
I was given the floor and did my best to describe baseball, drawing on its similarities to cricket, a sport familiar to those in the Hwange community. I talked about and exhibited images of Red Sox players and of Fenway Park, handing a set of pictures to the principal for the school's library, and citing the historic achievement of "Gift" Ngoepe. Explaining how the ball club's supporters were known as "Red Sox Nation," I indicated that I'd like to invite St. Mary's to represent Zimbabwe in the "nation" and join the team's fans throughout the United States and in other parts of the world. At that point, the tickets were distributed for the lottery.
The drawing received an enthusiastic reception. Devised so that every child would receive an item, all became a "winners." Kid Nation hats were donned with pride and cards were quickly removed from their packets and viewed with wonder. The students of St. Mary's eagerly assembled for photos with their prizes. Although both the students and their O.A.T. guests wanted to prolong this wonderful meeting, the principal was forced to intervene as the school day's academic schedule had to be restored and we needed to depart for a visit to nearby Hwange National Park with its population of lions, giraffes, and elephants.
Wherever my travels take me in the future, I will continue to pack along sports items, seeking to enrich interchanges with those that I meet throughout the world and, perhaps, further expand the boundaries of Red Sox Nation!
Bob has signed up for OAT's Imperial China, Tibet & the Yangtze River in 2018. He's restocking his supplies of sports items in anticipation of visiting China, Mongolia, Tibet and Cambodia. And while he often brings along items associated with football's New England Patriots' famed quarterback Tom Brady, he notes with regret that they aren't related!
Make your own connections with students at a school in Zimbabwe when you join O.A.T. for Ultimate Africa: Botswana, Zambia & Zimbabwe Safari.