Iceland: Tectonic Hotspot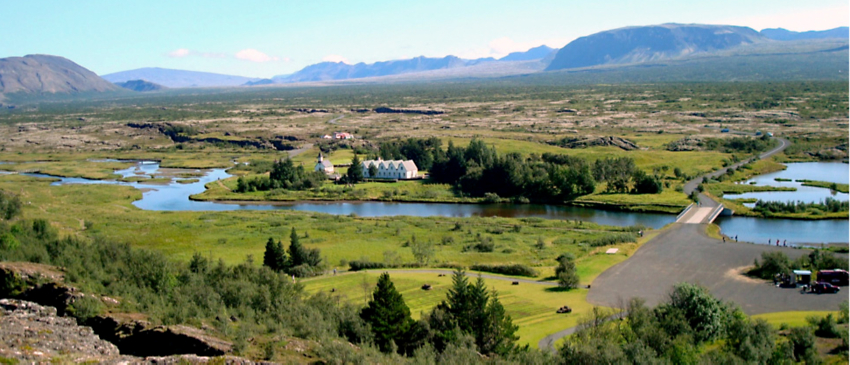 By Nancy S., 10-time traveler from Ithaca, NY
You can (and I did) stand on (or in) the Mid-Atlantic Ridge, which surfaces in Iceland, the island created by the outpouring of magma associated with this huge mountain chain! The rift, or volcanic tear, created by the Eurasian and North American tectonic plates, runs through Iceland and continues south down the center of the Atlantic Ocean. This rift is naturally exposed at Thingvellir National Park, both a geological and historical marvel.
Each year thousands of Icelanders visit Thingvellir National Park, a wide-open rift valley surrounded by volcanic mountains. At this site in 930 AD, their Viking ancestors gathered for their annual meeting of clans to work out grazing and hunting rights. Along the base of a cliff, clans created booths, stone-walled rectangles covered by a tent roof, and then vied with each other to hold grand feasts.
Among the chieftains, the 36 most powerful were designated as priest-chieftains, with one elected for a three-year term as law speaker. The speaker stood on Law Rock reciting from memory the law code. There was no written language then. If he forgot a law, then it was dropped from the code as no longer useful. That's one way to reduce government regulations!
Thingvellir means "assembly field." Iceland's parliament met there until 1798, making the park the original location of the oldest existing parliament in the world. In 1844, the parliament was restored and moved to Reykjavík, Iceland's capital. Using America's Yellowstone National Park (established in 1872) as example of conservation of national wonders, Icelanders made the argument that their natural and historic treasures should be protected. In 1930, by law, Thingvellir was designated as "a protected national shrine of all Icelanders." Now it is also a UNESCO World Heritage Site.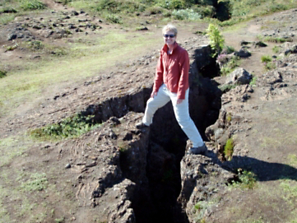 The Mid-Atlantic Ridge, this oceanic tectonic tear, grows wider, about an inch per year, making Iceland a land of volcanoes, hot springs, and abundant geothermal energy. Once Iceland depended on peat and imported oil for its source of energy for homes and industry. But now geothermal energy, a sustainable source, provides 65% of that, including heating homes and melting snow from sidewalks. On the last day of our tour, I experienced that also by a dip in the Blue Lagoon spa, where the tectonic plates are pulling apart, geothermally heating the water to 98-102oF. Chlorine isn't needed because the lagoon's spa is designed so the sea water is renewed every 40 hours.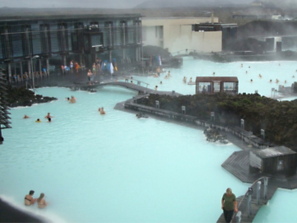 In turn, that can promote more volcanic eruptions. We're already seeing evidence of that. In 2010, Iceland's Eyjafjallajokull, a volcano with an elevation of 5,417 feet covered by an ice cap, spewed enormous amounts of ash that disrupted flights in Europe for a week, with 20 countries closing their airspace and 10 million travelers delayed. Our group saw the after-effects. At the foot of the towering mountains, enormous areas of coastline and farmland were covered with muddy ash, a consistency of wet cement and as much as an inch thick. A farmer we met spoke of clouds of ash so thick neither people nor livestock could breathe. Flooding, caused by melting of glacial ice, ruined farms. It can take years for farms to recover. With Iceland experiencing a couple volcanic eruptions per year, volunteer emergency teams and government services quickly go into action.
I had seen the volcanic islands of Hawaii and an active lava flow there, but Iceland gave me a new perspective on how a volcanic island can shape culture—past and present. Not surprisingly, ecotourism is thriving. People want to see this captivating landscape, and it is fascinating how Icelanders have coped with its volatility.
Discover how the land informs the lives of Iceland's people when you join O.A.T. for Untamed Iceland.