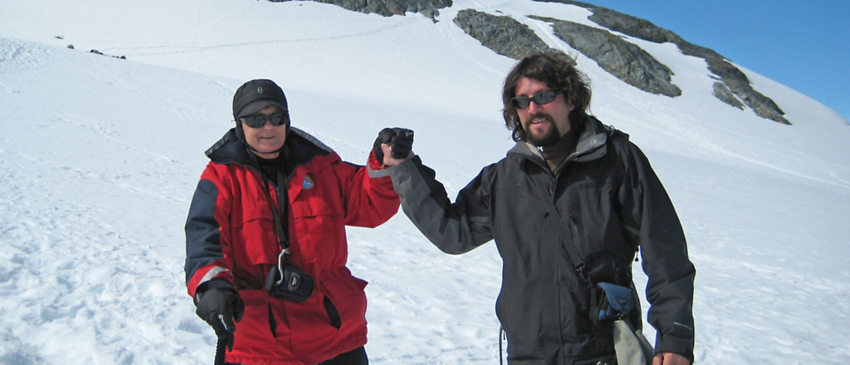 By Lynda K., 5-time traveler from Dayton, OH (featuring Jackie K., 6-time traveler from Whittier, CA)
I frequently hear my mom, Jackie, say, "I need to go somewhere!" She really feels like she has to travel until she can't anymore.
I come from a long line of travelers. My mom's parents traveled extensively. In fact, they were on the first cruise ship into China when they opened it up to Americans in the 70s. I have all of these memories of waving my grandparents off at the airport as they departed on their next adventure. My grandmother had this fun tradition; she would always bring us toilet paper from wherever she went. She thought it was so interesting how different it was in every country.
In July 1999, Dad died. My parents had always traveled together, but after Dad passed, I became the designated travel daughter. I had the flexibility; I'm not married, I don't have kids. So, Mom took six months for a grieving period and then we planned our next trip. We decided to go to Paris together for Thanksgiving. Then we went on a bike-and-barge in Amsterdam. Then a hiking trip in Cinque Terre. Mom planned all of the trips herself.
Jump to 2008, and she wanted to go to Antarctica, part of the reason being she wanted to get that continent stamped in her passport. Her friend traveled with Grand Circle and O.A.T. and told us to look into it. Since then we've done a bunch of trips with Grand Circle and O.A.T.: Antarctica, Easter Island, India, Cuba, Spain, Portugal, Greece, and Turkey to name a few.
Funny thing is, we were scheduled to go in early January, and in mid-December another cruise sunk and that was all over the news. The O.A.T ship was the first boat to get to them. So, that cast an interesting lens on the trip. When we got onto the ship to do the emergency drill, they played the Titanic theme song in the background.
We met our Trip Experience Leader, Carlos, and he was just incredible. We still keep in touch with him and with almost everyone in our group from that trip to Antarctica. We even set up another Grand Circle trip with Carlos and some other people from our group because we all enjoyed traveling together so much.
On one of the first nights, the crew told us we should probably take motion sickness medication, but we didn't think we needed it. We went to dinner, had a ton of delicious wine, and went to sleep. At 2 am, the room was alternating very light to very dark; the ship was rolling. We heard a knock on the door and a member of the crew was there to bolt our port hole shut. We had entered the Drake Passage.
During the two days crossing the Drake Passage, all we did was eat and drink. By lunch of the first day, a third of the passengers were not in the dining room; they were below deck getting all the medication they could get from the doctor on board. And apparently, we had a decent crossing compared to some of the others. There was a lot of time spent getting to know the people we were traveling with, which was nice and we listened to some interesting lectures to pass the time.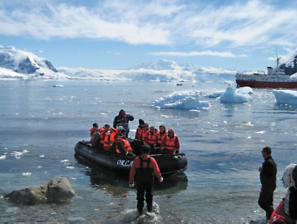 Mom remembers the moment she knew we were arriving in Antarctica, mostly because you smell land before you could see it from all of the penguin poop! We boarded zodiacs and the crew took us ashore. Some of my favorite memories were of Mom engaging with penguins and hiking to the top of the glacier. They gave us rubber wellies to hike up ice and snow, but I wore my hiking boots. Mom made it to the top with Carlos at her side the whole time. To get back down, they had us sit and slide down the glacier, and hopefully you'd stop before you went into the water! Carlos sat down, put Jackie on his lap, and they slid down the glacier together.
Carols went above and beyond to take care of my mom and everyone else in the group. In 2010, we did a reunion trip to Easter Island and Patagonia with Carlos as our Trip Experience Leader. There's a real feeling of family and friendship between us. He even brought his daughter to meet us one day.
The first travel company we always look to is O.A.T and Grand Circle. My mom is leaning towards more of the Small Ship cruises because it gets harder and harder for her to get around; she is 84 after all (although she is zip-lining in Hawaii right now!). She'll go horseback riding, whitewater rafting, you name it. Jackie will not be left behind!
We're heading to Alaska this September and I guarantee six months after we return that she'll be saying, "I need to go somewhere!"
Brave the Drake Passage and form lasting bonds with your group during our Antarctica's White Wilderness Small Ship Adventure.