Heading South to New Lands and a Different Culture
By Pamela K., 6-time traveler and 3-time Vacation Ambassador from Flowery Branch, GA

This article was originally published in Lakeside on Lanier, www.lakesidenews.com. The Amazon was just the beginning of Pamela's discoveries in Ecuador, and we look forward to publishing her Galápagos adventures in a future edition of The Inside Scoop.
When you arrive in a new (to you) country at midnight-dark-thirty, it's hard to imagine what's in store for the next three weeks. But when you fly to Quito, Ecuador, non-stop from Atlanta, it's pretty darn dark and very late before you arrive at your hotel that's an hour's drive from Ecuador's newest airport.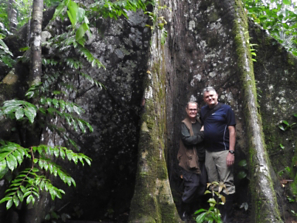 That didn't stop my husband Rick and me from embracing life on the equator in March with five days in the Amazon headwaters on the Rio Napo and eight days on a 16-passenger ship island hopping in the Galápagos, and some spoke-and-wheel adventures from our home base of Quito, the country's capital. Rick had lived for a while in Ecuador and he had visited the Galápagos on a live-aboard SCUBA diving boat, but this trip was a first for me.
After three weeks in Southeast Asia last year, I was ready for a trip that didn't involve significant time-zone changes. Ecuador was just the ticket. In standard time it's just the same as home. Daylight saving time began in the states while we were there, so it was only a one-hour difference back here in Flowery Branch. Of course, our flight home left South America at midnight, so we outsmarted Atlanta's rush-hour traffic by landing around 6 a.m. So much for body clocks and normal sleep for a few days!
Quito
Located between two mountain ranges at 9,350 feet above sea level, Quito is the highest capital city in the world. Agriculture is a major economic driver, especially the florist-quality long-stemmed roses grown in hundreds of greenhouses that dot the mountainside. Ecuador provides the lion's share of all roses imported to the United States and Russia.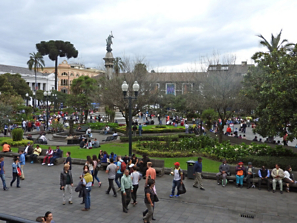 We visited Olde Town Quito, several magnificent cathedrals, the botanical garden, and an arts school that teaches music and dance to people with disabilities. We shopped at the local markets, ate Italian food several times at a restaurant across from our hotel—it was really good!—and took a trip on our own to Ambato and Pillaro by public bus and later traveled with our group from Overseas Adventure Travel to Otovalo in our air-conditioned van.
In Otovalo, we visited a quinoa farm and even had the chance to hand-thrash our own from recently-picked crops. The side trip also included a stop at a row of open-air flower shops where the country's fresh-cut hybrid tea roses were sold in dozens for a just a few dollars. We were told that the best ones are shipped to Russia and the United States; the ones we saw were the rejects, but they were every bit as beautiful in a rainbow of colors and floral creations.
Once again, we were guests in a private home for lunch, conversation, and an insider's look at the culture. The wife, Janice, took us on a tour of her compact garden that had more than 150 specifies of plants, fruits, and vegetables. The side trip also included shopping for native crafts, including beautiful alpaca scarves and hand-made woven hammocks.
Our trip to Otovalo gave us a chance to see a bit of the country away from the big city where the pace was slower. In all, we stayed in Quito three different times during our visit. It proved to be an excellent base for our travels on the mainland.
The Trip to the Rain Forest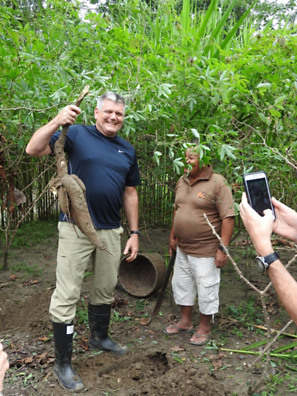 You've heard the saying, "You can't get there from here," and it's really true in Ecuador. We flew by small commercial airline from Quito to Coca then boarded 26-passenger motor-driven canoes for the two-hour journey on the Napo River in the Amazon Rain Forest. The Napo Ecological Lodge, nestled in a small village inside the Yasuni National Park, was our home for several days, where we spent our time visiting the local school and the medical clinic, digging yucca roots, and sharing a mid-day meal with a multi-generational family who opened their home to us.
Rubber boots were our mainstay in the rain forest, and because of the weather—damp with intermittent showers—we wore them anytime we were not in the lodge or our thatched-roof quadruplex cabins. Otherwise, we all walked around in socks or flip flops. This was not a trip for fashionistas; light-weight hiking pants and quick-drying shirts, plus ample applications of sunscreen and bug spray helped protect us from the elements.
Night hikes, several canoe rides into the rain forest, a wide-water river trip to see parrots and parakeets feeding, an early-morning climb up a soaring observation tower to see toucans and other wildlife, and excellent fresh-prepared meals in the lodge's open-air dining room were just a few of the experiences during our time there.
We learned about the delicate balance between the commercial oil business, another economic driver for the country, and the environment. We slept in thatched-roof cabins with private baths, our beds draped with mosquito netting and an overhead fan to keep us relatively cool at night.
All meals were freshly prepared and introduced us to local cuisine of plantains (a variety of banana), potatoes, beans, rice, fish, pork, chicken, and vegetables. We never had a chance to get too hungry.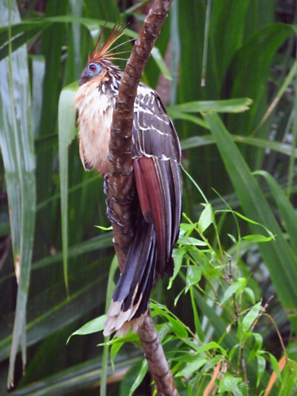 The days were filled with our own adventures, including several hours in open canoes going through a narrow river where we saw crocodiles, native birds, and even a swimming panther crossing in front of our boat.
We learned about harvesting and processing cocoa beans and even ground our own. Until then I didn't know that chocolate is a major export from Ecuador and the countrymen take great pride in its quality.
One afternoon, the women of the village hosted us with ceremonial dancing. We were invited to join in and then to hear about their business enterprise of making crafts and jewelry. In the matriarchal society of the Amazon, the culture is very supportive of women businesses.
Our visit to the Amazon headwaters was short, but our guides Diego and Maria made certain that we had an immersive experience that gave us a glimpse into live along the river before we headed back to our motorized canoes to return to Coca and our flight back to Quito.
Experience Quito and the Amazon for yourself when you join our Ultimate Galápagos Exploration & Ecuador's Amazon Wilds Small Ship Adventure.