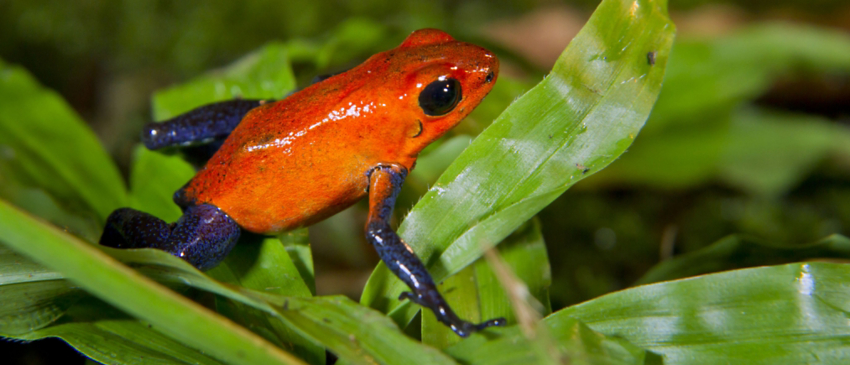 By Sue Ellen A., 6-time traveler from Nitro, WV

With our hearts beating furiously, we allowed ourselves each to be outfitted by Alexandro—hard hats, two heavy-duty webs to support us, and two massive metal clips. Even Kay, who enjoys the most extreme sports, was nervous enough to need frequent visits to the ladies room. I finally decided that Kay was worrying enough for all of us, so I docilely queued up after Alexandro through the woods and over two river crossings to reach the first of ten towers. We climbed up 80 feet, to a beautiful view of the tree canopy below us. Alexandro hooked Kay on the cable and gave his first word of advice: "Breathe." After shrieking with pleasure over our first leg of the canopy ride, we were hooked up for the next section. Alexandro's advice to Kay: "Relax." Now we were really getting into it and enjoying the spectacular view of the rainforest from above. On the third hook-up, Alexandro gave his final and best advice: "Now, FLY."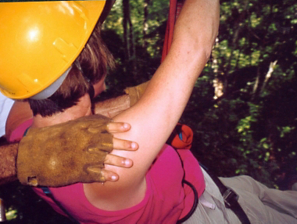 I decided to take a trip to Costa Rica, because someone at work told me that it was the most beautiful place on earth. It is, indeed, beautiful and it reminded me a lot of West Virginia. Size-wise, Costa Rica and West Virginia are pretty much a match. And heat and humidity-wise, Costa Rica is very similar to a West Virginia in July or August. This is complicated by the rainy season, which produces rain every day from May to November. My umbrella got more use in two weeks in Costa Rica than it did in 10 years back home. However, the sun also shines every day.
One of the guidebooks we perused on the trip started with the funny comment: "Humid is the driest word you can use to describe Tortuguero National Park." That's true of most of the rest of Costa Rica, too. But I would also add "lush" is the word that comes first to mind about Costa Rica. The trees form what is called a canopy. That means that all of them touch and sunlight doesn't reach the floor of the forest.
My roommate on the trip got a kick out of me getting up each morning and doing the hot roller thing with my hair and putting on makeup. By 10 a.m., I was a soggy mess from the 90+ temperatures and even higher humidity. I couldn't understand why the tour books said Costa Rica's temperature is an average of 70 degrees all year round. I found it very hot and I don't do heat well.
The heat and moisture are wonderful, however, for the diverse plant and animal forms found in Costa Rica. It is virtually teeming with life. Driving along the highway, we saw howler monkeys, 2- and 3-toed sloths, macaws, and numerous other varieties of birds. Taking bird-watching river cruises, we saw caimans and crocs sunning themselves on the banks. At the Tirimbina Nature Resource Center, we saw bats and, at another viewing site, we saw a big beauty of a tarantula as well as numerous lovely hummingbirds.
Volcanoes
Costa Rica really has volcanoes! Five active ones make for lively, exciting viewing. There are many other dormant volcanoes. Costa Rica is actually the youngest land on the planet. Initially, it was an island, separate from North and South America. Then the volcanoes formed land mass and made a solid link between the two continents, becoming Central America. Costa Rica began 18 million years ago and was finished one million years ago. This is the youngest land formed on the planet.
We saw the Poaz Volcano early on our trip. It is often obscured by cloud and mist. However, the patient tourist will get a glimpse of a very big volcano with a green sulfur lake in its middle and fumaroles popping up from the liquid.
More exciting yet was the Arenal Volcano. We took a hike up the sides of this huge volcano. It spoke to us. There was a rumbling, grumbling sound that very much resembled deep, loud thunder. It seemed to say, "GRINGO, GO HOME!" However, with the assurance of our guide that volcanoes are monitored all over the world with seismographs and that we would have a 48-hour running head start on a major eruption, we continued perching in a nice motel at the base of the volcano. We took turns jumping up and checking the view out the backdoor of our rooms to see if Arenal was producing. Frequently, we were rewarded with the sight of ruby red lava sparking down the sides of the volcano. It would quickly cool in the air and we'd go back to sleep.
What to Do
Costa Rica has many adventure activities, much like West Virginia. We went whitewater rafting on level two and three rapids. I'm sure there are livelier stretches of the river, but that level suited us just fine. We went horseback riding on a working ranch, mucked hot mineral mud over ourselves, dried in the sun (resulting in hilarious photos), showered, and swam in pleasantly warm hot springs pools. We went on canopy rides, a thrilling daredevil whoosh over the treetops—something that would adapt very well to West Virginia terrain as a tourist attraction, if the insurance thing could be handled.
What It's Like
Costa Rica is a remarkably peaceful, stable country, snuggled next to far more volatile nations. The people are warm and kind, very ecology- and education-minded. Costa Rica's army was disbanded in 1949 and the resulting money sunk into education. Costa Rica's primary exports are coffee and bananas. Most young people today are studying for professions and the picking jobs go begging. Nicaraguans coming to Costa Rica as migrant workers have filled this void. Our guide, Mario, told us that pregnant Nicaraguan women often swim the width of the Santa Maria River dividing their country and Costa Rica. They then give birth to their baby in Costa Rica, making it a Costa Rican citizen. The mothers then get a paper giving them caretaker status over the baby citizens and get to stay in the country.
Costa Rica medical care is very good, too, and Mario told us that some of the migrant workers were getting symptoms from their relatives back home, going to a Costa Rica doctor and claiming those symptoms, getting a diagnosis and medicines, then sending them to the relative back home who was actually sick! Costa Rica was treating half of Nicaragua this way.
Many Americans come to Costa Rica for cosmetic surgery, dental work, and cardiac care. I can understand the first two, because most insurance doesn't cover these in the States. However, cardiac care is covered, yet many Americans travel to San Jose for excellent medical care.
Bats, Spiders, Snakes, and Other Animals with Poor Public Relations
Mario introduced us to many harmless or potentially lethal animals, always with the instruction, "He won't hurt you if you don't hurt him."
At the Nature Center of Tirimbina, we had an after-dark "bat walk." Having little luck in contacting these denizens of the night, we stopped into the Nature Center for tea and a talk with Carlos, one of the docents of the center. He had earlier caught several bats in a "mist net" (fine netting strung across areas the bats usually traveled when they awoke from their day's sleep). These little guys were carefully held for us to see in cloth bags and were absolutely terrified. For the woman who is afraid "a bat will fly into my hair," let me ask, "Do you really think that's something the bat would want to do? It would scare him even more than you!" Bats are harmless, except to mosquitoes. They kill vast numbers each night.
The frighteningly named "vampire bats" actually only feast on horses and cows. They considerately add a coagulant to their bite, so the animal is unharmed. They are only able to ingest two teaspoons of blood and then they have to—are you ready for this—walk home. Their tummies are too full to fly. So, if you see a vampire bat walking home, give him a wide berth. He's more afraid of you than you are of him and he's harmless.
At a hummingbird-viewing site, we were also treated to a show of a beautiful brown and tan tarantula specimen. He climbed agilely from one hand to the other of the owner of the site. Mario asked if anyone of our group wanted to hold him and Judy bravely volunteered. Mario assured us that he would only bite if hurt, his bite would not be serious, but that breathing in debris of his hair could be harmful to your lungs.
Also at Tirimbina, we managed to view one of the most poisonous snakes in the world, the Fer-de-Lance. Curators at the Nature Center had walked the paths early that morning and staked a flag at locations of interest. On this morning, it was the small, brown, and tan snake, curled upon himself, snoozing away in the greenery near the path. We all peered at him and waited for him to do something, but he just continued sleeping.
If everyone could listen to a lecture about these much-maligned creatures, perhaps they could cease being afraid of them.
God's Going to Be Really Mad
We saw numerous tiny colorful frogs, which Mario could spot at a distance despite their camouflage. I understand many varieties of rain forest frogs are endangered, due to limiting of habitat and pollution. Some species have actually been lost. The golden frog is one that has been lost forever. When it's all over and we as mankind are called to judgment, I personally don't think God is going to be all that concerned about the peccadilloes of our sex lives. But I think He's going to be very mad about His frogs …
Experience diverse wildlife and create unforgettable memories during O.A.T.'s Real Affordable Costa Rica adventure.