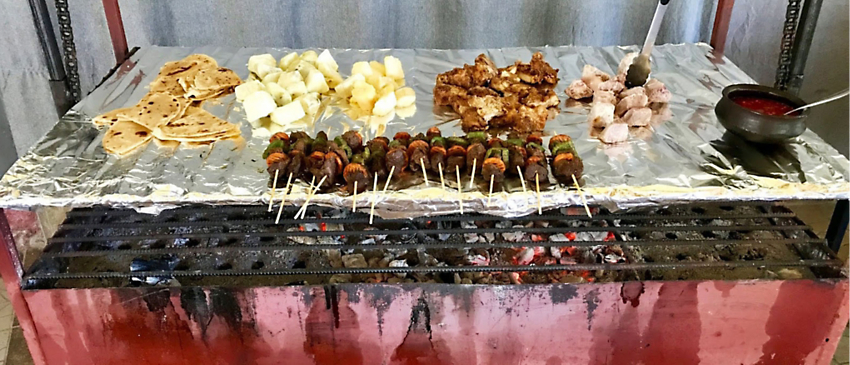 This piece was originally published on Susan's blog: As Seen By Susan. Do you create blogs based on your travels? We'd love to feature your posts in The Inside Scoop—email us a link at [email protected].
By Susan B., first-time O.A.T. traveler from Walla Walla, WA
One of the first questions I am asked upon our return from Africa is, "How was the food?" Of course, everyone expects me to describe all sorts of unusual meals, incorporating local ingredients and native delicacies, to which my reply is simply, "It was good." Allow me to elaborate.
All the food served at all the lodges and camps was flavorful, filling, and plentiful. Period. It was not a foodie paradise or a gourmet's delight. Rather, to my tastes and culinary skills, it was solid comfort food with added local flavors cooked to feed hungry and often weary travelers. And as a self-proclaimed non-foodie, it satisfied me as well as my partner just fine.

In re-reading the O.A.T. travel handbook, I think it describes the food quite accurately. The fact is, the lodges and the tented camps we stayed in attract visitors from all over the world. As a result, the chefs have been well-trained to cook in what I would call a Western or European style using locally sourced fresh vegetables, fresh fruits whenever possible, and fresh or frozen meats. All foods are washed and prepared using bottled water so they are safe for Western digestive systems. I even ate the leafy green salads offered at two of the hotel/lodges with no ill-effects, which can't always be said right here in the U.S.

Breakfasts were most always served buffet-style with the usual choices of American and European fare including eggs (cooked-to-order), breads (fresh or toasted), fruit (fresh and canned), sausage or bacon, assorted cheeses and cold cuts, plus cold and hot cereal, yogurt, and fruit juices.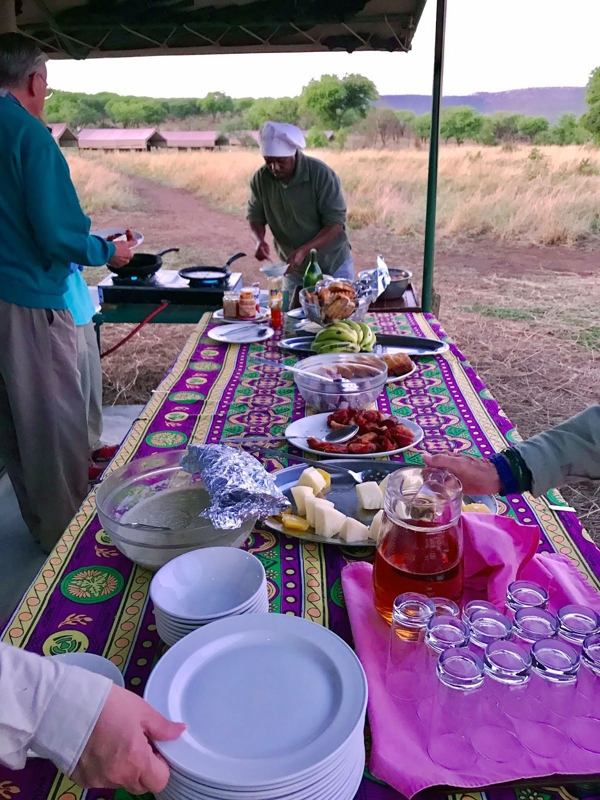 The breakfast buffet is ready at our O.A.T. tented camp in the Serengeti.
This breakfast buffet at Moivaro Arusha Lodge has enough selections to satisfy even the pickiest eater.
Similarly dinners were also buffet-style and always started with hot soup (some variation of a vegetable-based soup) and bread. The main courses included a variety of meat and or vegetable stews, curries, or braised meat dishes with some sort of sauce. Starches included polenta, rice, potatoes (boiled, roasted or mashed), and pasta along with a plentiful array of cooked vegetable dishes and raw vegetable salads.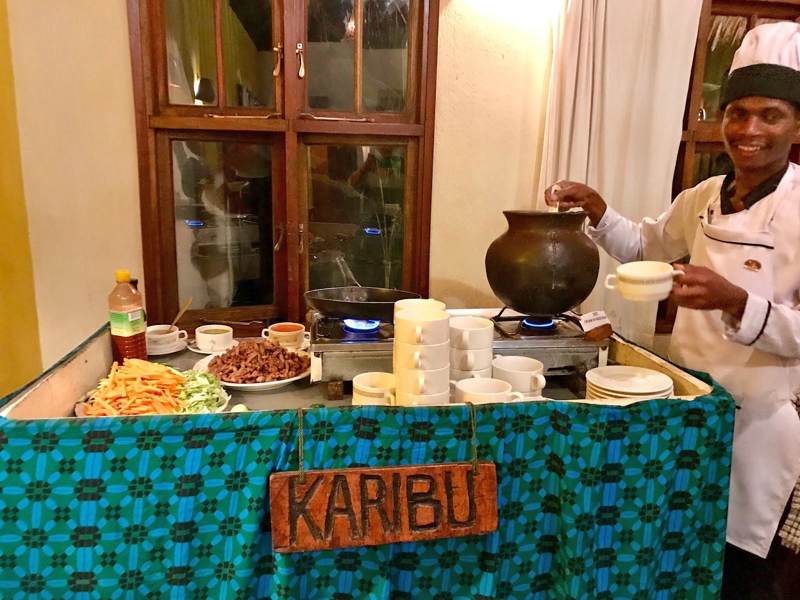 "Karibu" means welcome. In this case, welcome to the soup station at the start of the dinner service and later to the custom stir-fry station to the left.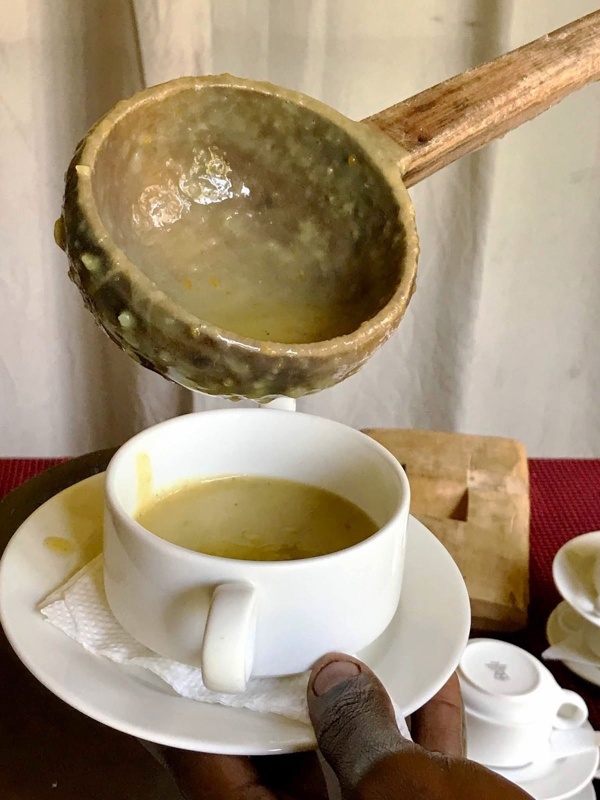 Despite all the soups being similarly green in color, they all tasted slightly different depending upon the vegetables and other ingredients.
Dinners by candlelight was always the custom since we usually didn't eat before 7-7:30 after a full day of touring or late in the afternoon game drives followed by showers and a social hour. Depending upon the individual lodge or tented camp, beer, wine, and mixed drinks were either complimentary or available at a no-host bar.
Candlelight softens the overhead glare of the few electric lights in the open-air dining lodge at Kambi Ya Tembo camp.
Lunches varied the most depending upon if it was a picnic lunch, which we hand-packed ourselves in the morning from a buffet of lunch foods and ate at a rest stop along the way, or if we ate in a restaurant at a hotel/lodge along our day's route. But the variety and amount was always more than adequate. Again, no one went hungry.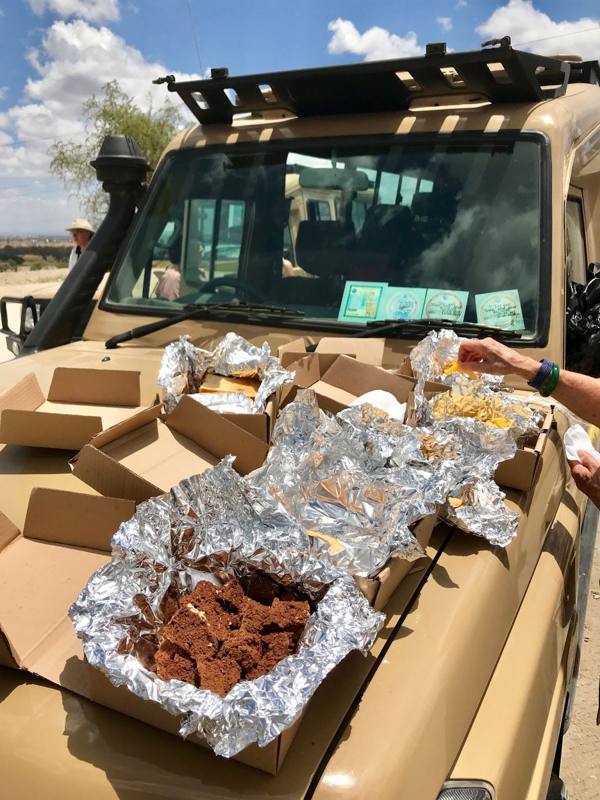 In addition, there were the impromptu, food-on-the-hood snacks, organized by Lenny, our Trip Experience Leader, when it had been a long day and he knew we needed a little sustenance.
Then there was brunch, especially on the early morning game drives during the pre-trip excursion. Typically we'd awaken at sunrise and have coffee and a cookie or bread before heading out to see the animals. Then about 10:30 we'd return to the tented camp for brunch. Brunch looked very similar to the dinners except that in addition, you could order eggs cooked any way you wanted. Did I already mention no one ever went hungry?
Desserts were also plentiful and included cakes, tortes and custards, but as a sweet lover myself, I found the baked goods often disappointingly dry and lacking in sweetness as my American taste is accustomed. But that was the only disappointment in the otherwise excellent fare.
Rice pudding before anyone touched it with a spoon.
But what was most incredible and memorable were the kitchens in which our meals were prepared, specifically at the two tented camps which were miles from Arusha or any big city. How the chefs, who always wore white chef coats and tall white chef hats, created their magic meal after meal was phenomenal and worth mentioning.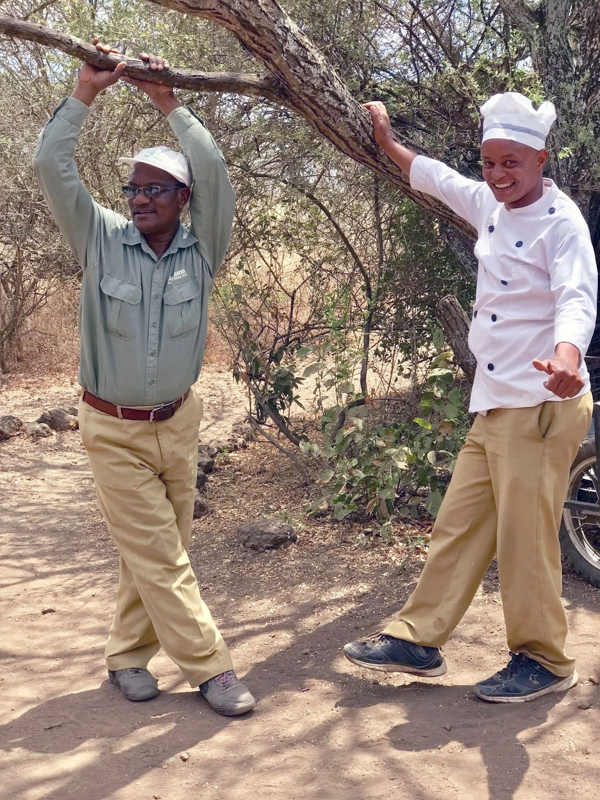 The camp director and the camp chef.
Taste these local flavors for yourself when you join O.A.T.'s Safari Serengeti: Tanzania Lodge & Tented Safari adventure.